Vodka Brand Champion 2021: Nemiroff
By admin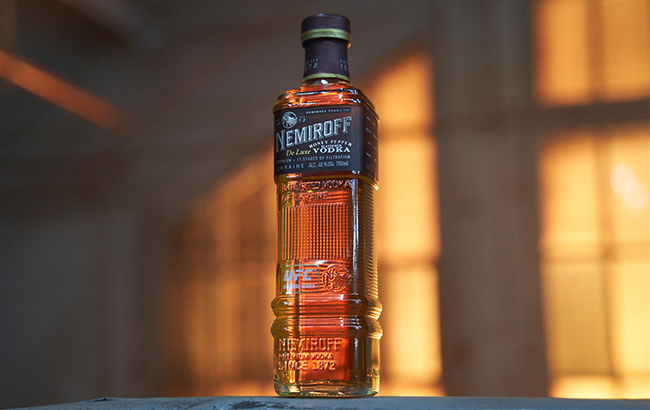 For a category that struggles to grow total volumes year after year, vodka's million‐case‐selling brands were arguably among the most resilient of all the spirits sectors covered in The Brand Champions 2021 report.
Some brands – such as Beluga Group's Arkhangelskaya – soared in 2020. Arkhangelskaya reported an 80.7% spike in sales last year, growing from 1.6m cases in 2019 to 3m in 2020. But, as always with our annual report, the Champions are never based solely on who can demonstrate the biggest growth; there are myriad other factors at play.
Ukrainian vodka brand Nemiroff staged a monumental comeback in 2020 against all odds, bouncing back to growth following a year of decline in 2019. The vodka brand reported an 18.3% leap in volumes last year to hit 5.1m cases – up from 4.3m the previous year. This surge in sales has pushed Nemiroff over the 5m‐case mark for the first time.
Nemiroff's success came despite difficulties for the brand in global travel retail, where it is one of the top‐three vodka brands. Nemiroff's sales more than halved in global travel retail in 2020 because of Covid‐19. However, the brand hopes to see recovery in the channel in 2021.
Commenting on the brand's financial results in March this year, Yuriy Sorochynskiy, Nemiroff CEO, said: "Such incredible results were impossible without strong teams and trustful partners around the world. 2020 was a challenging year for many companies and the spirits industry in particular.
"It required restructuring of many business processes and bold decisions. Indomitable spirit in our DNA leads us to create the future we believe in. So we use every opportunity to build an industry-changing brand."
Nemiroff also said at the time that its De Luxe, Inked Collection, and Lex ranges saw sales rise by '1.5 times on average', with double‐digit growth in select markets. The brand believes this provides further evidence that the trend towards premiumisation and mindful drinking is having an effect.
Nemiroff attributed part of its success, particularly during the fourth quarter of 2020, to the revamping of its entry‐level range.
In October last year, Nemiroff unveiled a new bottle design for Nemiroff Original, Nemiroff Delikat and Nemiroff Ukrainian Honey. With new fonts, colours and graphic elements, combined with a new square‐based bottle shape, the revamp aimed to depict the brand's history in a modern way.
"Having changed from the outside, it is important to stay true to yourself, your principles and life rules," Sorochynskiy said. "Ambitious and indomitable personalities retain their essence even after external changes, because they have a core, a character.
"Even after decades of conquering the global market, creating the brand and recognition, Nemiroff The Originals is changing in appearance, but remains true to its quality. New design, but still the same legendary taste."
Nemiroff also secured multiple distribution deals in 2020 to boost its global positioning. The brand started the year by signing an agreement with Proximo Spirits in Ukraine, the company responsible for importing leading brands such as Jose Cuervo Tequila and Bushmills Irish whiskey. In April that year, Nemiroff made its debut in Armenia through an exclusive distribution deal with Coca‐Cola HBC. The partnership was extended in August 2020 to also include Austria.
Furthermore, Nemiroff has been quick to react to the pandemic, and swivelled its strategy to support the struggling on‐trade.
In the middle of last year, the brand held its virtual Nemiroff Cocktail Challenge, which featured more than 300 bartenders. Held online from April to May in Ukraine, the online video battle for bartenders gave them the chance to win financial rewards for making cocktails, and keep the brand connected to the trade.
"It was important for Nemiroff to support the bartenders who were with us all this time, but were temporarily unemployed during the quarantine period," said Sorochynskiy.
Other noteworthy successes among the top vodka brands last year include last year's Vodka Brand Champion, Global Brands‐owned Morosha, which reported a 13.5% increase to 7m cases.
Stablemate Khortytsa also had a stellar year, and passed the 10m case mark (10.4m cases in 2020) for the first time after a 6% increase.
Constellation Brands also triumphed with Svedka, which saw sales rise by 4.6% to 4.7m cases. And Roust's Russian Standard delivered 2.8% growth to take its volumes to 3.7m cases, while the producer's Talka brand rose by 12% to 2.8m cases. Roust's Żubrówka brand hit 10m cases for the first time, after rising by 3.1%. French drinks producer La Martiniquaise‐Bardinet also had a fruitful year, with sales for its Poliakov brand up by 2.6% to 1.6m cases.
However, the big players seemed to struggle the most during 2020. Leading vodka brand Smirnoff, owned by Diageo, saw sales drop by 10.1% last year from 25.6m cases in 2019 to 23m in 2020.
Diageo's Ketel One also saw sales slip by 1.4% to 2.7m cases, while Ciroc's volumes also declined by 7.6% to 1.7m cases. Diageo‐owned Chrome Vodka is also hovering close to the million‐case threshold after a 9.2% fall took its total volumes to 1.1m cases.
Pernod Ricard also had a difficult time in 2020, with Absolut down by 14.1% to 9.6m cases in 2020, compared with 11.2m the year before.
The French drinks group's Wyborowa vodka also fell by 14% to 1.5m cases. Meanwhile, Brown‐Forman experienced a 19% drop in volumes for Finlandia, which fell to 2.4m cases.
Bacardi's Grey Goose also failed to sustain sales, falling to 2.9m cases after a 17.9% decline last year, while its Eristoff brand plummeted by 31.4% to 1.1m.
Heaven Hill Brands bucked the trend, however, with a 7.1% increase for Deep Eddy Vodka, whose sales hit 1.5m cases. Beam Suntory was also able to deliver a 2.7% increase for Pinnacle vodka, with 2.5m cases sold in 2020.
Vodka (figures: million 9l case sales)
BRAND
OWNER
2016
2017
2018
2019
2020
%+/-
Smirnoff
Diageo
25.7
26.0
26.0
25.6
23.0
‐10.1%
Khortytsa
Global Spirits
7.5
8.1
8.9
9.8
10.4
6.0%
Żubrówka
Roust
7.1
7.9
8.6
9.7
10.0
3.1%
Absolut
Pernod Ricard
11.0
11.3
11.3
11.2
9.6
-14.1%
Morosha
Global Spirits
3.5
3.8
3.6
6.2
7.0
13.5%
Nemiroff
Nemiroff
3.3
4.4
4.7
4.3
5.1
18.3%
Svedka
Constellation Brands
4.3
4.5
4.4
4.5
4.7
4.6%
Soplica
Roust
3.1
3.5
3.9
4.2
4.3
1.9%
Pyat Ozer
Alcohol Siberia Group
4.2
4.3
4.3
4.3
4.1
-4.7%
Belenkaya
Beluga Group
3.7
3.4
3.0
3.5
3.9
10.8%
Russian Standard
Roust
3.3
3.4
3.5
3.6
3.7
2.8%
Skyy
Campari Group
3.9
3.8
3.7
3.6
3.2
-9.9%
Magic Moments
Radico Khaitan
3.6
3.7
4.0
4.2
3.0
-28.6%
Arkhangelskaya
Beluga Group
0.1
0.3
0.8
1.6
3.0
80.7%
Grey Goose
Bacardi
4.0
3.5
3.6
3.6
2.9
-17.9%
Żołądkowa De Luxe
Stock Spirits Group
3.5
2.6
2.5
2.7
2.8
3.4%
Talka
Roust
1.6
1.8
2.3
2.5
2.8
12%
Ketel One
Diageo
2.4
2.4
2.8
2.8
2.7
-1.4%
Green Mark
Roust
2.2
2.2
2.5
2.5
2.6
1.6%
Pinnacle
Beam Suntory
2.6
2.5
2.5
2.5
2.5
2.7%
Burnett's
Heaven Hill Brands
2.9
2.9
2.8
2.8
2.5
-10%
Finlandia
Brown‐Forman
3.0
3.0
3.0
2.9
2.4
-19%
Żytniówka
Roust
1.8
1.9
2.1
2.1
2.2
1.9%
Stolichnaya
SPI Group
2.8
2.9
2.7
2.6
2.1
-18.2%
Gorbatschow
Henkell
1.4
1.4
1.6
1.7
1.8
5.2%
Tsar
Beluga Group
2.4
2.2
1.9
1.8
1.7
-4.4%
Cîroc
Diageo
2.4
2.0
2.1
1.8
1.7
-7.6%
Poliakov
La Martiniquaise‐Bardinet
1.5
1.5
1.5
1.5
1.6
2.6%
Prestige
Stock Spirits Group
0.9
1.4
1.4
1.7
1.5
-10.4%
Wyborowa
Pernod Ricard
1.7
1.6
1.7
1.8
1.5
-14%
Pervak
Global Spirits
1.0
1.0
1.2
1.4
1.5
8.6%
Deep Eddy Vodka
Heaven Hill Brands
1.0
1.2
1.3
1.4
1.5
7.1%
Tsarskaya/Imperial
Collection Gold
Ladoga
1.0
1.2
1.3
1.5
1.4
-8.4%
Bulbash
Bulbash
1.5
1.7
1.7
1.3
1.4
1.1%
Kedrovitsa
Alcohol Siberia Group
0.1
0.5
0.7
1.0
1.1
11.6%
Sobieski
Marie Brizard Wine & Spirits
1.9
1.8
1.4
1.2
1.1
-8.3%
Topaz
Roust
N/A
N/A
0.9
1.2
1.1
-8.3%
Urozhay
Roust
0.2
0.8
0.9
1.2
1.1
-8.3%
Eristoff
Bacardi
1.7
1.6
1.6
1.6
1.1
-31.4%
Chrome Vodka
Diageo
N/A
0.6
0.7
1.2
1.1
-9.2%
Svayak
JSC Minsk Grape Wine Factory
1.1
1.2
1.3
1.3
1.0
-18.2%