Nemiroff Cocktail Challenge attracts 300 bartenders
By Melita Kiely
Ukrainian vodka brand Nemiroff has completed its virtual Nemiroff Cocktail Challenge, which featured more than 300 bartenders.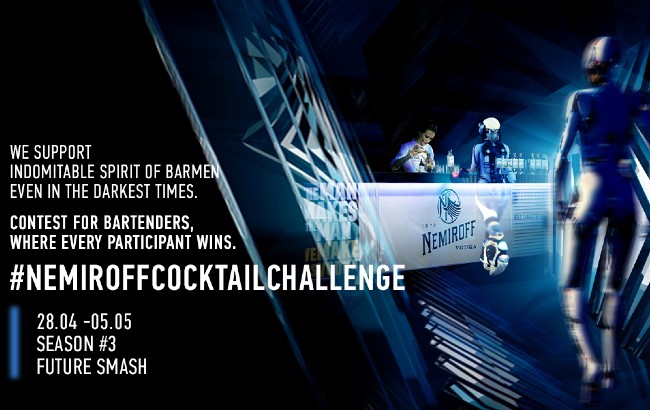 The #NemiroffCocktailChallenge took place from April to May this year in Ukraine. It was an online video battle for bartenders, designed to give them the chance to win financial rewards for making cocktails.
More than 300 bartenders took part, creating more than 1,100 videos and receiving a combined cash prize of UAH1,000,000 (US$37,482).
The contest took place over four different stages. The first was dedicated to Bloody Mary cocktails in  a 'craft' style, then a Cinema Twist (a cocktail designed for your favourite film hero), Future Smash (creating cocktails inspired by the future) and The Indomitable Barman (cocktails for superheroes). Across each stage, entrants had the chance to receive additional cash prizes, with 22 winners.
Furthermore, a panel of judges chose their 20 favourite videos to receive an additional reward from Nemiroff. The competition was created to support bartenders who were temporarily out of work due to the Covid-19 pandemic.
"It was important for Nemiroff to support the bartenders who were with us all this time, but were temporarily unemployed during the quarantine period," said Yuriy Sorochynskiy, CEO of Nemiroff. "This competition is different from other cocktail competitions as it combines professional skills and a creative approach to serving.
"After the first season of the contest, we received pleasant feedback from the participants, who were grateful for both material support and motivation for creativity with new blogging skills. I am sure it is just the beginning. Nemiroff plans to continue to co-operate with the bar community and develop a culture of alcohol consumption."
To view the videos from the competition, search the hashtag '#NemiroffCocktailChallenge' on Instagram.
Julia Terletskaya, Nemiroff brand ambassador, added: "The Nemiroff Cocktail Challenge has involved hundreds of bartenders on an incredible cocktail trip. This competition has become a priceless contribution to the prosperity of the bar community and the experience exchange, support of each other in a difficult period.
"Many [approached] the brand from a new perspective and anxiously observed the implementation of bold, creative ideas: from illuminated craft dishes to cooking soup as an important ingredient in the drink.
"It is especially honourable that the top Ukrainian bar craft professionals were regular participants. The competition was a bright, informative adventure in the inner cocktail world of each of the participants, many thanks for that."