Top 10 spirits marketing moves in July 2021
By admin
From a major partnership between The Macallan and Bentley Motors to a Tequila tour bus courtesy of Dwayne 'The Rock' Johnson, these are the marketing campaigns that caught our eye last month.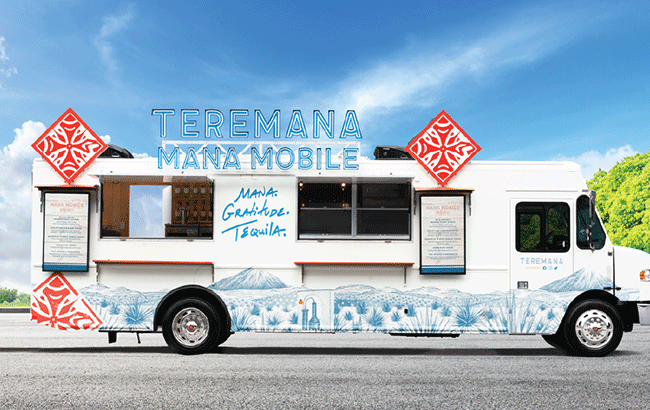 Brands took their marketing to the next level in July, getting creative with sustainability initiatives, artistic collaborations, out-of-the-box activations and more.
Rum producer Flor de Caña worked with leading bartenders to develop zero-waste cocktails. Meanwhile, Tequila brand Patrón and Cognac maker Rome de Bellegarde both teamed up with artists to introduce imaginative packaging.
Actor and former pro wrestler Dwayne 'The Rock' Johnson went big, launching a branded tour bus for Teremana Tequila that has embarked on a cross-country road trip, and single malt Scotch The Macallan also made headlines with the debut of a luxurious partnership with automotive company Bentley Motors.
Read on to discover our selection of the 10 best marketing campaigns from July.
Keen to see more spirits marketing moves? Check out our top picks from June.
Flor de Caña pushes zero-waste agenda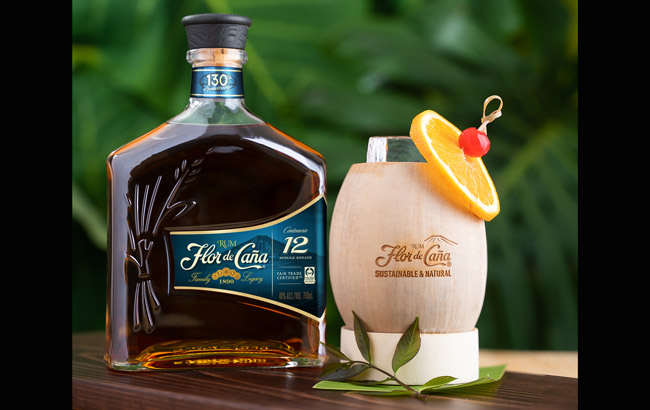 Rum brand Flor de Caña has launched a global initiative with on‐trade venues to create zero‐waste cocktails.
The Zero Waste Month campaign invites bars and restaurants worldwide to minimise food waste by offering sustainable cocktails. According to the UN's Food and Agriculture Organization, reducing global food waste is one of the best ways to fight climate change.
In July, the rum brand partnered with leading bartenders in more than 30 countries on the creation of zero‐waste cocktails for consumers. The cocktails are made with Flor de Caña rum, which is carbon neutral, and with ingredients from re‐purposed food leftovers.
To see the full list of ambassadors and venues taking part across the globe, visit zerowastecocktails.com. The website features videos of bartenders sharing their zero‐waste cocktail creations.
Rome de Bellegarde gets to art of things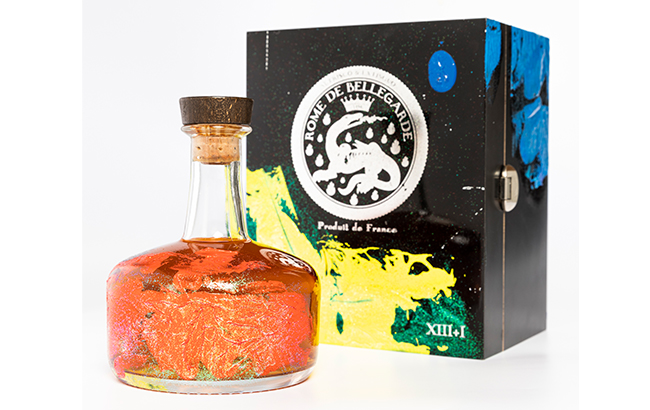 Cognac brand Rome de Bellegarde has collaborated with artist Ghass Rouzkhosh to produce a second release of 150 decanters.
The 750ml decanter was painted by the Iranian artist, and uses world peace as the main theme for the design.
The Cognac collection, named Ghass XIII+I, was matured for 30 years, and stored in new barrels for three to five years, before being placed in traditional oak barrels. The resulting liquid has an aroma of vanilla, and notes of jammy fruit, marmalade, quince and pear.
Rome de Bellegarde founder David Bellegarde‐Smeralda said the series marks the first of several collaborations between the brand and other artists.
Price is available upon request via sales@romedebellegarde.com.
Glen Moray experts offer summer cocktail recipes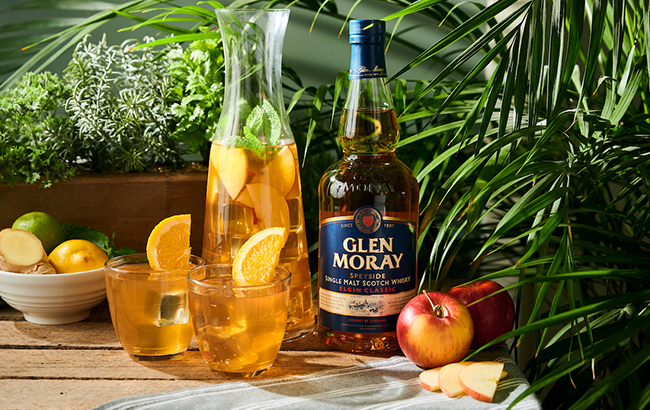 Speyside distillery Glen Moray has launched a campaign encouraging drinkers to explore the versatility of its whisky this summer, teaming up with UK chef Ben Tish, spirits writers Neil Ridley and Joel Harrison, and foraging experts Nick Moyle and Rich Hood, known as The Thirsty Gardeners.
The collaborators have worked with the brand to develop summer drinks recipes with a bottle of Glen Moray Elgin Classic. The campaign is supported by a microsite (glenmoraysummer.co.uk), presenting tips and how‐to videos from the team.
Included in the leaflet is The Thirsty Gardeners' Rhubarb Whisky Sour and Old Fashioned. Tish has created a barbecue sauce and an iced cocktail dessert.
Meanwhile, Ridley and Harrison concocted a Sunshine Punch, blending Glen Moray with orange, honey, lemon and green tea. More recipes can be found in the leaflet, which is included in the 'Share the Flavour of Summer' packs of Glen Moray Elgin Classic in UK supermarkets.
Loch Lomond grows golf ties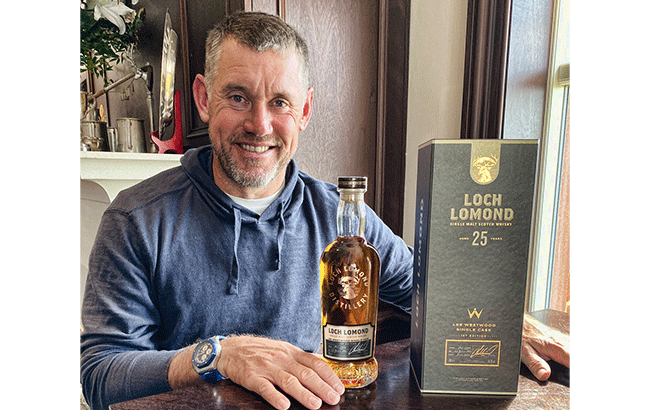 Scotch whisky producer Loch Lomond Group has collaborated with golfer Lee Westwood to create a 25‐year-old single malt.
The English golfer worked with Loch Lomond's master blender, Michael Henry, to produce the Lee Westwood Single Cask 1st Edition bottling. Aged for 25 years, the limited edition expression mirrors the number of wins Westwood has had on the European Tour.
The whisky was matured in refill American oak casks.
Distilled in 1996, the single malt has notes of ripe peach and crisp apple, with orange zestiness, while the finish offers a caramel sweetness, toasted oak and pineapple, followed by cinnamon spice.
The 55.3% ABV expression is presented in a gift box, priced at RRP £385 (US$532) per 700ml bottle.
The Macallan motors ahead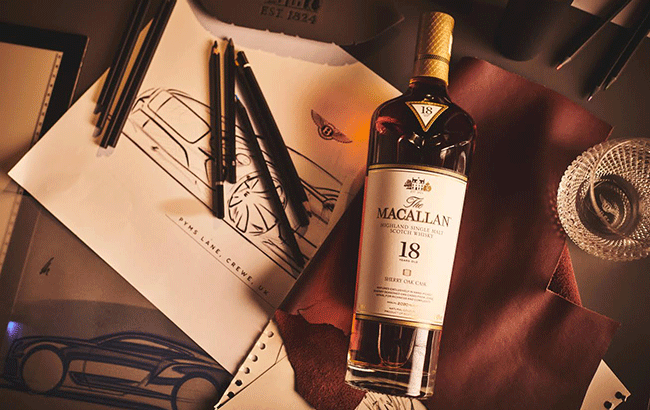 Single malt Scotch The Macallan and luxury automotive manufacturer Bentley Motors have entered into a global brand partnership, which will see the Speyside distillery and the car producer develop products for both The Macallan and Bentley Motors.
The partnership, revealed during Bentley's launch of its Flying Spur Hybrid, will create customer experiences and work together on events.
Igor Boyadjian, managing director for The Macallan, said: "The Macallan and Bentley Motors each have a rich heritage and shared values of mastery, craftsmanship, creativity and innovation."
The Macallan aims to be carbon neutral on its estate by 2030 and is committed to having a fully electric passenger fleet of vehicles at the site by 2025.
The Rock hits the road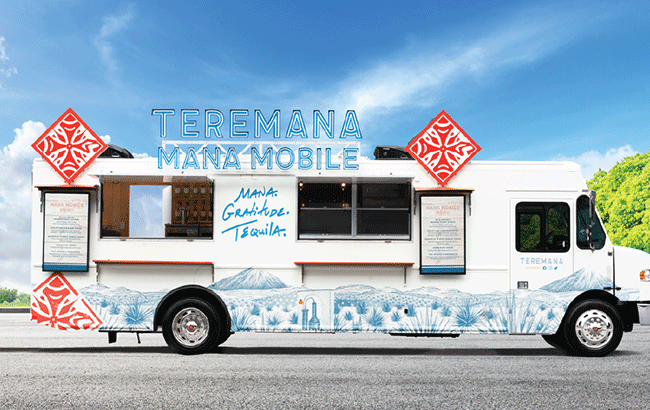 Actor Dwayne 'The Rock' Johnson, co‐founder of Teremana Tequila, has launched a branded tour bus that will travel around the US offering cocktails.
The Mana Mobile is a Teremana Tequila‐themed 'rolling envoy', providing cocktails‐on‐wheels to military bases, fire houses, hospitals and more. It will also offer dishes such as brioche French toast with Tequila‐infused maple syrup.
Johnson said: "I created Teremana to bring people together, and I can't think of a better way to bring people together than bringing the Mana Mobile directly to them. Our Mana Mobile will deliver delicious Teremana cocktails, fresh and amazing eats and a whole lotta gratitude to people, towns and cities across North America. So keep an eye out for the Mana Mobile in your neck of the country and let the Teremana adventures begin."
Teremana Tequila launched in March 2020 and offers two expressions: blanco and reposado.
Patrón is in with the tin crowd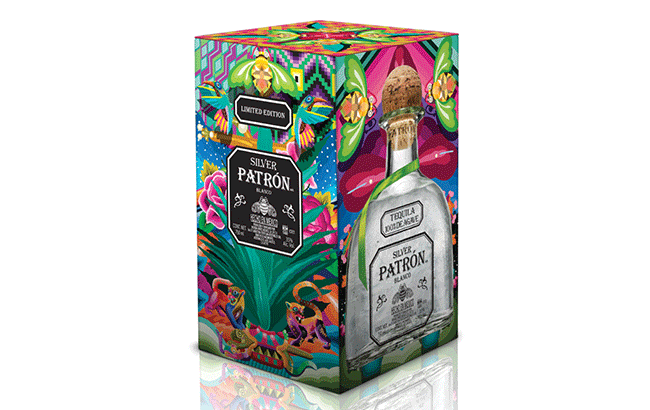 Patrón Tequila has partnered with Mexican street artist Senkoe to produce its fifth limited edition Mexican heritage tin.
The collaboration aims to celebrate Mexican street art, telling a story of fundamental Mexican culture with the tin package. Patrón has sought to highlight the place of Mexican street art within the nation's culture with the annual release of the tin over the years.
The Mexican Heritage Tin includes a 750ml bottle of Patrón Silver, and displays the 'history, traditions and culture' of Mexico. It displays a 'tree of life', with its trunk doubling as the magüey's flower (also known as agave) and a totem. Flowers also feature on the tin, in reference to indigenous craft.
The 2021 Patrón Mexican Heritage Tin can be purchased from local retailers in the US and select international markets for an RRP of US$65.
White Claw signs up with Gorillas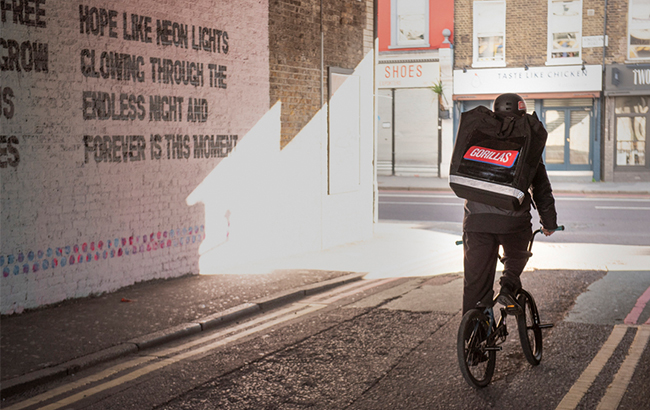 Mark Anthony Brands has partnered with delivery app Gorillas in the UK to make White Claw the only hard seltzer available to order from the service.
Two flavours of White Claw Hard Seltzer are available through the app – Lime and Mango – for an RRP of £2.50 (US$3.46) each, plus a delivery fee. The partnership between the Supreme Brand Champion and Gorillas, the latter brand founded in 2020, will see hard seltzers being brought to consumers' doors on demand, with an average delivery time of 10 minutes.
Michael Dean, the UK head of marketing at White Claw, noted that both White Claw and Gorillas aim to "shake up" their respective industries.
The Mango and Lime hard seltzers are available in 250ml cans, with an ABV of 4.5% each.
It all ads up for Herradura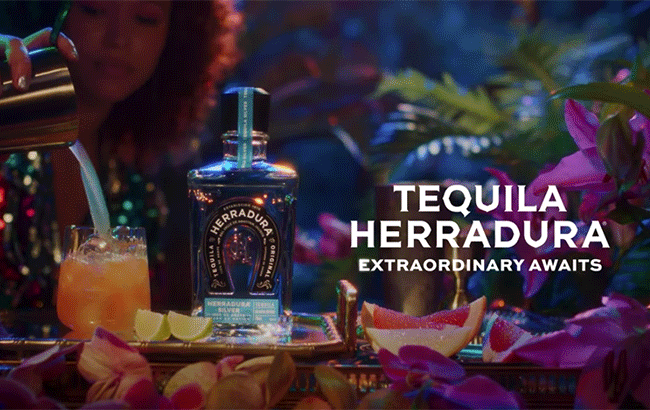 Brown-Forman has unveiled its first global campaign for Tequila Herradura, named Extraordinary Awaits.
The 30‐second film spotlights a woman who energises a party by shaking up a Tequila Herradura cocktail, leading to an evening of 'colour, energy and movement'. CGI effects are used throughout the advert to create surreal visuals, and the music accompanying the advert was created in partnership with Squeak E Clean Studios.
Mia Simpson Culp, managing director, Tequila Herradura, said: "With over 150 years of Tequila production under our belts and credited with creating the reposado and extra añejo categories, Tequila Herradura has always been extraordinary. We're inviting consumers to raise a glass this summer."
Nemiroff inks big in new push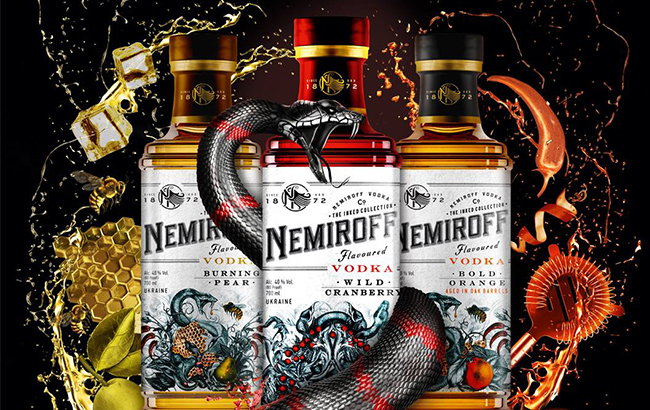 Ukrainian vodka brand Nemiroff has created a mixology campaign for its Inked Collection.
Teaming up with marketing agency Mullen Lowe, the video campaign celebrates both tattoo culture and mixology, presenting bartenders blending the vodka range into individual cocktails with speed and style. The film also focuses on the intricate tattoos of customers at the bar, and a hissing snake.
The Inked Collection launched in 2019, and comprises a trio of flavoured vodkas. The line includes the 'velvety smooth' Burning Pear, 'bright and clean' Blood Orange and 'slightly sweet' Wild Cranberry.
The news follows the brand extending its partnership with Coca‐Cola HBC, which is now Nemiroff's exclusive distributor in the Czech Republic, Slovakia and Moldova.