Glen Moray campaign showcases summer serves
By Nicola Carruthers
Speyside distillery Glen Moray has launched a campaign to encourage drinkers to explore the versatility of its whisky this summer.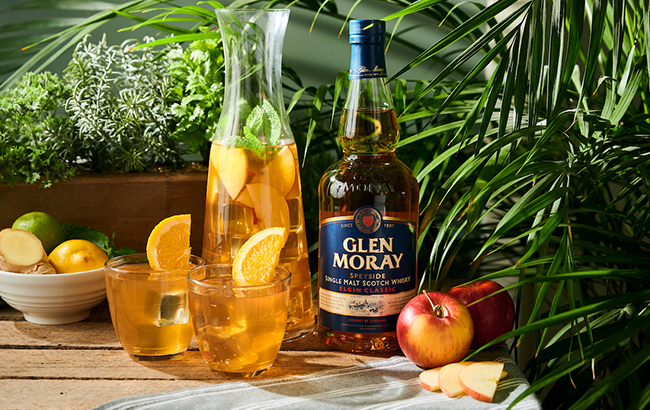 The single malt brand has launched the campaign in partnership with British chef Ben Tish, foraging experts Nick Moyle and Rich Hood, known as The Thirsty Gardeners, and spirits writers Neil Ridley and Joel Harrison.
The collaborators have worked with the brand to develop summer drinks recipes and dishes that can be enjoyed in the sunshine, inspired by Glen Moray's 'light, smooth and fruity flavours'.
Four recipes will feature in a leaflet that will be included in special 'Share the Flavour of Summer' packs of Glen Moray Elgin Classic, which will appear in UK supermarkets from July.
Claire Baigrie, Glen Moray UK sales director, said: "We are an adventurous and inclusive single malt and we want everyone to share and enjoy our whisky all year round. We know, however, that people sometimes let their single malts languish in the drinks cabinet over the summer months. So we've taken action.
"Our three collaborators were asked to take inspiration from the flavours of our Elgin Classic whisky and dream up new ways to serve it for warm summer evenings, BBQs and back garden gatherings. And these are no ordinary whisky recipes.
"They're ingenious, creative and easy to make, packed with fresh fruity flavours and fun tips for new ways to experiment with whisky and enjoy its delicious flavour with friends. Our mission is to show just how many things you can do with a single bottle of Glen Moray whisky and we hope enjoy making and mixing them up at home this summer."
Moyle and Hood have created a Rosemary Old Fashioned using 'easy-to-make' rosemary bitters, and a Rhubarb Whisky Sour that combines homemade rhubarb syrup with Glen Moray Elgin Classic.
Meanwhile, Ridley and Harrison have concocted a shareable Sunshine Punch, with flavours of 'fruit, honey and vanilla', and the 'refreshing' Elgin Cooler, a summery Spritz that blends whisky with peach, apple and fresh mint.
Tish has made a barbecue sauce and an iced cocktail dessert, called Strawberry Daiquiri Granita.
The campaign is supported by a new microsite (www.glenmoraysummer.co.uk) featuring updates, tips, recipes and 'how to' videos from the collaborators.