Nemiroff unveils campaign for Inked Collection
Ukrainian vodka brand Nemiroff has launched a new mixology campaign for its Inked Collection.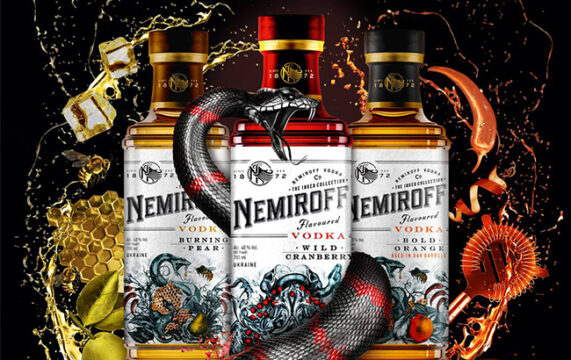 Nemiroff vodka has teamed up with marketing agency Mullen Lowe for its campaign celebrating mixology and tattoo culture.
The new film presents professional bartenders crafting drinks with the brand's Inked Collection.
Iryna Zhygunova, global chief marketing officer at Nemiroff, said: "You can talk thousands [of] times about Nemiroff's The Inked Collection. Describe its taste, the atmosphere it creates [but] it is still impossible to feel the tartness of its orange, the unconquerable taste of cranberries and the burning notes of pear."
The brand's Inked Collection is a trio of flavoured vodkas, which launched in 2019. The line includes the 'velvety smooth' Burning Pear, 'bright and clean' Blood Orange and 'slightly sweet' Wild Cranberry.
"With a new brand campaign, we're inviting consumers to their favourite bars to raise a glass and share our bold mood," Zhygunova added.
The video displays the three vodka flavours crafted into individual cocktails by bartenders – all speedily mixed and garnished – with a focus on customers' intricate tattoos and a hissing snake.
The news follows the brand extending its partnership with Coca-Cola HBC, which is now Nemiroff's exclusive distributor in the Czech-Republic, Slovakia and Moldova.