Top 10 award-winning Irish whiskeys
By Kate Malczewski
Looking for the best Irish whiskey in the game? We uncover 10 excellent expressions from our recent blind-tasting competition.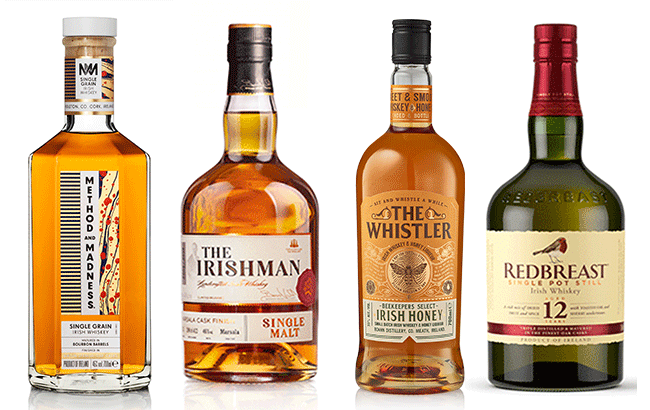 Over the past 10 years, Irish whiskey has been on an impressive upward trajectory – even in the midst of Brexit-induced setbacks and the challenges of Covid-19. Producers' revenues are rising, new distillers are joining the industry and there's ample room for innovation.
To determine the quality of bottlings in this flourishing category, we hosted our 2021 Irish Whiskey Masters competition last month.
The judging panel comprised Nicola Carruthers, deputy editor of The Spirits Business magazine; Tommy Cummins, head of purchasing at The Umbrella Project, James Goggin, head of sales at Empirical; Billy Abbott, ambassador for The Whisky Exchange; Caroline Roddis, editor of The Whisky Exchange; Karen Taylor and Matt Chambers, co-founders of the Whisky For Everyone blog; Evan Prousaefs, bar manager at The Leaf and Cane in London; Michel Fichtner, head bartender at the Coburg Bar at The Connaught hotel; and Melita Kiely, editor of The Spirits Business.
The group convened at the Ibis Hotel in London Bridge to taste a variety of Irish whiskeys across styles and price points. Samples were packaged by Wine Sorted to ensure anonymity, and the competition got underway.
So which expressions turned our judges' heads? Here are 10 of the top-performing bottles from the competition, showcasing the best of the Irish whiskey category.
---
Tullamore Dew 18 Years Old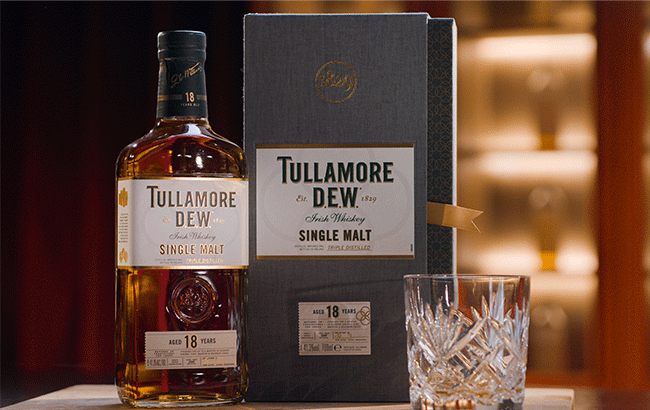 Price: €110 (US$129.54)
This 18-year-old single malt from Tullamore Dew took home the Taste Master award, the highest accolade in our competition.
Judges first tasted the whiskey in the Single Malt – Ultra Premium flight, and ultimately crowned it the best of the day thanks to its flavours of "green apples, brambles, oatcakes and sweet spices". The expression, first launched in 2016, spends 18 years in ex-Bourbon barrels before seeing Madeira, Port and Sherry casks for six months.
The Tullamore Dew distillery was founded in 1829. The producer recently bolstered its cask programme by hiring two new apprentice coopers.
---
Midleton Dair Ghaelach Knockrath Forest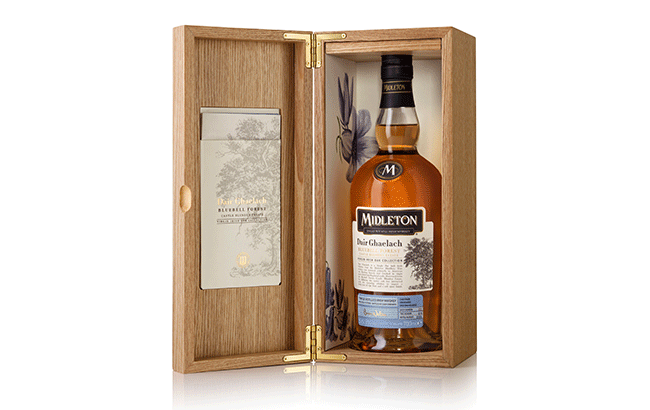 Price: €310 (US$365.07)
Also securing a Master medal among the Blended – Super Premium whiskeys was Midleton Dair Ghaelach Knockrath Forest.
Produced by Pernod Ricard's Irish Distillers arm, the expression boasted "Christmas cake" on the nose, and notes of "cherries, plums and tropical mango" on the palate.
Judge Fichter was particularly impressed, saying: "This was right up my alley, so complex, so many different aromas, fresh cherries, Bakewell tart, plums, juicy peaches, tropical fruits, hints of leather – a beautiful whiskey."
Aged in ex-Bourbon barrels and finished in virgin Irish oak, the bottling is the third release in the Dair Ghaelach range, following on from Grinsell's Wood and Bluebell Forest whiskeys.
---
Teeling Single Grain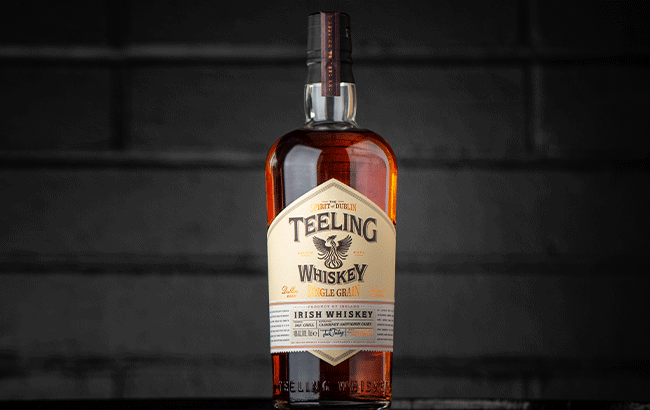 Price: €45 (US$52.99)
In the Single Grain – Premium category, Teeling's Single Grain bottling gained a Master medal thanks to its "warming caramel on the palate" and "rich, good fruit". 
The producer describes the whiskey's style as 'highly unique' thanks to a mash bill made up of 95% corn and 5% malted barley. The liquid is triple distilled, then aged in French oak – ex-Cabernet Sauvignon casks from California, to be exact.
Teeling recently introduced a 32-year-old single malt to its Vintage Reserve Collection.
---
Redbreast 12 Years Old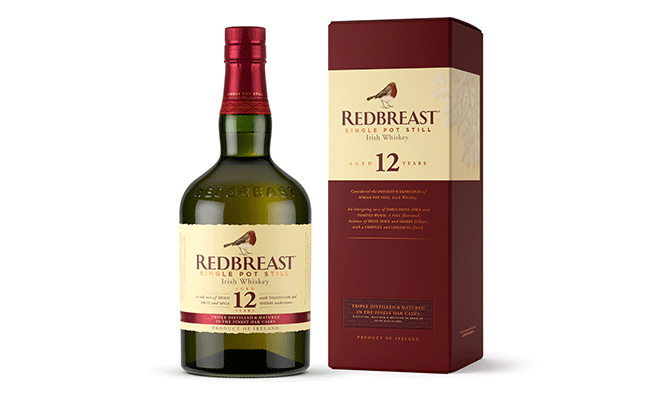 Price: £50 (US$68.96)
Irish Distillers took home another Master award in the Single Pot Still – Premium flight with Redbreast 12 Years Old. 
According to our judges, the "juicy" expression delivered "big fruitiness" and was found to be "milky" with "cereals, great mouthfeel, and vanilla" notes.
Earlier this year, Redbreast unveiled the latest bottling in its Dream Cask series, a whiskey finished in a single oloroso Sherry butt.
---
Samuel Gelston's Single Pot Still Pinot Noir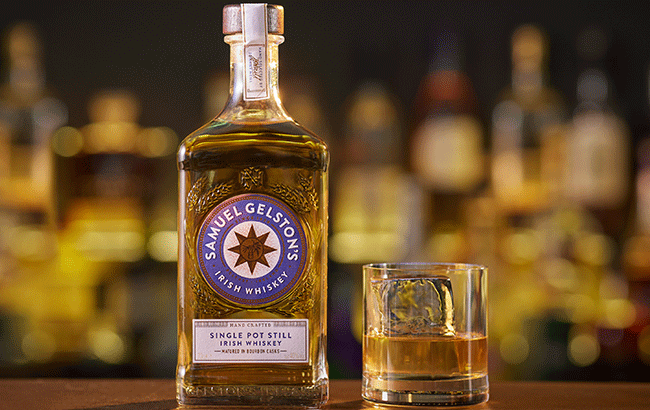 Price: £26 (US$36.86)
Halewood claimed a Gold medal in the Single Pot Still – Standard round with Samuel Gelston's Single Pot Still Pinot Noir Finish.
Our judges noted layers of "oak, waffles and apples" in the whiskey, which is triple distilled and spends 19 months in ex-Bourbon casks before maturing in Central Otago Pinot Noir casks for 21 months.
The bottling is the result of a partnership between cousins Johnny and Sam Neill. Johnny is the owner of the brand, while Sam is an actor and vineyard owner who supplies the Pinot Noir barrels used to age the whiskey.
Samuel Gelston's recently gained a listing with supermarket chain Waitrose in the UK.
---
Walsh Whiskey The Irishman Single Malt Marsala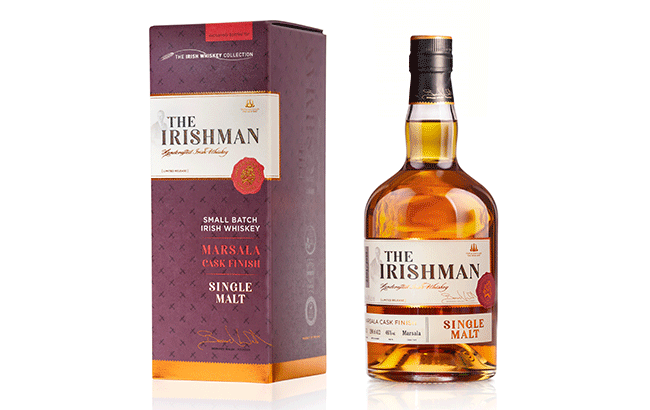 Price: €85 (US$100.10)
Walsh Whiskey received a Gold medal for The Irishman Single Malt Marsala, tasted in the Single Malt – Super Premium flight.
Our panel enjoyed its flavours of "verbena, citrus, gooseberries and resin", describing the bottling as "well integrated".
Judge Fichtner said: "I like it very much; it has lots of wine influence, like a Sauternes, maybe, and a tiny hint of smoke, which was interesting. A little more fruitiness would have pushed it into the Master territory."
The expression matures for 15 months in Marsala hogsheads from the Italian winery Florio.
---
Jameson Bow Street 18 Years Cask Strength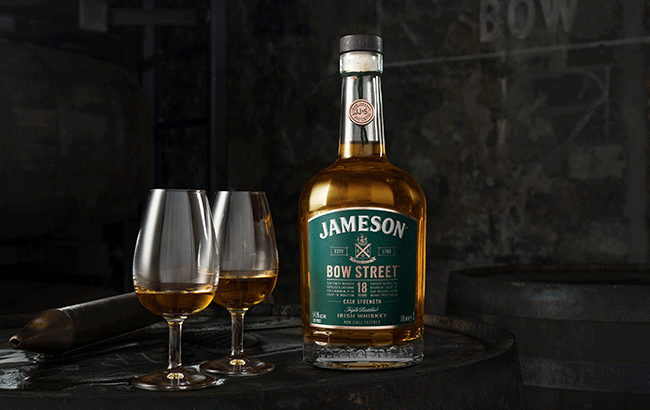 Price: £204.23 (US$281.63)
Irish Distillers swept the competition once again in the Blended – Super Premium flight, gaining a Master medal for Jameson Bow Street 18 Years Cask Strength.
The whiskey's nose offered "citrusy fruits", with "spices [and] caramel" on the palate, plus a "long finish and great balance". The expression blends three whiskeys matured in European and American oak, and clocks in at 55.1% ABV.
Jameson recently expanded its portfolio of flavoured whiskeys with the launch of an orange-infused expression.
---
The Whistler Irish Honey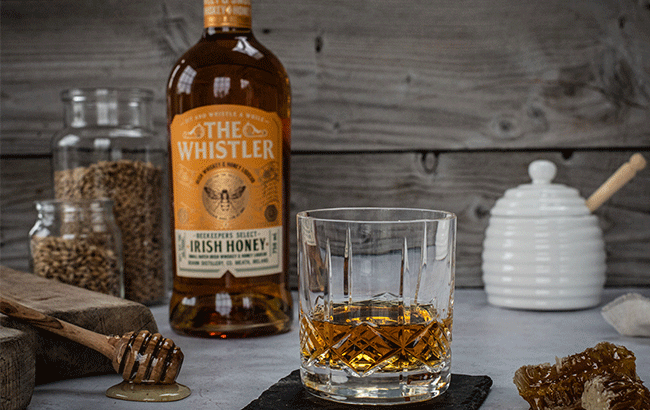 Price: £29.95 (US$41.30)
Boyne Valley producer Boann Distillery was awarded a Gold medal in the Flavoured Irish Whiskey flight thanks to The Whistler Irish Honey.
Judge Roddis described the expression as "very sweet and undeniably a crowd-pleaser", delivering "a river of warm caramel and cream". 
The whiskey liqueur is a collaboration between Boann and the Cooney family, who produce hard cider and keep bees. Honey from the Cooney farm is used to sweeten the liquid.
---
Method and Madness Single Grain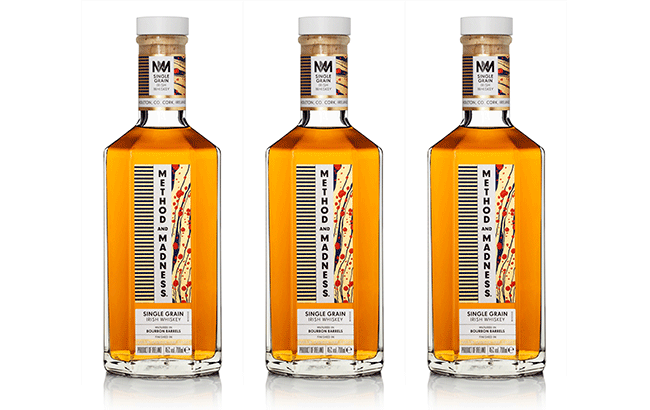 Price: €50 (US$58.84)
In the Single Grain – Premium category, Irish Distillers added another Master medal to its collection with Method and Madness Single Grain.
Judges hailed the whiskey's "brilliant mature nose" of  "ripe fruit [and] honey", which unfolded to "toffee, treacle" notes and a "creamy mouthfeel".
The 46% ABV expression is aged in ex-Bourbon casks before spending time in virgin Spanish oak.
---
The Brollach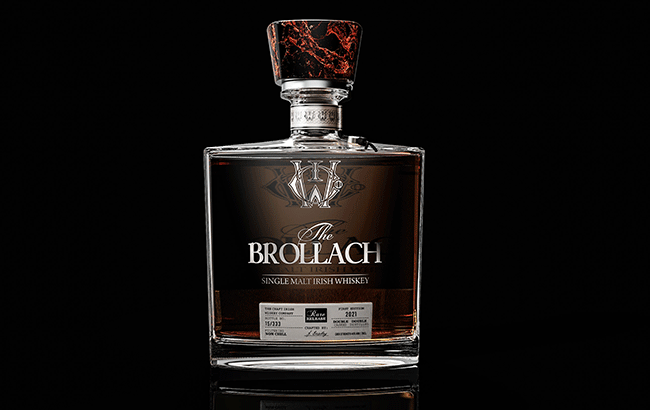 Price: €5,500 (US$6,472.45)
The Craft Irish Whiskey Co earned a coveted Master medal with The Brollach.
This luxury expression delivered "mocha" notes on the nose, giving way to "a creamy, honeyed palate with more mocha" and "apricot jam, tropical fruits and a hint of warming gingerbread".
The Brollach rolled out earlier this summer with a limited release of 661 bottles. It's the third bottling from The Craft Irish Whiskey Co and the producer's first double-distilled whiskey, matured in 200-litre ex-Bourbon casks and 128-litre French oak Madeira barrels.