Redbreast unveils Dream Cask Oloroso Sherry Edition
Irish Distillers has unveiled the fourth release in the Redbreast Dream Cask series – a 29-year-old single pot still whiskey.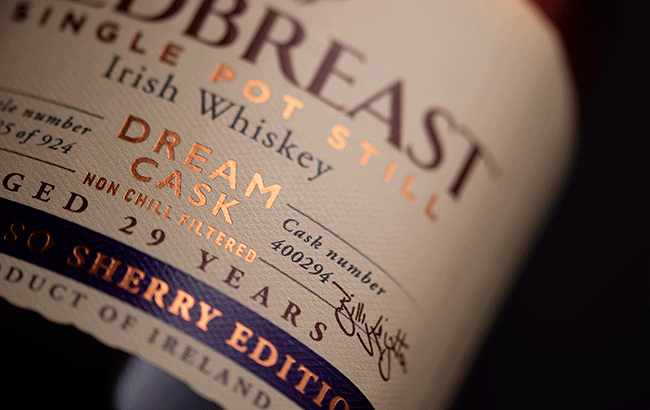 Produced at the Midleton Distillery in County Cork, Ireland, Redbreast Dream Cask Oloroso Sherry Edition is a vatting of four whiskeys, matured for a minimum of 29 years in ex-Bourbon, Sherry and ruby Port-seasoned casks. The whiskeys were married in a single oloroso Sherry butt for 15 months.
Bottled at 51.2% ABV, the whiskey is said to have notes of dark brown sugar, berries and vanilla, to complement Redbreast's trademark spices.
Billy Leighton, master blender, said: "To craft the 2021 expression, we experimented with new ways of vatting, marrying and finishing to create something greater than the sum of its parts and we are delighted with the result.
"Redbreast Dream Cask Oloroso Sherry Edition is undeniably special and yet unmistakably Redbreast and we are honoured to pass it on to our Birdhouse members."
Launching to mark World Whisky Day (Saturday 15 May), only 924 bottles of Redbreast Dream Cask Oloroso Sherry Edition will be available exclusively through an online ballot hosted on the brand's private members' club, The Birdhouse.
The ballot will be open from 17 to 25 May, with the whiskey priced at €520 (US$630) per 500ml bottle.
Last year's Dream Cask bottling was Redbreast Dream Cask Ruby Port Edition.
In 2019, all 924 bottles of Irish Distillers' Redbreast Dream Cask Pedro Ximénez Edition single pot still whiskey sold out in just 14 minutes.