Top 10 biggest-selling Cognacs and brandies
A tale of two halves can be seen across the world's million-case-selling Cognacs and brandies, as some struggled through 2020 and others flourished. Here, we explore the 10 biggest brands.
For Spiros Malandrakis, head of research – alcoholic drinks at Euromonitor International, the Cognac category's focus on China and the US was an important strategy for its 2020 performance.
"In the case of Cognac, it's focusing on China, and China has been on a massive recovery already, soon to be reaching 2019 levels potentially by the end of this year or early next year," Malandrakis said.
"China is witnessing a much stronger bounce back [than other nations] as it's not really had any more lockdowns; essentially, China is coming from the future, it's what will happen in other countries once they also bounce back."
Meanwhile, in the wider brandy sector, innovation has given the category a much-needed boost. At the top end of the segment, brandy producers had a hard time sustaining sales in 2020, with most brands reporting a decrease in volumes.
However, there were a few that managed to cling on to their pre-pandemic sales – and some that were able to build on their performance.
Over the following pages, we count down the 10 biggest-selling Cognacs and brandies shifting more than one million nine-litre cases annually.
Data is listed to one decimal place for ease of reading, but the percentage changes are based on the full data supplied to The Brand Champions 2021.
8= Christian Brothers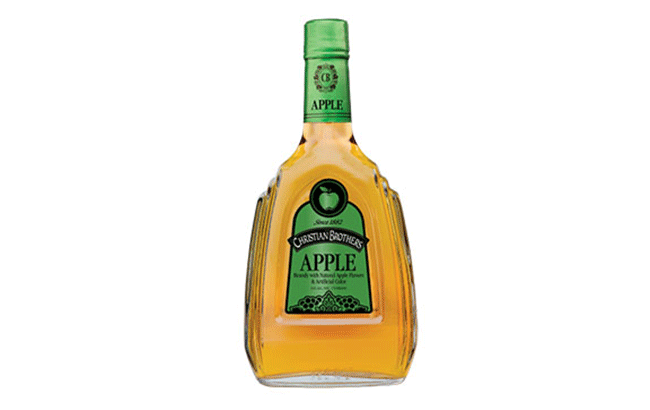 2020: 1.1m
2019: 1.1m
% change: 0.5%
Place last year: N/A
Christian Brothers brandy delivered a steady performance for owner Heaven Hill Brands in 2020. The brandy saw a minor increase of 0.5% in volumes last year as it sold 1.1m cases.
The American brandy was originally produced by The Christian Brothers, the largest religious community of men devoted entirely to education worldwide. The brothers were not priests, but laymen who devoted their lives to living and working in a teaching congregation.
Today, the Christian Brothers range includes The Christian Brothers Brandy VS expression, along with a line of flavoured brandies, including apple, peach and honey.
8= Old Kenigsberg
2020: 1.1m
2019: 1.3m
% change: -13.8%
Place last year: 7
Alliance 1892 Brandy Factory's Old Kenigsberg brandy was unable to sustain its 2019 levels last year, reporting a 13.8% decline in volumes to 1.1m cases and moving from seventh place to joint eighth.
In the previous four years, the brand's sales had remained steady at 1.3m thanks to continued popularity in its key markets, such as Russia.
8= McDowell's No.1 Brandy
2020: 1.1m
2019: 1.3m
% change: -9.6%
Place last year: 9
McDowell's No.1 Brandy had another difficult year in 2020, as sales fell by 9.6% to 1.1m cases. It was the third consecutive year of decline for the United Spirits-owned brand.
It was hardly surprising after United Spirits saw net sales decline by 11.4% during the final quarter of its 2020 fiscal year, largely due to Covid-19 disruption in India and "ongoing consumption slowdown".
In addition, United Spirits also named a new CEO in December last year, Hina Nagarajan, who took over from Anand Kripalu in June this year.
7. Shustoff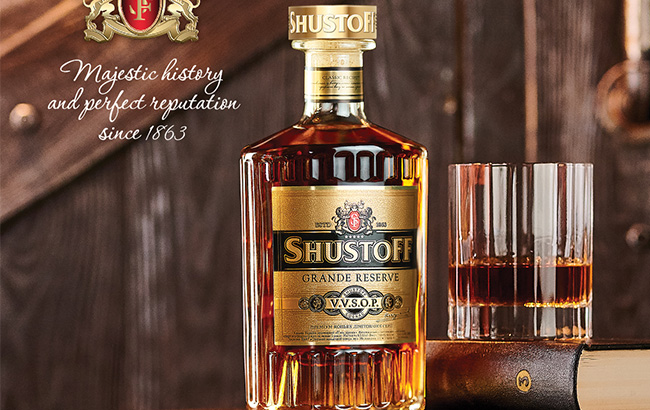 2020: 1.3m
2019: 1.2m
% change: 8.4%
Place last year: N/A
Global Spirits-owned Shustoff was crowned Brandy Brand Champion 2021 in this year's Brand Champions report. Shustoff delivered the highest growth among its competitors to receive the top award.
Shustoff released more than 20 new products last year to boost its sales – and expanded its international presence. The brandy is available globally, including markets such as China, Uganda, Lebanon, Israel and Mauritius.
The brandy is produced at the Odessa Cognac Factory, which dates back to 1836. The facility was purchased by Global Spirits in 2007. It also has its own museum, the Shustoff Winery Museum, in Odessa, southern Ukraine.
6. Courvoisier
2020: 1.4m
2019: 1.3m
% change: 4.3%
Place last year: 6
Cognac Brand Champion 2021 Courvoisier defied the odds of the pandemic to report a 4.3% rise in volumes last year. Courvoisier returned to growth in 2020 to hit 1.4m nine-litre cases, retaining sixth place on this list.
Last year was a busy 12 months for the brand, starting with a new product launch just before the first wave of the pandemic peaked. The limited edition Bourbon cask-finished spirit drink was the first in the brand's Avant-Garde series.
Courvoisier owner Beam Suntory also partnered with American rapper Pusha T to elevate the brand in the US. The partnership involved the Maison Courvoisier pop-up in Chicago, US, described as an immersive experience that paid 'homage to the brand's château in France'.
5. Martell
2020: 1.9m
2019: 2.6m
% change: -26.6%
Place last year: 4
Pernod Ricard felt the full force of the Covid-19 pandemic on Martell Cognac, which saw volumes plummet by 26.6% in 2020. Sales dropped to 1.9m cases in 2020, down from 2.6m in 2019.
Despite the challenges, Martell remained active throughout 2020. In September last year, the Cognac house opened a boutique store in Shenzhen, China, which offered tasting experiences and exclusive products.
In December, the brand also collaborated with three creatives from around the world to develop a trio of limited edition products.
4. Rémy Martin
2020: 2.3m
2019: 2.2m
% change: 2.7%
Place last year: 5
Rémy Martin was one of only two million-case Cognac brands to see growth in 2020. The brand moved from fifth place to fourth in this year's compilation after growing volumes by 2.7% to reach 2.3m cases – marking a return to growth for the Rémy Cointreau-owned Cognac.
In summer 2020, Rémy Martin launched the House Beats Challenge, driven by international music producers. The project gave fans the chance to submit a beat using sounds from their homes for the chance to win a VIP event to foster mentorship.
3. Dreher
2020: 2.7m
2019: 2.8m
% change: -1.8%
Place last year: 3
Sales of Brazilian brandy Dreher were relatively flat last year, dipping by 1.8% to 2.8m cases.
Owned by Campari Group, Dreher managed to hold on to third place in our top 10, despite difficult market conditions in Brazil during the pandemic. The brand has been on a downward trajectory since sales slid from 3.4m cases in 2017 to 3.1m cases in 2018.
2. Old Admiral Brandy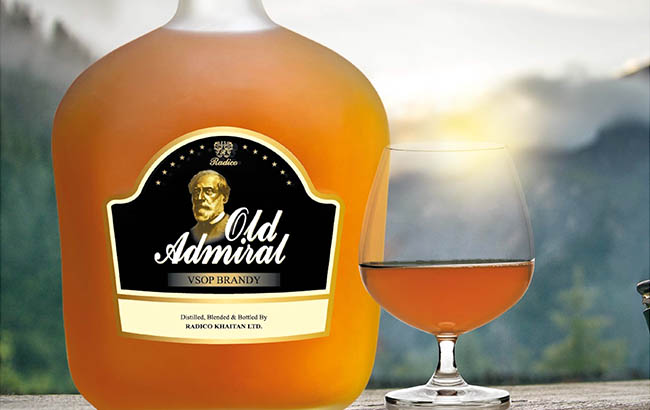 2020: 4m
2019: 3.8m
% change: 5.3%
Place last year: 2
Retaining its number two position this year is Old Admiral Brandy, which took the Brandy Brand Champion title in 2020.
Owned by Indian firm Radico Khaitan, the brandy was one of the few brandies to report an uptick in sales last year, with a 5.3% increase.
However, this year Radico Khaitan would only supply figures rounded off to the nearest million, meaning its results could be skewed.
1. Hennessy
2020: 7.8m
2019: 8.0m
% change: -2.1%
Place last year: 1
Owned by French luxury conglomerate LVMH, Hennessy is once again in the number one spot on our list of biggest-selling Cognacs and brandies. Although the brand's volumes slipped back below the 8m-case mark last year – down 2.1% to 7.8m cases – it remains the biggest-selling Cognac by quite some margin.
In 2020, Cognac house Hennessy partnered with architect Frank Gehry to create 150 XO decanters to mark the expression's 150th anniversary. The limited edition bottlings were priced at £15,000 (US$19,130) per decanter.