Brandy Brand Champion 2020: Old Admiral Brandy
By admin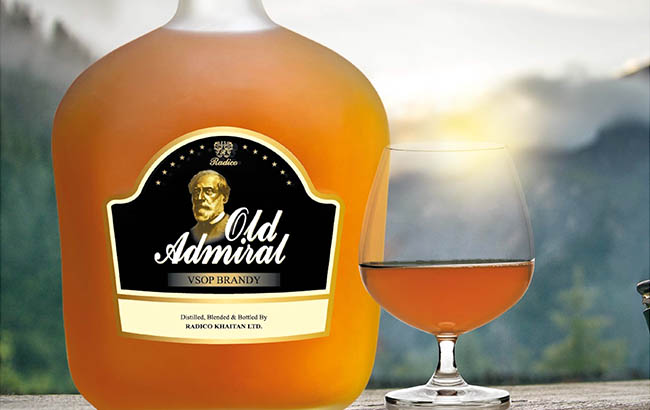 While 2019 saw global brandy sales decline for a second year running, the year marked a transformation in fortunes for this year's Brandy Brand Champion.
Old Admiral Brandy reversed declining sales in 2018 to post 28.7% growth last year after selling 3.8 million nine‐litre cases. The double‐digit boost for the brand means it has now surpassed its sales high of 2016.
"Old Admiral Brandy has built a strong consumer franchise over the past 20 years, driven by consistent quality and packaging innovations," says Sanjeev Banga, president of international business at brand owner Radico Khaitan. "Our strengthened distribution and affordable pricing have been the major growth drivers."
The brand significantly outperformed the other top‐selling brands, thanks to strong sales in India.
Banga says: "South India is the largest market for brandy in India, and Old Admiral Brandy enjoys a majority share in this region in the relevant segment. Globally Old Admiral Brandy has also established a strong consumer base in West Africa and the Middle East."
Despite struggles faced by the global spirits industry as a result of the ongoing coronavirus pandemic, Banga says the brand is targeting new markets as it tries to maintain its positive momentum and continue the growth of Old Admiral Brandy.
He adds: "We strive to maintain healthy relationships with our trade and channel partners, and after the Covid‐19 pandemic, it is even more critical to support them. Strengthening distribution and opening new markets will ensure we maintain our growth in 2020 as well."
Old Kenigsberg and Torres Brandy were the only other brands that posted volume growth last year, rising by 1.1% and 1.3% respectively, to both reach 1.3m nine‐litre cases.
Unfortunately, United Spirits‐owned McDowell's No.1 Brandy continued its fall from grace in 2019 as sales dropped by a further 13.2% to 1.3m nine‐litre cases. Dreher brandy also fell victim to dwindling sales, and a decrease of 11.3% saw its volumes drop to 2.8m nine‐litre cases over the 12‐month period.
The world's biggest‐selling brandy, Emperador, did not supply figures for this year's Brand Champions report, after selling 25.3m cases in 2018.
*The Brand Champions data is listed to one decimal place for ease of reading, but the percentage changes are based on the full data supplied. All brand data is supplied in millions of nine-­litre cases.
Brandy (figures: million 9l case sales)
BRAND
OWNER
2015
2016
2017
2018
2019
%+/-
Old Admiral Brandy
Radico Khaitan
3.3
3.5
3.1
3.0
3.8
28.7%
Dreher
Campari Group
3.4
3.3
3.4
3.1
2.8
-11.3%
Old Kenigsberg
Alliance 1892 Brandy Company
1.4
1.3
1.3
1.3
1.3
1.1%
Torres Brandy
Torres
1.3
1.2
1.3
1.3
1.3
1.3%
McDowell's No.1 Brandy
United Spirits
3.3
3.6
1.7
1.4
1.3
-13.2%