Brandy Brand Champion 2021: Shustoff
By admin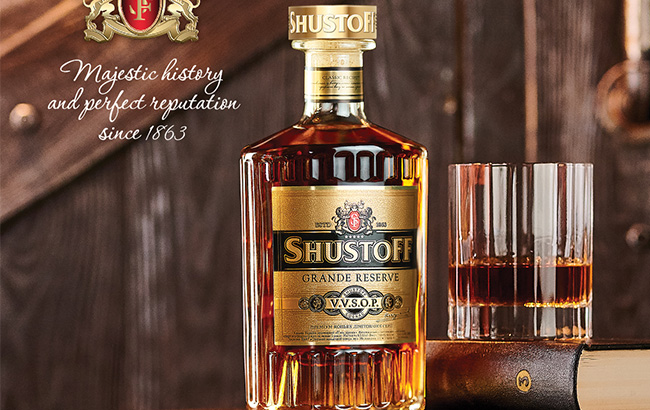 Over the past few years, the brandy sector has seen its sales slump, and the global pandemic didn't help matters further. But innovation from producers has boosted interest in the category, with major players also investing in brandy makers.
Shustoff brandy reported an 8.4% increase in sales in 2020 to 1.3 million cases, recording the highest growth among its competitors. The Global Spirits‐owned brand surpassed 1m cases in 2019.
According to Ievgen Sukharev, Shustoff's brand manager, Shustoff has witnessed consistent growth thanks to its centuries‐old history, high quality and innovative production.
Furthermore, over the past year, the brand unveiled a raft of innovations throughout the pandemic.
"Despite economic problems in 2020, more than 20 unique products were launched on the market, and the presence of the brand in chains on the international markets was expanded," says Sukharev.
Shustoff is available in dozens of countries, including China, Uganda, Lebanon, Israel and Mauritius.
The brandy is also one of the few in the world to have its own museum, notes Sukharev. The Shustoff Winery museum in Odessa, southern Ukraine, allows consumers to "plunge into the brand's rich history" and sample high‐quality brandies. "Thousands of excursions are held annually for consumers, and the online museum tour soon will be available," adds Sukharev.
Looking ahead, Sukharev says the company plans to "create a product of highest quality for strict connoisseurs, and simultaneously remain the leader of [the] mass brandy market thanks to loyalty to traditions of brandy production combined with innovativeness of distillation".
Shustoff is produced at the Odessa Cognac Factory, which dates back to 1836. The factory was acquired by Global Spirits in 2007.
Heaven Hill's Christian Brothers and Radico Khaitan's Old Admiral Brandy were the only other brands to post growth in 2020, with the latter hitting 4m cases for the first time. A number of brands reported double‐digit declines, including Old Kenigsberg and Torres, while McDowell's No.1 Brandy fell by 9.6%. Campari Group's Dreher also continued a downward trajectory, dropping by 1.8% to 2.7m cases.
Brandy (figures: million 9l-case sales)
BRAND
OWNER
2016
2017
2018
2019
2020
%+/-
Old Admiral Brandy
Radico Khaitan
3.5
3.1
3
3.8
4
5.3%
Dreher
Campari Group
3.3
3.4
3.1
2.8
2.7
-1.8%
Shustoff
Global Spirits
0.5
0.6
0.8
1.2
1.3
8.4%
McDowell's No.1 Brandy
United Spirits
3.6
1.7
1.4
1.3
1.1
-9.6%
Old Kenigsberg
Alliance 1892 Brandy Factory
1.3
1.3
1.3
1.3
1.1
-13.8%
Christian Brothers
Heaven Hill Brands
1.1
1.1
1.1
1.1
1.1
0.5%
Torres Brandy
Torres
1.2
1.3
1.3
1.3
1
-17.4%