Top 10 spirits brands on social media
The spirits industry has turned to social media as its primary way of communicating with consumers. We explore how brands have stepped up their game, and name our 2021 Social Media Hero.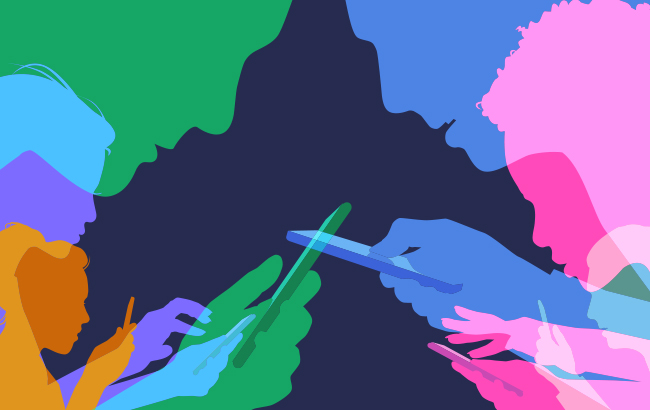 In the face of lockdowns and social distancing measures brought on by the Covid‐19 pandemic, platforms such as Facebook, Twitter and Instagram became increasingly crucial to daily life, connecting family and friends, providing entertainment and facilitating e‐commerce. The escalating reliance on social media was reflected in the growing number of people using these platforms: 4.2 billion, a figure that rose by 13.2% in 2020 alone (Digital 2021 report by creative agency We Are Social and Hootsuite).
Over the past year, the global drinks sector also turned to social media as a primary means of communicating with consumers. With bars and restaurants closed in many places, and distillery tours on hold, spirits companies funnelled their marketing spend into digital.
Of course, the alcohol industry must also ensure that its marketing materials only reach consumers of legal drinking age – an important consideration as brands reworked their marketing strategies. To this end, the International Alliance for Responsible Drinking – a not‐for-profit formed by 12 alcohol companies including Diageo, Pernod Ricard, Bacardi, Beam Suntory and Brown‐Forman – released a series of videos outlining how producers can 'prevent minors from seeing alcohol marketing online' last year. Each video focuses on a different social media platform, providing step‐by‐step instructions on implementing safeguards such as age gates and responsible messaging.
CHANGING WORLD, CHANGING STRATEGIES
Within this framework of accountability, spirits companies aimed to remain relevant by pivoting to stay‐at‐home messaging, and embracing each social media platform's unique features. Brands took advantage of the thirst for video content by hosting tastings and distillery tours on Facebook Live, and appealed to consumers with cocktail‐recipe tutorials on Instagram Stories and how‐to videos on IGTV. For many spirits companies, showing support for the on‐trade was also a priority, and brands partnered with bartenders to run virtual happy hours and cocktail masterclasses on social media. Plus, as bars and restaurants reopened in some parts of the world, spirits companies championed venues by running campaigns to encourage dining and drinking out.
Social media channels have long been platforms for the advocacy of social and cultural issues, and over the past year, spirits brands added their voices to the mix more than ever before. In the wake of the Black Lives Matter protests, a number of companies took to Facebook, Instagram and Twitter to call for racial justice, show their support for the movement and publicly commit to addressing the need for diversity and inclusivity in their workplaces.
ACTIVE PRESENCE
But the last year also proved that spirits producers' silence on social media can be as powerful as their active presence. In June 2020, giants including Brown‐Forman, Beam Suntory and Diageo joined more than 90 brands in a pledge to pause their paid advertising on social media for the month of July. The move was part of the Stop Hate for Profit campaign, a boycott to stop hate speech on Facebook. By autumn 2020, Facebook founder Mark Zuckerberg had extended the company's hate speech policy and had begun removing groups and users that discussed violence.
To evaluate the social presence of the world's million‐case spirits producers, we reviewed brands' global accounts on three key platforms: Facebook, Instagram and Twitter. Photo‐messaging app Snapchat and video‐sharing network TikTok are often geared towards younger consumers, so we did not consider them in this assessment. Brands were judged on engagement figures, including the number of likes, shares, retweets and favourites, as well as the frequency, creativity and consistency of their posts.
Our 2021 winners stood out for their content's relevance to political, social and cultural issues; their imaginative campaigns; their smart celebrity partnerships; and their meaningful interactions with followers. We were particularly impressed with the way brands involved innovators from other sectors in their campaigns, from artists and designers to scientists and athletes.
Despite the year's challenges – or perhaps because of them – the social channels of these spirits brands proved to be fertile ground for creativity.
Click through the following pages to discover the top 10 spirits brands on social media.
The list has been compiled as part of The Spirits Business's Brand Champions report, which is available to view here. As such, it includes only brands that sell more than one million nine-litre cases annually.
These figures are based on research conducted in May 2021, and so the majority of brands included have most likely grown their followers and fans since.
10. Don Julio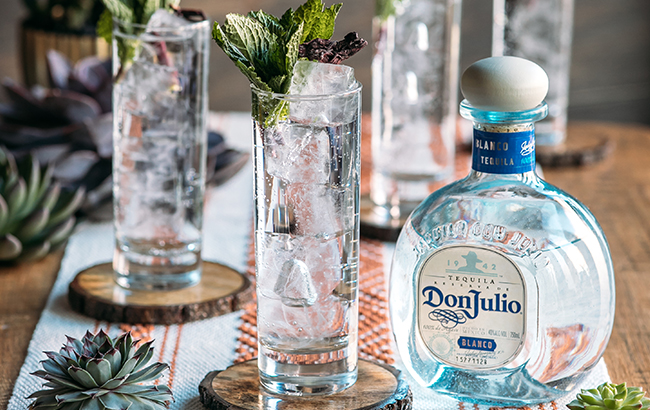 Facebook fans: 1,791,615 | Twitter followers: 40,400 | Instagram followers: 248,000
Engagement 7 | Frequency 6 | Creativity 7.5 | Consistency 6.5 | Overall score 27
Diageo-owned Don Julio Tequila performed solidly across its social media platforms with aspirational lifestyle imagery and cocktail recipes. The brand could have been more active and consistent on Facebook and Twitter, but its Instagram presence is strong, with excellent Instagram Story highlights breaking down each of its expressions, as well as its engaging 'Don Julio Dinner Party' IGTV series.
Another particularly creative campaign saw the brand promote bidding on a NFT (non-fungible token), a piece of digital art by Mexican artist Claudio Limón, with proceeds going to the Don Julio Fund.
9. Havana Club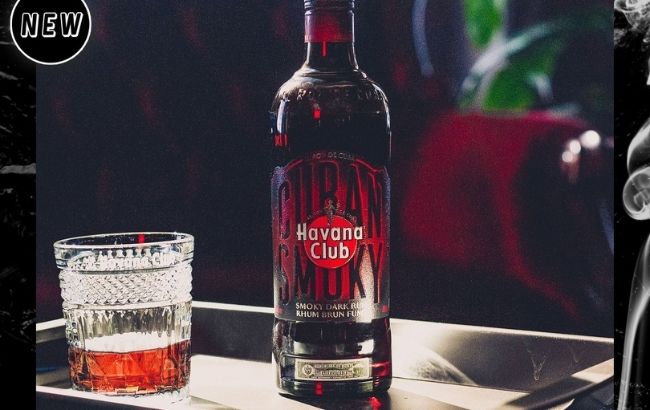 Facebook fans: 2,407,428 | Twitter followers: 7,247 | Instagram followers: 97,400
Engagement 7 | Frequency 7 | Creativity 8 | Consistency 6 | Overall score 28
Pernod Ricard's Havana Club rum partnered with rapper Ms Banks on a creative campaign to promote its Cuban Spiced spirit drink across its social media channels. Throughout lockdowns, the brand kept consumers entertained at home by creating weekly virtual event programmes on Instagram, teaming up with bartenders to give cocktail lessons through Instagram Live.
The brand also made the most of Twitter's features by posting polls to encourage interaction with followers.
8. Johnnie Walker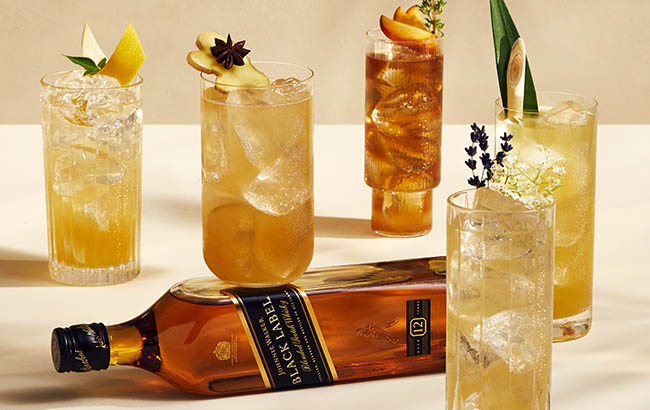 Facebook fans: 14,656,613 | Twitter followers: 34,500 | Instagram followers: 390,000
Engagement 9 | Frequency 7 | Creativity 6 | Consistency 7 | Overall score 29
Blended Scotch Johnnie Walker posted consistently across its platforms, drawing in consumers with Highball recipes, visually pleasing bottle shots and inside looks at Diageo's whisky distilleries. It kept its messaging cohesive on all its channels with the hashtag #KeepWalking.
Overall, the whisky maker's video content was particularly strong and dynamic as it promoted its documentary The Man Who Walked Around the World, which explores the history of the Johnnie Walker brand.
7. Absolut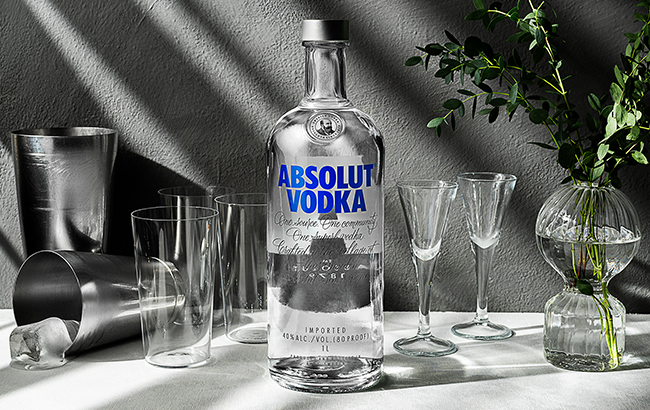 Facebook fans: 7,723,982 | Twitter followers: 87,500 | Instagram followers: 303,000
Engagement 8 | Frequency 8 | Creativity 6 | Consistency 7 | Overall score 29
Last year's Social Media Hero maintained a strong Instagram presence with laser-like focus on cocktail recipes over the past year. It also launched its #TogetherIRL campaign on Instagram, working with artists, gamers and influencers to explore how to bring people together virtually. On Facebook, Absolut looked to appeal to its home-bound audiences by live-streaming DJ sets.
The brand thrived on Twitter as well, embracing a fun tone of voice and frequently replying to consumers.
6. Grey Goose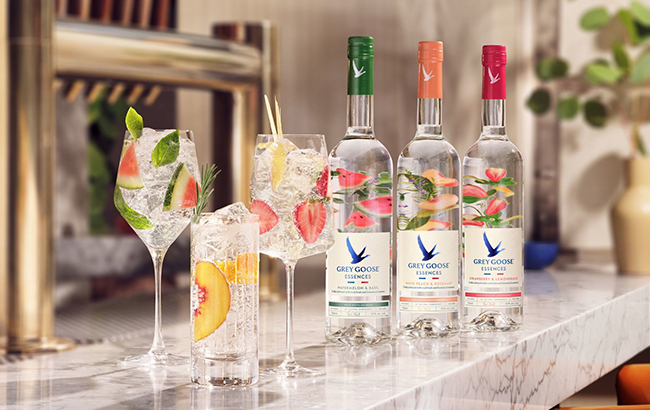 Facebook fans: 2,483,196 | Twitter followers: 89,500 | Instagram followers: 343,000
Engagement 8 | Frequency 7 | Creativity 9 | Consistency 7 | Overall score 31
Bacardi-owned Grey Goose created engaging content around its new lower-ABV Essences range, filming a commercial spot that aired during the Oscars and developing a range of visually striking social media assets to support it.
The vodka brand took full advantage of Instagram's features, posting questions in its Instagram Stories, making Reels and engaging both consumers and the on-trade with an IGTV series called House Pour, collaborating with notable bartenders to share cocktail masterclasses.
5. Hendrick's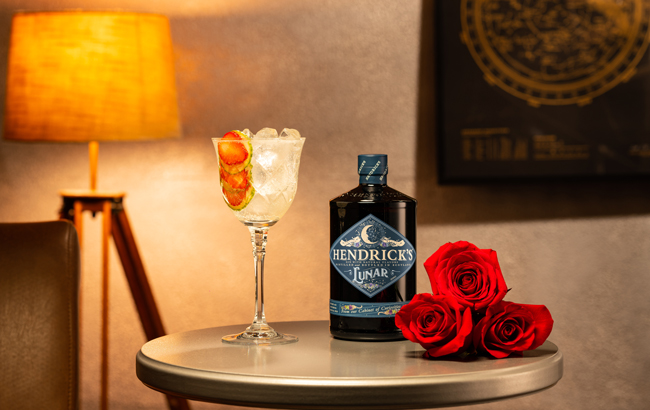 Facebook fans: 909,556 | Twitter followers: 53,100 | Instagram followers: 207,000
Engagement 9 | Frequency 8 | Creativity 7 | Consistency 8 | Overall score 32
Hendrick's Gin was consistent across its channels, but particularly stood out on Twitter thanks to its fanciful tone of voice and excellent replies to consumers.
On Instagram, the brand frequently shared recipes from bartenders around the world and lifted the veil on the distilling process by posting pictures of its stills and introducing followers to its master distiller, Lesley Gracie.
4. Jose Cuervo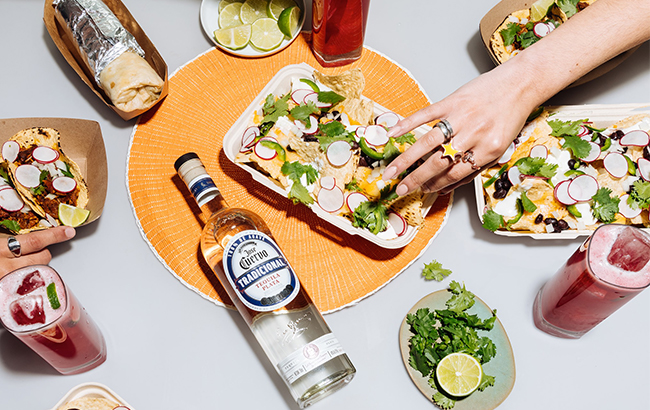 Facebook fans: 903,561 | Twitter followers: 64,900 | Instagram followers: 73,200
Engagement 8 | Frequency 9 | Creativity 7 | Consistency 9 | Overall score 33
Jose Cuervo launched a number of creative campaigns this year and promoted them consistently across its channels. It emphasised its Playamar hard seltzer range on Instagram with beachy visuals and the hashtag #TEQUILAhhh. Around Cinco de Mayo, the brand boosted engagement across its platforms with the #TipsyForCinco campaign, offering consumers reimbursement on their takeaway orders of Mexican food if they tipped delivery drivers 20% or more. For the festive season, Jose Cuervo introduced its cheeky 'Doppeldrinker' sweepstakes, giving entrants the chance to win a cardboard cutout of themselves to send home for the holidays in their stead.
The brand also partnered with celebrities including Keke Palmer, T-Pain and Ilana Glazer for its #WhosMakingMargs series, sharing clips on Instagram to entertain its followers.
3. Rémy Martin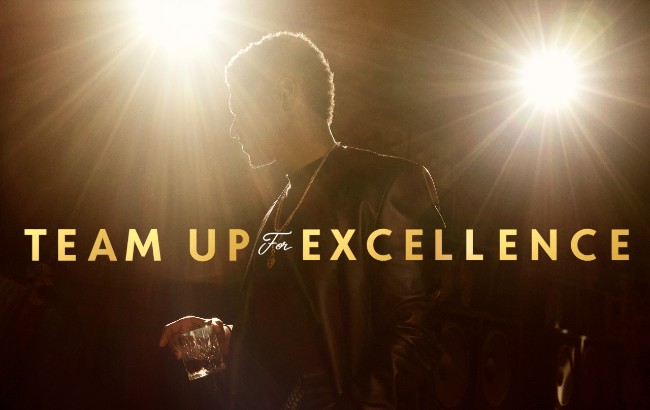 Facebook fans: 2,787,096 | Twitter followers: 19,900 | Instagram followers: 97,400
Engagement 9 | Frequency 8 | Creativity 9 | Consistency 10 | Overall score 36
Cognac brand Rémy Martin scored high marks for its consistency across platforms, delivering high-quality content on Facebook, Instagram and Twitter.
It collaborated with multi-Grammy award-winning artist Usher for its Team Up for Excellence campaign, creating a film that celebrates the connection between music and Cognac. The brand made the most of the partnership by sharing behind-the-scenes footage across its platforms to drive engagement.
Eye-catching lifestyle photographs reinforced the Cognac's luxury image on all its channels, supported by pictures and videos of the producer's vineyards on Facebook.
2. Hennessy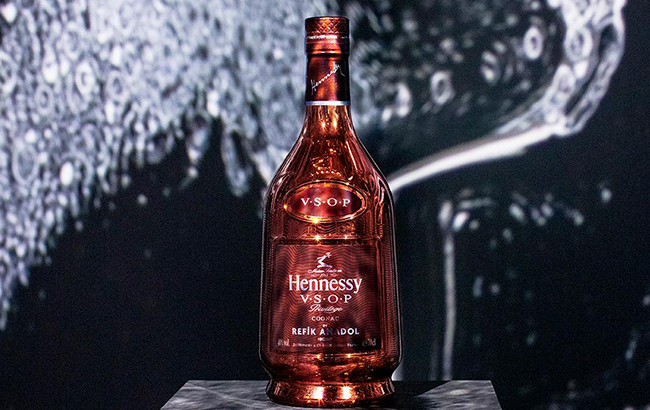 Facebook fans: 3,686,841 | Twitter followers: 71,400 | Instagram followers: 678,000
Engagement 8 | Frequency 9 | Creativity 9 | Consistency 10 | Overall score 36
Cognac brand Hennessy tied with Rémy Martin in terms of points, but secured the second place spot in our ranking thanks to a few smart collaborations. In one highly inventive campaign, artist and designer Refik Anadol used AI software to measure the brainwaves of the Cognac producer's tasting committee as they sampled eaux de vie, then turned the data into artwork which was shared on social media.
Hennessy also stood out for its partnership with the National Basketball Association (NBA), appealing to consumers with posts featuring popular basketball players.
In addition, the brand took advantage of video features in effective ways, from IGTV series to Instagram Stories, providing consumers with at-home drinking inspiration with everything from cocktail recipes to ice-carving tutorials.
1. Bombay Sapphire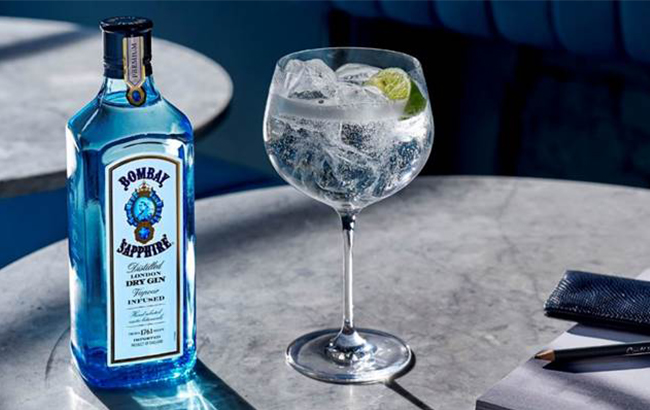 Facebook fans: 1,245,542 | Twitter followers: 10,900 | Instagram followers: 136,000
Engagement 9 | Frequency 9 | Creativity 10 | Consistency 9 | Overall score 37
This year, the title of Social Media Hero went to Bacardi's Bombay Sapphire gin. The brand placed its collaborations with artists and creators at the forefront of its social strategy, scoring high points across categories for its personable and frequent replies to consumers on Twitter, clever use of IGTV and Instagram Reels, and highly consistent, aesthetically pleasing posts.
Its Stir Creativity at Home campaign was promoted intelligently on all channels, and a supermarket pop‐up, created in partnership with London's Design Museum, translated into visually stunning content. What's more, the brand made education and transparency a priority. It engaged and educated consumers through a Q&A with master distiller Anne Brock on Instagram, and shared posts that highlighted its distillery and explained the origins of its botanicals.