Grey Goose launches lower-ABV Essences line
Bacardi-owned Grey Goose vodka has released a 30% ABV range infused with fruit and botanicals to attract 'mindful' drinkers.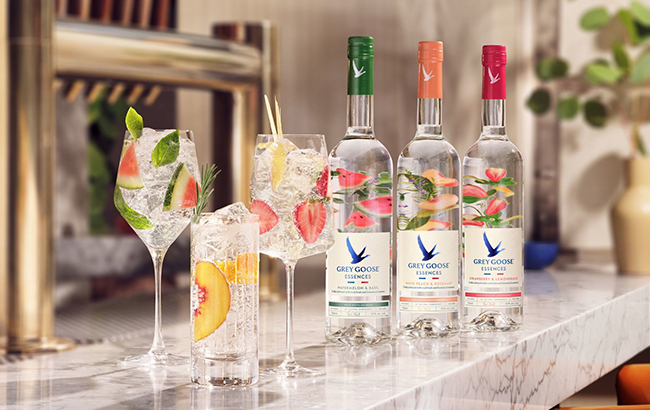 The new Grey Goose Essences line comprises three expressions: Strawberry and Lemongrass, White Peach and Rosemary, and Watermelon and Basil.
Described as the brand's 'most expansive innovation' to date, the range is made with Grey Goose vodka and infused with 'real' fruit and cold-distilled botanicals. The ingredients in each expression come from countries such as France, Spain, Thailand and Sri Lanka.
"Grey Goose Essences has been a labour of love for both me and the brand," said Grey Goose cellar master François Thibault. "The freshest ingredients were meticulously searched for and a unique distillation process is used for each fruit and each botanical to ensure we captured the purest flavour in every bottle."
Each expression contains no artificial ingredients, sugar or carbohydrates. A 1.5oz (42ml) serving contains 73 calories.
Grey Goose said the range was launched to meet increasing demand for 'fresh-tasting flavours and natural ingredients'.
Grey Goose's vice president of global marketing, Martin de Dreuille, said: "Spritzes and mindful drinking have been growing trends, and with consumers increasingly trying their hand at mixology, we knew there was an exciting opportunity to create a distinctive liquid that would take the guesswork out of mixing light tasting and delicious cocktails at home."
Each bottling is recommended served with soda water to make a Spritz.
The Grey Goose Essences range is available at spirits retailers across the US for RRP US$29.99 per 750ml.
The move is not the first time Bacardi has delved into low-alcohol 'spirits'. In August 2020, Bacardi unveiled its lower-ABV Plume and Petal range. However, the launch received criticism over its use of gendered marketing. 
Bacardi expects the retail sales value of the no- and low-alcohol 'spirits' category in Western Europe to reach US$500 million over the next four years.
The company's Less is More campaign seeks to drive awareness of Bacardi's 'mindful drinking' range, including Martini's non-alcoholic aperitivos, Martini Fiero vermouth (14.9% ABV) and St-Germain elderflower liqueur (20% ABV).
The launch of Essences comes nearly three years after Diageo unveiled its 30% ABV Ketel One Botanicals range. Last year, the firm expanded the Botanicals series with three canned ready-to-drink products in the US.