Tequila Brand Champion 2021: Casamigos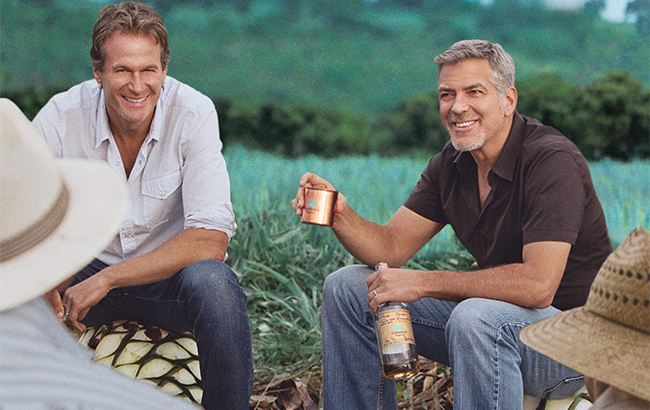 In a year that saw many spirits categories lose traction with consumers, agave spirits continued to pick up steam.
According to figures from Euromonitor, Tequila and mezcal registered 9.3% growth in 2020. This upward trajectory was undoubtedly aided by the buzz around celebrity‐backed Tequilas, as singer Rita Ora, reality TV star Kendall Jenner and actor Kevin Hart joined the growing number of famous faces who have launched their own bottlings. While some of these releases have stirred controversy and conversation around culturally appropriative marketing and sustainable agave practices, they've also converted consumers to the category.
Given Tequila's star‐studded developments, it's fitting that Casamigos is our Tequila Brand Champion this year. Founded by actor George Clooney along with entrepreneurs Rande Gerber and Mike Meldman in 2013, the super‐premium brand was acquired by Diageo in 2017 through a massive US$1 billion deal. Since then, the brand has steadily grown under the watchful eye of the spirits giant. Sales of Casamigos passed the million-case threshold in 2020, selling 1.1m nine‐litre cases and increasing an impressive 82.3% year on year – the highest growth rate among the Tequila million‐case sellers.
Diageo has invested significant resources in the brand's growth, launching a mezcal in 2018 and bringing on Richard Larkin as European commercial director, a newly created role, in 2020. It has also capitalised on the fame factor by referencing Clooney in marketing pushes on social media channels.
Despite a challenging year for the industry, 2020 was "business as usual" for Casamigos, according to Lee Einsidler, the brand's CEO. Its success was bolstered by "accelerated growth in the off‐trade", and takeaway cocktails played a key role in on‐trade sales.
Einsidler says that Casamigos' performance cannot be attributed to just one market – the US, Canada, the Caribbean, Europe and Australia all help to drive growth.
"Consumers around the world love Casamigos for its fabulous taste with no burn," he comments.
Among the other top‐performing Tequila brands, Becle‐owned Jose Cuervo maintained its spot as the global bestseller, with 7.3% growth, while Bacardi's Patrón held onto second place thanks to a 10.8% sales increase. An honourable mention goes to Hornitos, owned by Beam Suntory, which also posted double‐digit growth, up 16.4%.
However, increased consumer interest in Tequila did not benefit every brand. Sales of Brown‐Forman's El Jimador dropped by 10.6%, and Beam Suntory‐owned Sauza's numbers tumbled by 34.2% to 1.1m cases.
Tequila (figures: million 9l-case sales)
BRAND
OWNER
2016
2017
2018
2019
2020
%+/-
Jose Cuervo
Becle
N/A
6.7
6.7
7.3
7.3
0.4%
Patrón
Bacardi
2.5
2.6
2.5
2.8
3.1
10.8%
Don Julio
Diageo
1.0
1.3
1.5
1.7
1.8
4.0%
Hornitos
Beam Suntory
1.0
1.1
1.3
1.3
1.6
16.4%
El Jimador
Brown‐Forman
1.2
1.2
1.4
1.4
1.3
-10.6%
Casamigos
Diageo
N/A
0.1
0.4
0.6
1.1
82.3%
Sauza
Beam Suntory
2.1
2.2
2.1
1.7
1.1
-34.2%