Gin Brand Champion 2021: Gordon's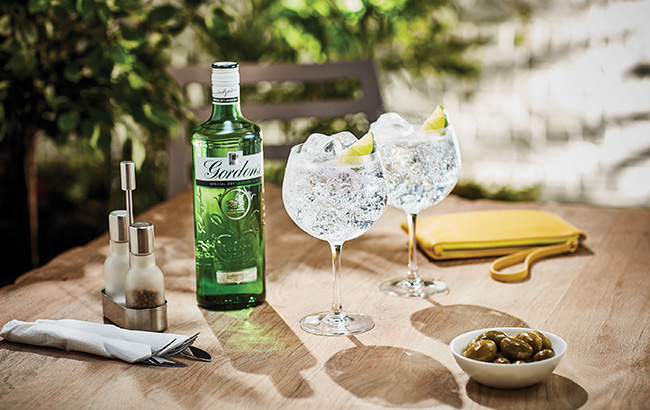 Gin has been on an upward trajectory for years, but as with rum, whisky and more, it experienced an overall decline in 2020 due to Covid‐19 and the resulting closure of the on‐trade. None of our million‐case‐selling gin brands posted growth in the past year, and a few brands saw sales plummet drastically.
However, the gin bubble hasn't necessarily burst. Drinks giants are still investing heavily in the juniper spirit: Diageo's US$610 million purchase of Aviation American Gin – the product co‐owned by actor Ryan Reynolds – made headlines in 2020, as did Pernod Ricard's takeover of German gin Monkey 47.
With bars shuttered, consumers quenched their thirst in the off-trade, and gin was the spirit of choice for many drinkers. According to the Wine and Spirit Trade Association, the category's retail value in the UK shot up 22% in the 12 months to October 2020, smashing the billion‐pound mark for the first time by bringing in £1.2 billion (US$1.6bn). Of these sales, £456m (US$659m) went towards flavoured gin – a 31% year‐on‐year increase for the subcategory.
This year, the title of Gin Brand Champion was awarded to Diageo-owned Gordon's. With 6.7m nine‐litre cases sold in more than 180 countries, it is the only brand that maintained its volume sales in 2020. Mark Jarman, global head of Gordon's, credits that consistency to the brand's reputation. "The last year has been full of uncertainty, and in such times consumers seek their favourite brands that offer them trust, quality and familiarity to deliver the great brand experiences they know they will enjoy and can rely on," he says.
Gordon's aimed to remain relevant in a difficult year by staying "agile" and pivoting its marketing – for instance, tailoring its 'Shall We?' campaign to focus on at‐home drinking. Naturally, retail played a key role in the brand's sales: "We've also focused on working very closely with the off‐trade and e‐commerce channels to make it as easy and appealing to choose Gordon's, using the media and shopping channels consumers shifted to," Jarman says.
The brand tapped into trends too, eyeing the non‐alcoholic 'spirits' market with an alcohol‐free variant at the end of 2020, and capitalising on the demand for flavoured gin with Sicilian Lemon and Mediterranean Orange expressions. With the latter launches, the producer was undoubtedly hoping to recreate the success of its Pink Gin, which sold more than 1m cases in its first two years. The new flavours didn't experience the same massive take‐up as their pink predecessor, but they certainly aided the brand's sales. "Once upon a time Gordon's was really only London Dry," Jarman explains. "Today non‐London Dry variants and innovation will continue to play a critical role in recruiting new consumers to the category and to the brand."
The past year proved most challenging for Beam Suntory's Larios Gin, which saw sales drop by nearly a third. Hendrick's, produced by William Grant & Sons, also suffered, with a year‐on‐year decrease of 26%. Aside from our Brand Champion, Pernod Ricard‐owned Seagram's came the closest to breaking even, selling 2.5m nine‐litre cases compared with last year's 2.6m.
Gin (figures: million 9l-case sales)
BRAND
OWNER
2016
2017
2018
2019
2020
%+/-
Gordon's
Diageo
4.5
5.1
6.5
6.7
6.7
0.0%
Bombay Sapphire
Bacardi
3.8
4
4.3
4.7
4.3
-8.0%
Tanqueray
Diageo
3.1
3.5
4.0
4.5
4.1
-9.7%
Beefeater
Pernod Ricard
2.8
2.8
3.1
3.4
2.7
-20.9%
Seagram's
Pernod Ricard
2.6
2.6
2.6
2.6
2.5
-6.1%
Larios
Beam Suntory
1.2
1.4
1.5
1.5
1.0
-30.4%
Hendrick's
William Grant & Sons
1.0
1.1
1.3
1.4
1.0
-26.0%