Top 10 creative cask-finished spirits
By Owen Bellwood
Barrel finishing can add complexity and new flavours to spirits across a host of different categories. Here, we highlight 10 cask-finished bottlings worth seeking out.
From a gin finished in ex-Tequila casks, to an Irish whiskey aged in ginger beer barrels, distillers and bottlers around the world are increasingly experimenting with cask finishes to impart new flavours into their spirits.
Rum, whisky, gin and Tequila have all undergone the barrel-finishing process in recent years as producers seek to push the boundaries of their respective categories.
In our roundup, we uncover everything from a brandy barrel-finished absinthe to a mezcal cask-aged blended Scotch whisky.
Click through our gallery to uncover 10 top barrel-finished spirits. 
Umbrella London Ginger Beer finished Teeling Whiskey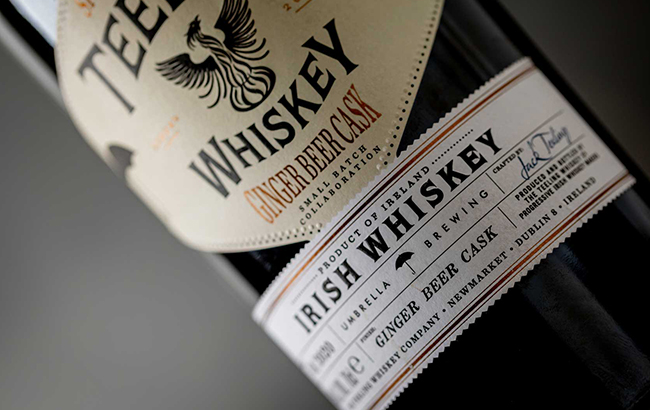 A collaboration between Dublin-based Teeling distillery and London's Umbrella Brewing saw the creation of the first Irish whiskey finished in ginger beer casks.
Released in 2020, Umbrella London Ginger Beer finished Teeling Whiskey was created by finishing Teeling Irish whiskey in hand-selected casks of ginger beer from Umbrella Brewing. The process was said to add flavours of ginger, rich molasses and subtle hints of malt.
The whiskey is bottled at 46% ABV and priced at RRP £45 (US$62).
Dictador Two Masters Royal Tokaji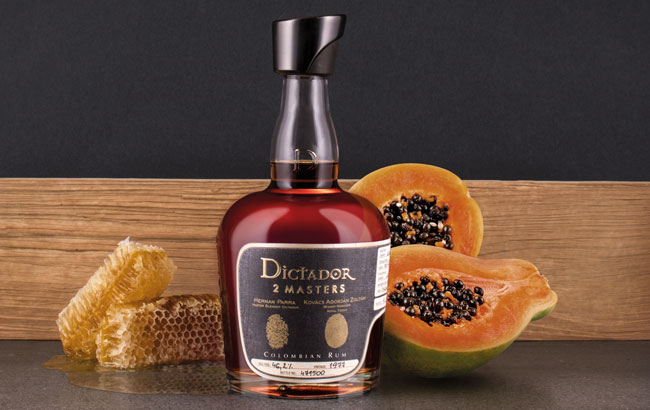 Since its launch in 2017, the Two Masters series from Colombian rum producer Dictador has seen the brand premiere a host of innovative cask-finished rums.
Last year, the producer partnered with Hungarian wine maker Royal Tokaji for its latest release, Dictador Two Masters Royal Tokaji. The expression comprises a 40-year-old rum from 1977, which has undergone additional maturation in the cellars of the Royal Tokaji Wine Company in Hungary.
The new rum saw Dictador master blender Hernan Parra collaborate with Royal Tokaji master blender Zoltán Kovács as 10 barrels from the wine maker were filled with Dictador rum for a seven-month finishing process. The additional maturation imparted aromas of tropical fruits and honey, as well as flavours of Madagascan vanilla, honey and chocolate.
Just 475 bottles of Dictador Two Masters Royal Tokaji were released, each priced at £670 (US$860).
Destillaré Orange Curaçao Finish Bourbon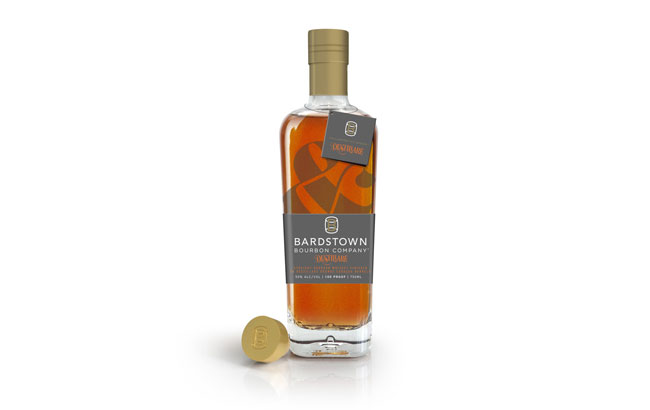 Kentucky-based Bardstown Bourbon Company partnered with American distiller Copper & Kings to create a whiskey finished in Destillaré Orange Curaçao barrels.
The barrel-finished release comprises nine-year-old Tennessee Bourbon finished for 18 months in Destillaré Orange Curaçao barrels from Copper & Kings. The additional maturation was said to give the whiskey "a brilliant orange nose", as well as flavours of baking spice, vanilla and maple.
The whiskey is the latest release in the distillery's Collaborative Series, a line of Bourbons that have been finished in an array of wine, beer and spirits barrels.
Bardstown Bourbon Company's Destillaré Orange Curaçao Finish Bourbon is bottled at 50% ABV and carries a recommended retail price of US$124.99 per 750ml bottle.
Copper & Kings Barrel Finished Absinthe Alembic
As well as offering its barrels for other producers to use in creative finishes, Kentucky-based Copper & Kings has used the technique to innovate with its own portfolio as well.
The Louisville-based company launched a barrel-finished variant of its Absinthe Alembic Blanche, which has been finished in American brandy casks. Distilled in small batches and bottled without the use of chill filtration, the absinthe is described as being herbaceous and pastoral, with notes of grande wormwood, sweet fennel and licorice.
The barrel-finished absinthe is bottled at 65% ABV and priced at US$55 for 750ml.
Courvoisier Avant-Garde Bourbon Finish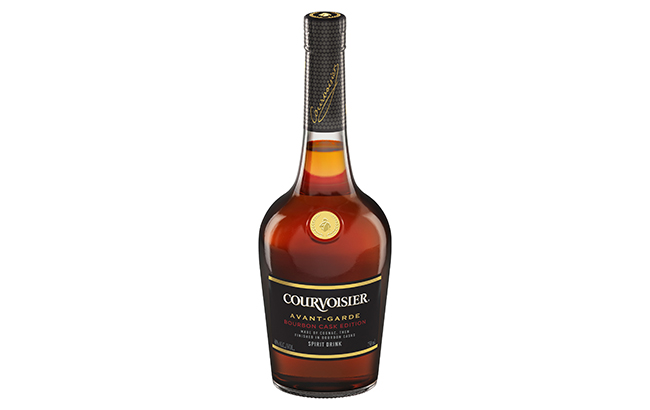 Beam Suntory-owned Courvoisier has also been experimenting with barrel finishes and in 2020 premiered its new Avant-Garde series with a Bourbon cask-finished expression.
The first release in the series was Courvoisier Avant-Garde Bourbon Finish, a VS expression finished in Kentucky Bourbon casks. According to Bureau National Interprofessionnel du Cognac (BNIC) regulations, the Bourbon barrel ageing process does not allow it to be classified as a Cognac, and as such, it is labelled a 'spirit drink'.
The expression's additional maturation is said to produce an "elegant and velvety finish with tasting notes of vanilla, honey and sweet marmalade". On the palate, it is described as having notes of "soft smoky leather and sweet orange".
The 40% ABV bottling is priced at US$39.99 per 750ml.
Dewar's Ilegal Smooth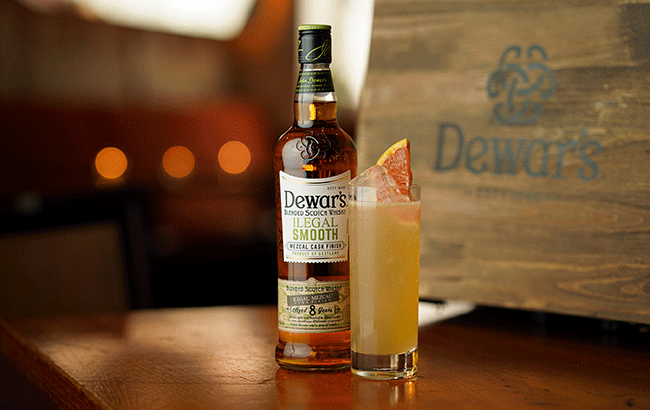 In 2019, the rules governing Scotch whisky production were relaxed to allow new cask types to be used in maturation. Following this update to the regulations, Scotch whisky brand Dewar's unveiled a blend finished in Ilegal Mezcal casks.
Dewar's Ilegal Smooth is made by finishing eight-year-old Dewar's in ex-Ilegal Mezcal casks for one month. The process is said to create an expression that complements the aromas and flavours of Scotch with the traditional profile of mezcal. Upon its launch, the product was the second cask-finished whisky from Dewar's, following the release of Caribbean Smooth in 2019.
Bottled at 40% ABV, Dewar's Ilegal Smooth is priced at US$21.99 per 750ml.
Storywood Tequila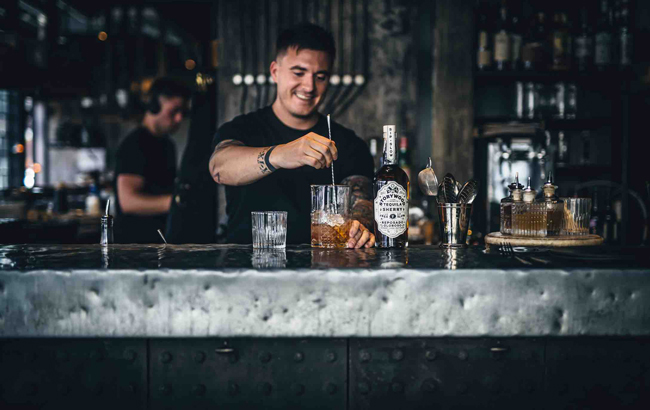 While Dewar's may have matured Scotch whisky in mezcal casks, Scottish brand Storywood added the influence of Scotch whisky to its agave spirits.
The Aberdeen-based company launched in 2017 and offers a range of Tequilas finished in ex-Scotch whisky barrels. To create its portfolio, Storywood exports Speyside whisky casks from Scotland to Mexico, where its products are aged and bottled.
The range includes reposado and añejo bottlings matured in a variety of Scotch whisky barrels. Prices start at £39.99 (US$55) for the brand's Speyside 7 Reposado, which matured in ex-Speyside Scotch whisky barrels for seven months to produce a spirit with oak, vanilla and honey flavours on an earthy agave base.
Ron Jungla
Spanish drinks group Beveland recently added brandy barrel-finished rum brand Ron Jungla to its portfolio.
Ron Jungla is made from premium Caribbean rum that has been matured for a second time in Bodegas Suau brandy barrels in Majorca, Spain. The additional ageing process is said to impart an aroma of dried grape, plum, toasted cocoa and distilled cane sugar molasses. On the palate, Ron Jungla has a "balance of acidity and sweetness".
Bottled at 40% ABV, the barrel-finished rum joins Beveland's extensive rum portfolio, which includes Doble 9 and Caracas Club.
Barrel Seagrass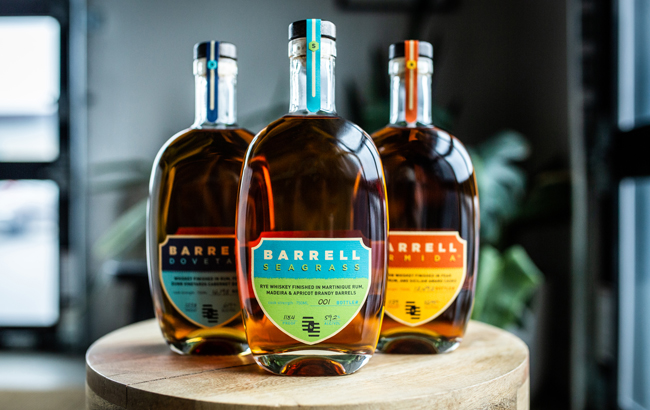 Kentucky-based Barrell Craft Spirits has added Barrell Seagrass to its portfolio, a blend of American and Canadian rye whiskeys finished in three different cask types.
To create the new expression, each ingredient in the blend has been finished separately in Martinique rhum agricole casks, apricot brandy casks, and Madeira barrels. The components were then blended together to create Barrell Seagrass.
Maturation in the three distinct cask types has given the expression aromas of honeydew melon, plum and apricot. The palate is said to be full of classic rye whiskey flavours paired with pear, lychee and white grapefruit.
Bottled at 59.2% ABV, Barrell Seagrass is priced at US$89.99.
Ginquila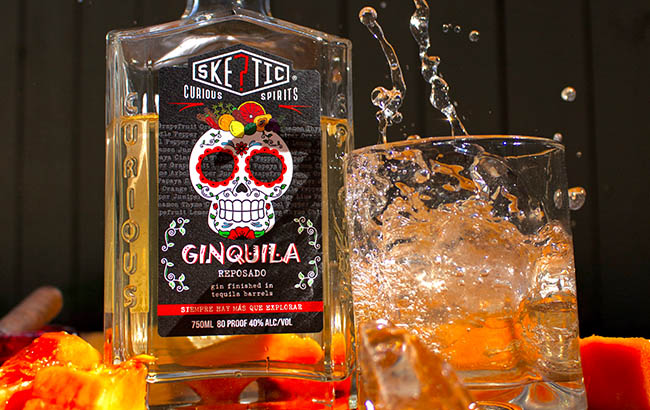 The process of barrel-finishing isn't just reserved for dark spirits, as Chicago-based Skeptic Distillery proved with its Ginquila release.
Last year, Skeptic Distillery unveiled Ginquila, which underwent a seven-month finishing process in ex-Tequila barrels. The expression comprises a gin made with botanicals including  juniper, cinnamon, thyme, arbol and chipotle peppers, lemon, lime, orange, grapefruit and papaya, which were each cold‐vacuum‐distilled to "ensure the utmost freshness and flavour profile".
The liquid was then matured in ex-Tequila casks, resulting in a spirit with notes of citrus and mild spice.
Bottled at 40% ABV, Ginquila is priced at US$34.99.