Crown Royal moves into RTDs
By Nicola Carruthers
Diageo-owned Canadian whisky brand Crown Royal has unveiled its first ready-to-drink cocktail range to meet demand for convenient formats.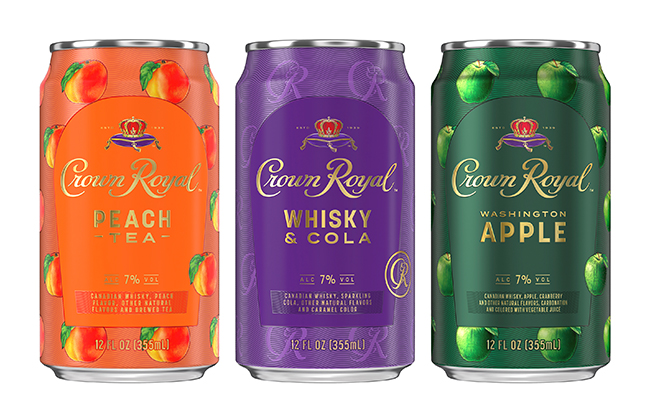 The new canned ready-to-drink (RTD) line comprises: Washington Apple, Whisky and Cola, and Peach Tea. Each expression has an ABV of 7% and is recommended served chilled.
Washington Apple combines Crown Royal whisky with 'apple and sparkling cranberry flavours', while Peach Tea is a blend of Crown Royal, peach flavour and brewed tea.
The brand said the launch of the new range bridges the gap between 'loyal whisky fans and cocktail enthusiasts'.
"There's an increasing interest in ready-to-drink products and there's a real desire from our drinkers to enjoy the cocktails they've always loved at the bar," said Nicky Heckles, vice president of Crown Royal.
"Whether you're relaxing in front of the TV or enjoying time in the backyard, Crown Royal ready-to-drink cocktails are perfect for those who want to celebrate with ease, but not compromise on the premium whisky and flavours we all know and love."
Available across the US, the RTD cocktails are priced at RRP US$14.99 for a four-pack of a single flavour, and US$3.99 per 12oz (355ml) can.
This week, Diageo acquired canned hard seltzer brand Lone River Ranch Water.
Diageo said the RTD category has 'increasingly gained momentum' in the US during the pandemic, boosted by demand for convenient formats and lower-sugar, lower-calorie and gluten-free offerings.
The company has released a number of RTD products over the past year, including Haig Club whisky RTDs, the Ketel One Botanical Spritz range, canned Seedlip and tonic waters, and Tanqueray and tonics.