Diageo buys Lone River hard seltzer brand
By Nicola Carruthers
Smirnoff owner Diageo is expanding its presence in the hard seltzer market with the acquisition of Far West Spirits, producer of the Lone River Ranch Water brand.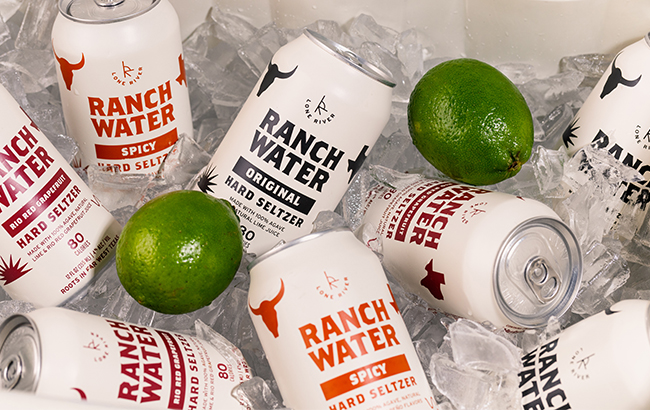 Founded in 2019 by Texas local Katie Beal Brown, Lone River is inspired by the Ranch water cocktail – a drink enjoyed by Brown's family for generations.
The Lone River hard seltzer brand has been influenced by the 'spirit of west Texas and its sense of adventure'.
Brown, founder and CEO, Lone River Beverage Company, said: "We started Lone River with the dream of giving people a taste of far west Texas. We are so grateful for the diverse set of communities that have embraced our brand, extending far beyond our small place on the map.
"We found in Diageo a world-class partner who believes in our vision to bring the spirit of far west Texas to as many as we can."
Brown will retain a minority interest in the company and continue to lead the business on a daily basis, as CEO of the brand. She will work closely with Diageo North America's leadership team.
The Lone River agave-flavoured range includes three expressions: Original, Spicy and Rio Red Grapefruit. Each 12oz (355ml) can contains 80 calories and has an ABV of 4%.
The Original expression is flavoured with organic blue agave nectar and lime juice, while Spicy features Texan jalapeño pepper. Rio Red Grapefruit combines ranch water with grapefruit juice from the state.
Debra Crew, president of Diageo North America, said: "We are excited to bring this vibrant young hard seltzer brand into our growing ready-to-drink portfolio. Lone River captures the magic of Americans' love for agave-flavoured beverages combined with their desire for light, convenient refreshment.
"This acquisition is very much in keeping with our strategy to acquire high-growth brands in fast-growing categories and we look forward to working with Katie and her team to drive Lone River's continued momentum."
Diageo said the ready-to-drink (RTD) category has 'increasingly gained momentum' in the US during the pandemic, boosted by demand for convenient formats and lower-sugar, lower-calorie and gluten-free offerings.
According to IWSR data cited by Diageo, the RTD category increased at a compound annual growth rate (CAGR) of 20% between 2016 and 2019, driven by CAGR growth of 259% in the hard seltzer segment.
The purchase will be funded through existing cash resources.
In June last year, Diageo launched its canned Smirnoff Seltzers range in the UK. The firm's recently acquired Chase Distillery also produces a range of gin-based hard seltzers.