The big interview: Jonny Fowle, Sotheby's
Having left a career as a sound editor for film and TV, Jonny Fowle has helped the spirits department of auction house Sotheby's grow into a world-leading enterprise. He tells us what it's like to sell the world's rarest whiskies.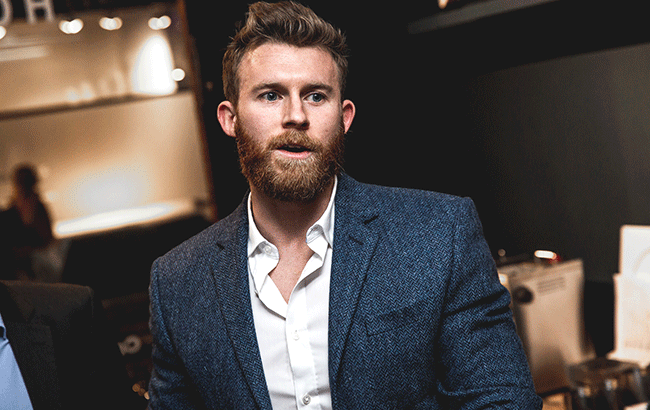 *This feature was originally published in the September 2021 issue of The Spirits Business magazine.
Award‐winning Fleabag is the British TV comedy‐drama everyone has been talking about over the past few years – and it just happens to be one of the last major projects worked by Jonny Fowle before he swapped TV and film for high‐end spirits. Born and raised in Scotland, former sound editor Fowle was once responsible for filling cinemas with sound effects. Now he's tasked with stocking spirits cabinets with some of the world's rarest and most sought‐after bottlings.
While working in the film industry, Fowle also dabbled in spirits, and started a "small little company in about 2012", which he eventually took full time, writing training programmes for bar and hotel groups, before moving into consultancy and whisky brokering.
"It wasn't until about 2017 when I travelled to Asia that I really started to build a private-client network and get into the rare end of spirits, but particularly whisky," Fowle says. The industry hugely appealed to Fowle, and he eventually swapped the silver screen for spirits.
"I just found myself looking at whisky stuff at work, when I should have been making sound effects," Fowle said. "And I thought, I'm in this room, with no windows, and all I can think about is whisky. And every time I got to go on whisky jobs I thought 'this is so much better'."
Today, Fowle is the spirits specialist for auction house Sotheby's, and has access to the world's most highly coveted liquid. Appointed in 2019, Fowle had to delay his start date by a few months after a dramatic turn of events. "I joined in April 2019 because I was hit by a motorbike in February [that year]," he recalls. While cycling through London, the motorbike "just completely took me out", Fowle says. "So I had to ring up [Sotheby's HR] and say 'hey, could we delay this a few weeks because I need to get some facial surgery and some dentistry'," he adds with a laugh.
"Funny, actually, that day I had a company in Hong Kong, and I was trying to get some paperwork signed from a friend who works in the area. So I was on the ground, looking for my teeth, but still encouraging him to sign the papers. Dedication – never off duty."
It's an ethos Fowle seems to have carried into his work at Sotheby's – though, thankfully, with less grisly, potentially life-threatening situations. While Fowle is based in the UK, as well as London, the Sotheby's spirits department also includes New York, Hong Kong – and "soon to be Paris", Fowle reveals, as the auctioneer plans to start selling wine and spirits from the French capital "around December".
"For other categories, there are already [Sotheby's] auctions that exist in Paris," Fowle explains. "But this is going to be new for wine and spirits – it's a growth venture, and we see a lot of opportunity with this expansion."
Fowle's London team is small, comprising just three staff members. Together, they oversee all spirits worldwide, with assistance from dedicated spirits teams in each of Sotheby's overseas markets.
New York is "growing phenomenally", particularly for Scotch whisky and American whiskey, "and some Japanese", Fowle says. In March this year, a bottle of The Macallan's Anecdotes of Ages Collection fetched US$437,500 during a live Sotheby's auction in New York.
The spirits team has worked tirelessly over the past year to grow the business Stateside, and their efforts appear to be paying off.
"In the US, they have a very restrictive three‐tier policy, which reduces the opportunity for secondary market businesses to be able to resource and sell and distribute or fulfil those sales because shipping is such a tricky business," Fowle explains. "With the success of the UK auctions and Hong Kong auctions, New York collectors, or US collectors, are reading the news and have seen the buzz. They're taking the opportunity to sell their whiskies as the market is so buoyant."
High prices
Fowle has witnessed some extraordinary sales over the years – many driven by the seemingly unstoppable demand for The Macallan Scotch whiskies at auction. In recent years there has been particular interest for bottles of The Macallan 1926 60‐year‐old, with designs by artists Sir Peter Blake and Valerio Adami. The sole bottle of The Macallan 1926, hand‐painted by Michael Dillon, became the first bottle of Scotch to sell for more than £1 million (US$1.4m).
"Just having seen that Scotch whisky could suddenly achieve such high prices, it was inevitable that more was going to come out of the woodwork," Fowle says. "What's interesting to see, though, rather than the 1926 bottles in isolation, is the growth of the higher end of the market; how many bottles fall into this £100,000 [US$137,000], or US$100,000‐plus bracket, and watching that grow, which is when I think we see options become more significant. You could sell 100 bottles at £1,000 [US$1,370] and it would be the same impact as, for instance, one bottle of Springbank 1919, or a tenth of the significance of a bottle of Macallan 1926."
More interesting still, he adds, are the large collections that are sold as single‐owner lots. Fowle believes we will continue to see more significant collections come to auction in the next five to six years. "There are plenty of collectors in Europe, the US and Asia who will, as we've seen from the prices, bite people's hands off for these whiskies," Fowle says. "It's the end of one era of collecting and the beginning of a new era."
Fowle's most memorable auction to date is the Ultimate Whisky Collection, Sotheby's first spirits offering from a single owner. The collection was split into two auctions. The first part of the Ultimate Whisky Collection, comprising 391 lots, sold for £7.6m (US$9.8m) when the final hammer fell in October 2019.
The second instalment featured 190 lots of Scotch, Irish and Japanese whiskies, which sold for £1,057,364 on 31 October 2020, bringing the combined worth of the collection to £8.7m (US$11.9m). "Everything about the Ultimate Whisky Collection was pretty sensational," enthuses Fowle. "The catalogue that we produced for it was this 500‐page tome that I spent a really long time on. We travelled to America to go and inspect the bottles, and we produced extravagant photography of it."
The lots were sold in sales in London Olympia, alongside the auction house's rare vintage car auction house, Fowle recalls.
"In this enormous room with vintage cars, F1 cars and tanks, old Porsches, came streaming in everyone from the industry, and we set the record for the highest‐value bottles from The Macallan, Brora, Springbank, the most valuable miniature bottle – everything," Fowle says. "We created cabinets for some of these bottles to go in, so it was a huge production. From beginning to end it was the highest‐concept whisky auction there's ever been, and probably that ever will be until we produce a higher concept."
Most significantly, a bottle of The Macallan Fine & Rare 60 Years Old 1926 (bottled at 42.6% ABV), which had been predicted to sell for between £350,000‐£450,000, set a new record after selling for £1.5m. The 60‐year-old bottling had been the first to appear from the Fine & Rare series in more than a decade.
"It was a phenomenal experience," says Fowle. "I remember that once the price hit a million, everyone was cheering and clapping. And then it carried on going for another £200,000, and then to hammer for a full sale price of £1.452m. Everyone who'd been there for the cars, who weren't even interested in whisky, all gravitated towards it; it was pretty amazing."
Before the pandemic, Fowle spent a fair bit of time traversing the globe, visiting Hong Kong and parts of Southeast Asia as he built client relationships. In‐person tastings of "super‐rare whiskies" with some of Sotheby's "best whisky clients" were an enjoyable part of his responsibilities. Covid‐19 has forced Sotheby's to adapt its strategy and find new ways to stay connected.
"Part of what's great about our company and our experiences is that we get to have this face‐to‐face interaction, and we get to drink great whiskies, travel and meet people, and build a personal relationship," he adds.
"Because of Covid, it's been difficult, and we have pivoted to be more online as a result, but that doesn't stop the way that we like to interact with our clients. We want to let them have the best experience with us; there's a reason that we get the highest prices."
Sotheby's moved from live auctions to online sales, developing a "very sophisticated live‐stream platform" enabling the company to connect "with three or more continents and create that personal connection as much as we possibly could", Fowle explains.
Despite the challenges of 2020, Sotheby's had a strong year. According to the auctioneer's Market Report 2020, three new auction records for spirits were set by Sotheby's last year. A bottle of Karuizawa 52 Years Old Zodiac Rat Cask 51.8% ABV 1960 sold for US$435,273, setting a new record for Japanese whisky at auction.
Auction records
In a new auction record for a bottle of The Dalmore Scotch whisky, a bottle of 62 Years Old The Mackenzie and The Cromarty 40% ABV NV fetched US$324,445. And topping off the new auction records was Gautier Cognac 40% ABV 1762, which was snapped up for US$144,525.
"We like to sell the biggest and most important collections from private clients, and we also like to sell the rarest items that come direct from a distillery," Fowle says.
When asked which is the most sought‐after brand at auction, Fowle has no hesitation in declaring "The Macallan", which accounted for 38% of Sotheby's spirits sales last year, almost double its closest competitor, The Dalmore (20%). Karuizawa Japanese whisky placed third (12%), with Chinese baijiu brand Moutai coming in fourth.
"This year, we are seeing the most significant growth in Moutai Chinese spirit, which previously we've only ever sold in Hong Kong," Fowle notes. "In our last two sales in the UK, we had one lot that sold for £1m, which is the most valuable Moutai lot outside of China. So that's a pretty significant step forward for the global market."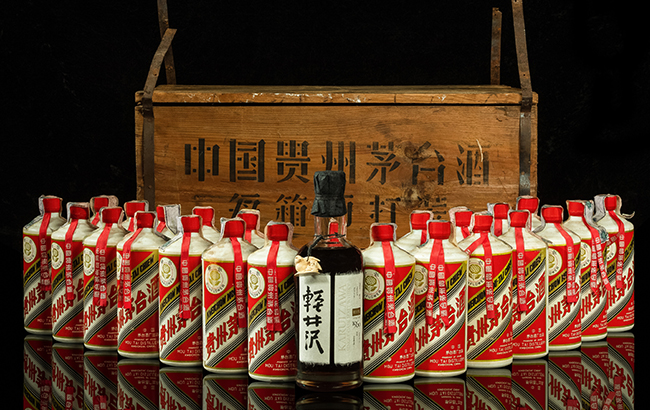 Asia is Sotheby's biggest audience of buyers, "80% of our buyers for spirits are in Asia", Fowle says, but says he thinks this will change as the company expands further in its other markets.
"As we open up the American whiskey category, where interest lies, predominantly, if not entirely, in America, we will see the stats change," Fowle adds. "It will show large growth from US collectors and from US sellers, and from just our turnover of our business in New York and the US in general – it's exciting. We had our first-ever single-owner American whiskey sale [this year], which sold for just shy of US$1m in total."
Fowle says all things considered, the "market stayed incredibly strong" during the pandemic. "People were actually quite confident to sell and the results were very good," he adds.
"People weren't out drinking in bars, but people still liked to drink at home. So there was a real boost in the kind of old bottles, the Italian import bottles from around the '80s, because these are still well within a drinking price range. We saw great growth in that band because people still wanted to open these amazing bottles when they couldn't go to a club in Hong Kong or Singapore."
Ultimately, the primary and secondary markets are closely linked, says Fowle. Provided the primary whisky market continues to grow, it will generate a "broader interest in the category".
"That means interest for more people at more price points, and inevitably the secondary market, where higher prices are often set, will follow."
Looking to the future, and one of the "most interesting and exciting things we have coming up" is the Sotheby's and The Distillers' Charity partnership, which has been agreed for six years. The collaboration will kick off with three auctions featuring ultra‐rare and unique Scotch whiskies and experiences. The sale will raise vital funds to support disadvantaged young people in Scotland and 'empowering them to create positive change'.
The first auction – One of One – will take place at Barnbougle Castle near Edinburgh, Scotland, on 3 December 2021, with more than 40 lots up for grabs, ranging in estimates up to £250,000.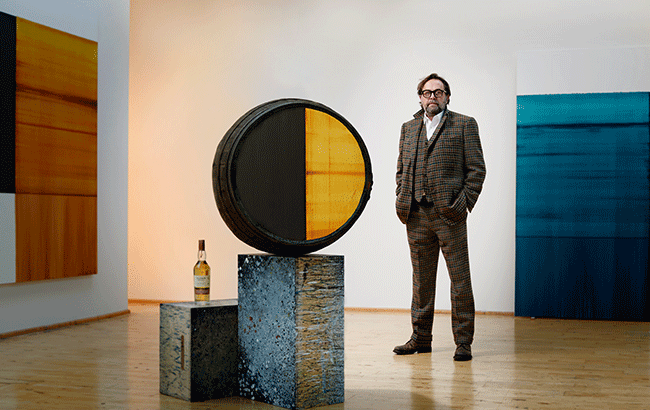 "It's a great opportunity for us to create these partnerships and relationships with people in the industry, distillers and producers," Fowle says.
"I think the Distillers Project is going to be a real landmark for me in my career; I love whisky and having the opportunity to work with all of these producers for charity is a real privilege. I'm really hoping we can generate as much money as possible for a really worthy cause."