Oldest Karuizawa and Macallan whiskies go on sale
Sotheby's in London is set to auction the oldest Karuizawa and Macallan whiskies ever bottled as part of its Finest and Rarest Spirits sale next month.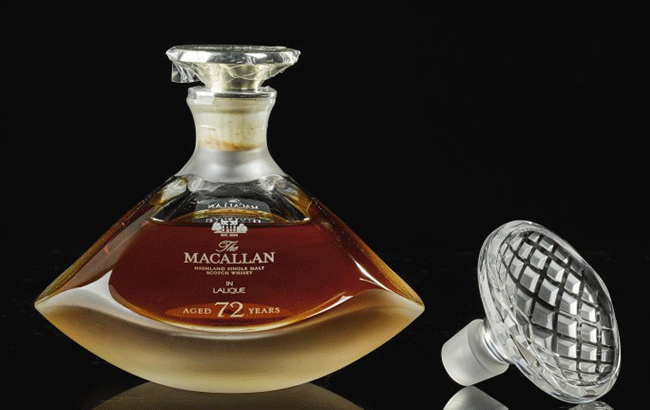 A 52-year-old bottling from the closed Japanese whisky distillery Karuizawa – called Cask #5627 Zodiac Rat 1960 – is estimated to fetch £160,000-£220,000 (US$206,000-US$284,000).
In 2018, a bottle of the same whisky broke the world record for the most expensive bottle of Japanese whisky sold at auction. This record was later beaten by a bottle of first edition 50-year-old Yamazaki.
A number of Macallan Scotch whiskies will also be offered, including the 72-year-old Genesis Decanter, which is expected to fetch £70,000-£100,000 (US$90,000-US$130,000).
Other notable expressions from the Speyside distillery poised to go under the hammer include: a complete Macallan in Lalique Six Pillars Collection, which comprises six crystal decanters ranging from 50 to 65 years old, as well as a rare 48-year-old whisky bottled by Duncan Taylor and a 50-year-old 'anniversary malt' from 1928.
Another highlight will be a complete Glenfarclas Family Cask Trunk containing 50 vintage bottles from 1954 to 2003, marking the first time the collection has been offered at auction.
Meanwhile, an array of Gordon & MacPhail releases dating back to the 1930s has been given a combined value of more than £90,000 (US$115,000).
"We are delighted to present such a strong selection of bottles consigned directly from producers as well as from private collections to begin our 2020 sales in London," said Jonny Fowle, Sotheby's spirits specialist.
"Among the most exciting bottles in this sale are the Gordon & MacPhail Private Decanters, all of which are numbered one of their respective outturn.
"This is the first time that any number one decanter from Gordon & MacPhail has been offered for sale rather than kept within the Urquhart family [the company's founding family] archives."
The Sotheby's Finest and Rarest Spirits sale will be held on 18 March 2020.