Macallan 1967 whisky sells for US$437,500 at auction
A 'one-of-a-kind' bottle of 1967 whisky from The Macallan's new Anecdotes of Ages Collection sold for US$437,500 at auction.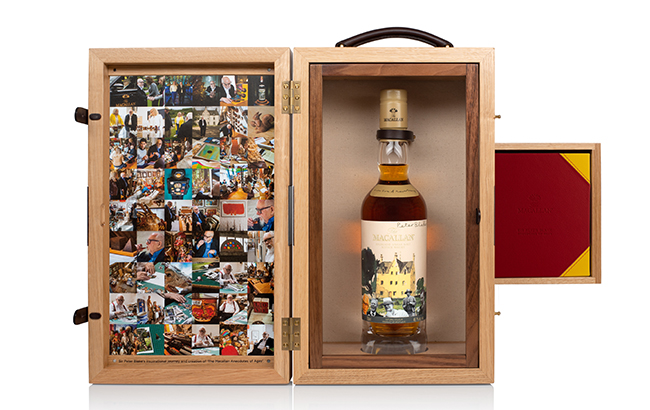 The bottle, which features a label designed by English artist Sir Peter Blake, was sold during a live Sotheby's auction in New York on Saturday 13 March.
Estimated to sell for between US$125,000 and US$750,000, the lot included a 3D Blake print and a bespoke two-day VIP experience with The Macallan in addition to the bottle.
Unveiled last month, the Anecdotes of Ages Collection comprises 13 'one-of-a-kind' bottles of whisky from 1967. Each bottle was selected for its colourful character to represent the year Blake's collage style moved into pop culture.
Each bottle in the collection features an original collage from Blake on the label, along with details of The Macallan's history, community and landscape. The Scotch brand has worked with Blake for more than 30 years.
The Macallan bottle was sold to raise funds for the Solomon R Guggenheim Museum in New York City.
Igor Boyadjian, managing director for The Macallan, said: "The funds from the auction will increase free access and develop engagement with a variety of audiences, and will support 'Saturday on the house', an opportunity for visitors to enjoy free admission to the Guggenheim Museum in New York on select Saturdays."
Other sale highlights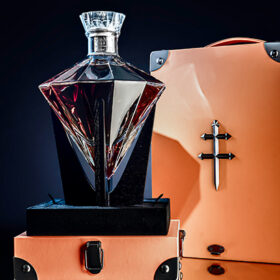 The Sotheby's auction also sold rapper Jay-Z's personal 1969 bottle of D'Ussé Cognac – the only one to bear his signature.
Bottle number one of D'Ussé 1969 Anniversaire Limited Edition Grande Champagne Cognac sold for US$52,500 at the auction, and was expected to fetch between US$25,000 and US$75,000.
The rapper donated proceeds from the sale to his charity, the Shawn Carter Foundation.
One of only 50 bottles, the Cognac was created in celebration of Jay Z's 50th birthday on 4 December 2019.
Furthermore, the auction saw a Masterpiece Hennessy XO decanter, designed by Frank Gehry, sell for US$18,750. Proceeds from the sale will go to the Asian American Business Development Center (AABDC) as part of the Cognac brand's Unfinished Business initiative.
Jonny Fowle, Sotheby's spirits specialist, said: "We are thrilled with the results achieved for the three exceptional charitable lots presented today in our first dedicated spirits sale in New York.
"Over the past few years, we've witnessed a staggering increase in demand for prized, rare whiskies – and the strong prices realised during today's sale are a perfect illustration of this rapidly growing trend.
"With opportunities to gather again in-person with friends and family slowly becoming more frequent, now more than ever we are seeing collectors acquire special bottles from some of the world's most celebrated spirits producers, in hopes of sharing them with loved ones in the near future."