Closing the loop: the new sustainable bar
A movement to promote sustainability through the likes of closed-loop cocktails has now become an integral part of the bar industry, as Amy Hopkins reports.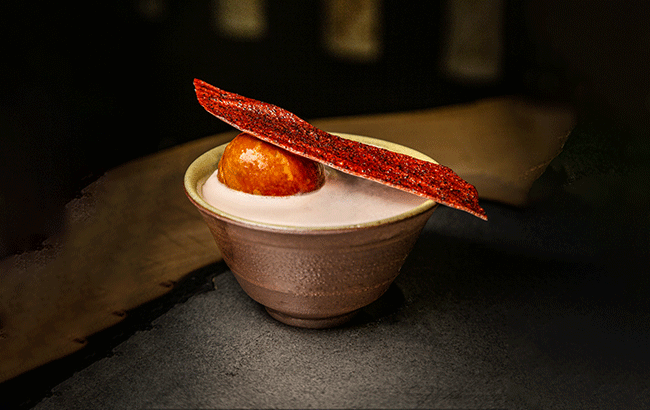 *This article was originally published in the August 2021 issue of The Spirits Business magazine.
Not much time has passed since the idea of replacing plastic straws with paper, metal or bamboo ones seemed to be a revolutionary idea in the hospitality industry. Since then, the on‐trade has adopted a more widespread and innovative approach to sustainability, responding to the demands of increasingly informed and ethically minded consumers.
In 2013, the opening of Ryan Chetiyawardana's White Lyan bar in London was a milestone moment for sustainability in the on‐trade. The venue promoted a low/no-waste ethos, with its abstention from ice and perishable ingredients.
"At first we wanted to highlight the material waste involved in the industry, but also to highlight that sustainability wasn't at odds with luxury," says Chetiyawardana, aka Mr Lyan. "As this became more of an accepted notion – both in the trade and public – it has allowed us to expand our thinking."
Chetiyawardana adds that sustainability is a founding principal for the Lyan group of bars, which now includes outposts in Amsterdam and Washington DC, as well as London.
Luxury items
Chetiyawardana's observation that sustainable practice doesn't preclude luxury is evident in the number of high‐end bars that are embracing closed‐loop cocktails – particularly in London. Venues such as Callooh Callay in Shoreditch and Chelsea, Old Street's Tayēr + Elementary, and Duck and Waffle in the city's financial district are just a few examples of the top bars that have embraced sustainability as a core philosophy in recent years.
"Five years ago there may have been a few bars or restaurants using the word 'sustainable' but no one else really worked like this," says Richard Wynne, director of Callooh Callay. "Now, if you don't have a sustainable outlook, especially in London, you really are behind the times."
London may have ignited the spark of sustainability in the on‐trade, but the movement is spreading around the globe. In Hong Kong, the team behind the acclaimed Old Man bar recently opened Penicillin, the region's first closed‐loop cocktail bar that uses locally sourced or 'upcycled' ingredients.
Like some of its international predecessors, the venue employs scientific methods to incorporate food waste into its cocktails. The space consists of a bar, kitchen, lab and fermentation chamber, producing drinks made from ingredients such as leftover white chocolate from nearby pastry shops, pickled local strawberries and frozen avocado stones, which are used to chill drinks.
Co‐founder Agung Prabowo notes that this new venture marks a "180‐degree shift" for his team. "We are completely changing our style," says Prabowo, who opened the bar with his wife, Laura Prabowo, and couple Roman and Katy Ghale.
Prabowo notes the difficulty of running a sustainable bar in Hong Kong, which has a less developed market for local produce. "It's very hard with the limited resources that we have in Hong Kong, we have to make the best out of it," he says. The team would like to see Penicillin inspire a broader sustainability movement in Hong Kong's bar scene.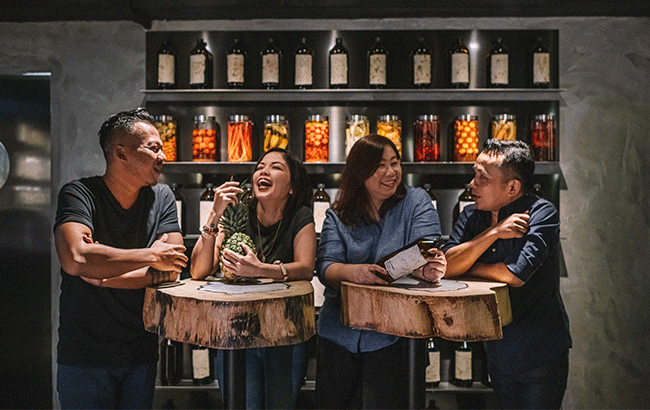 Australia bound
In London, Matt Whiley's Scout, a leading light of the movement, announced its permanent closure in July, making it one of the highest‐profile hospitality casualties of the coronavirus pandemic. However, Whiley is bringing his philosophy to Australia with the recent opening of Re‐, a low/no‐waste cocktail bar that has been operating as a bottle shop during Sydney's lockdowns.
Whiley and his team liaise with local market traders to find out what produce is destined for the bin, and curate the bar's menu accordingly. They are also working to launch an initiative called Never Wasted, which will allow bars to share waste as part of a "circular economy", according to Whiley.
A number of low/no‐waste bars – Penicillin and Re‐ being two of them – are taking a holistic approach to sustainability, incorporating sustainable practices into every feasible element of their business – from the drinks on their menus to the design of their venues and the brands they work with.
Penicillin, for instance, uses old paper and ingredient waste to create its bottle labels, leftover citrus to create hand sanitiser, and fallen or damaged trees to build its tables. At Re‐, seating is made from pineapple leaves, light fixtures from mushroom mycelium, stools from wood and plastic composite that has been swept off factory floors, and artwork from charcoal collected after Australia's devastating bushfires.
With suppliers, Callooh Callay's Wynne notes: "We wouldn't go anywhere near brands or ingredients now that have a bad ethical outlook, and we're constantly asking new brands what their view towards sustainability and ethical profile is." This has led him to work with the likes of Origin Coffee, which is a certified B Corporation.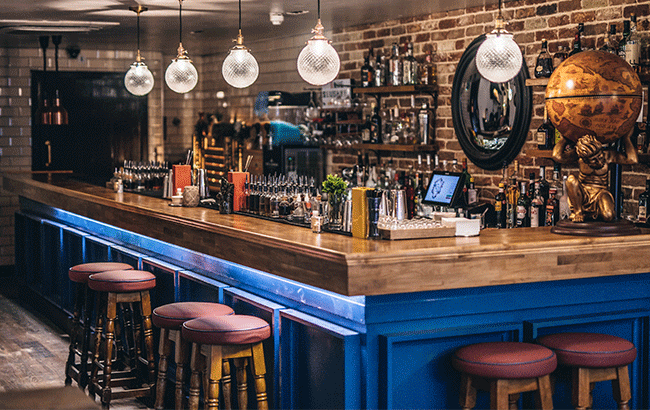 Brands are coming under greater pressure from consumers and bar professionals to act, notes Paul Gabie, CEO of Ecospirits, the world's first closed‐loop distribution system for spirits, which is used by Penicillin, Re‐ and a growing number of other bars.
"Hospitality staff and guests are increasingly demanding progress from operators, suppliers and brands," says Gabie.
"The past few years have seen an ever‐increasing level of awareness, discussion, and calls for action. The progress we are beginning to see in the on‐trade is now broad and multifaceted, from efforts to reduce packaging waste and C02 footprints, to ensuring equitable and sustainable sourcing, and offering clear messaging to guests on sustainable choices on menus."
Most recently, Ecospirits launched in Europe through a partnership with The Savoy in London, enabling the venue to create the Co‐naissance cocktail – made from Portobello Road Gin in the Ecospirits format, recarbonated Champagne, and elderflower and fig leaves foraged from nearby Embankment Gardens. The Ecospirits packaging technology itself "contributes to sustainability in hospitality by nearly eliminating single‐use packaging waste and dramatically reducing transport in the premium spirits supply chain", adds Gabie. The large‐format, refillable containers allow brands, distributors, wholesalers, and venues to eliminate an estimated 70%‐90% of the packaging and distribution footprint of their spirits.
Meanwhile, Coca‐Cola Europacific Partners and Pernod Ricard UK have teamed up with the Net Zero Pubs and Bars initiative to provide venues with the resources and guidance they need to become net zero.
Ian Peart, commercial director at Pernod Ricard UK, says: "Our research shows 80% of consumers expect the food and drinks brands they engage with to do something about climate change. It's no longer a choice for brands."
For Whiley, as the broader drinks industry offers tools for hospitality businesses to reduce their carbon footprints, sustainability will "become less of a concept and more just a way that bars operate in the future. More and more bars are focusing on sustainability without saying it. It's definitely a core part of the industry, and it'll only get bigger and bigger because we all have a part to play."