Eco Spirits gains first UK wholesale listing
Zero-waste packaging producer Eco Spirits has entered the UK wholesale market by securing a listing with 31 Dover.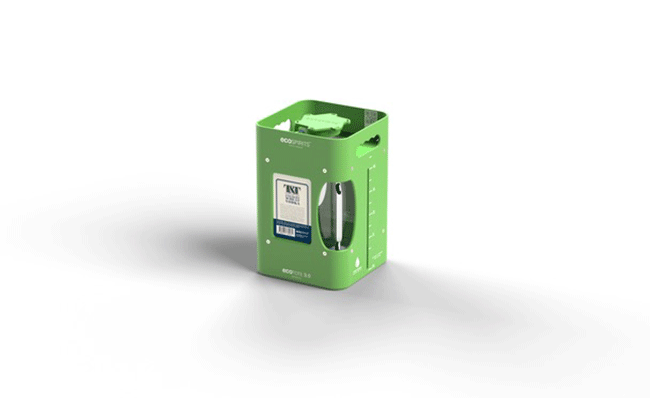 Described as a 'closed loop distribution system', Eco Spirits aims to reduce packaging waste in the spirits supply chain, particularly in the hospitality sector.
It was founded in 2018 in Singapore, and launched in the UK via importer Mangrove earlier this year.
Now the packaging company is establishing a stronger foothold through a new partnership with 31 Dover's wholesale arm.
Mike Beavan, chief commercial officer at 31 Dover, said: "In a world that is seeing a constant push for more sustainability, environmental and Fairtrade principles combined with an on-trade community is a driving force for change.
"31 Dover is proud to be working with Eco Spirits as they offer the potential to remove single glass from a large portion of the UK trade, in addition to commercial and logistical advantages, and delivering greater long term sustainable benefits to the industry as a whole."
Eco Spirits' patent-pending system cuts down on single-use glass through the use of 'eco totes' – reusable 4.5-litre vessels that have been developed for easy use in the on-trade – rather than glass bottles.
The eco totes are filled at the company's 'eco plant' processing facility, then delivered to bars and restaurants, where bartenders can pour the spirits into bottles or glasses using the brand's 'Smart Pour' technology.
Finally, the eco totes are returned to the plant to be refilled and reused.
According to the company, one of its eco totes can eliminate the need for 1,000 glass bottles, saving 550g of carbon emissions for each bottle not used. It claims to reduce packaging costs for distillers by 90%, cut down on 95% of daily glass and cardboard waste for F&B operators, and save the on-trade 10% to 30% of the total cost of premium spirits purchases.
31 Dover will initially list six brands in Eco Spirits format, including London-made Portobello Road Gin.
Paul Gabie, CEO of Eco Spirits, said: "Wholesalers play a critical role in closing the loop in circular spirits, ensuring that zero-waste packaging can be returned to the eco plant for reuse. As a result, selecting the best, forward-thinking wholesaler partners is critical to the success of the low-carbon revolution.
"31 Dover have built an excellent reputation for innovation and service, making them the perfect fit. We are delighted to welcome them on the journey to reduce single use glass waste and C02  emissions in London."
In July, the Beaufort Bar at The Savoy hotel became the first venue in Europe to use Eco Spirits technology with its Co-Naissance cocktail.
Last year, 31 Dover took home the title of Spirits Retailer of the Year at The Spirits Business Awards.