Your guide to TFWA World Exhibition 2021
By admin
After a two-year layoff, the TFWA will return to the South of France for its annual conference, with the sector's leading spirits firms attending.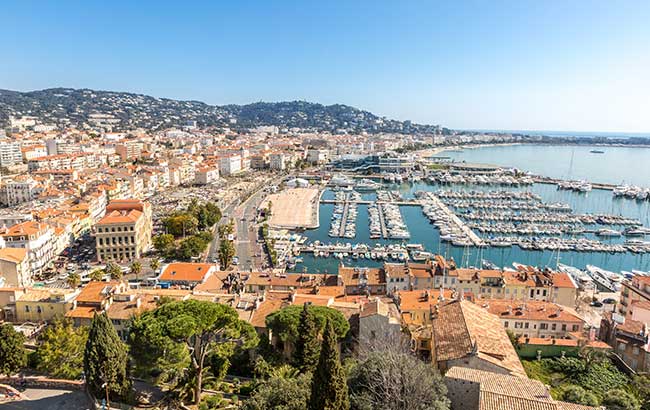 Experts, brands and retailers from the travel retail sector will head to the South of France for the industry's biggest show this month. The Tax Free World Association's (TFWA) flagship event will return to Cannes after a two‐year absence because of the pandemic. Delegates will be able to reunite for important industry discussions and networking, while taking in new trends and products from the sector.
Scheduled to run from Sunday 24 October until Thursday 28 October at the Palais des Festivals convention centre, the TFWA World Exhibition & Conference will place an emphasis on safety, with several measures in place.
"Our focus for TFWA World Exhibition & Conference this year has been on providing delegates with an event that prioritises safety and security, and doesn't compromise on quality," said Donatienne de Fontaines‐Guillaume, TFWA vice‐president commercial.
Face masks will be mandatory for all attendees during show days, and hand sanitiser will be available throughout the venue. There will also be a 24‐hour medical concierge service at the venue, with specialist medical teams available to support any guests feeling unwell.
TFWA has implemented a shorter, more compact timescale, with the show opening at 12pm on Monday, while working hours have been extended from 8.30am to 6.30pm on all days except Thursday, when the day will end at 5pm. The show's usual social gathering on Sunday evening will not take place this year.
"This will give delegates more time to view the latest launches in the exhibition halls, arrange business meetings with key stakeholders, and take advantage of the many networking opportunities available during the week," says Fontaines‐Guillaume.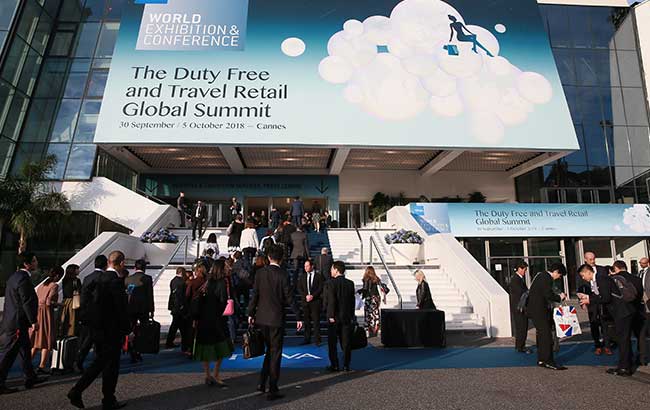 The show will feature more than 250 exhibitors, including more than 70 wine and spirits firms, such as Bacardi, Brown‐Forman and Stock Spirits Group.
Fontaines‐Guillaume said: "Spirits remains one of the largest product categories in our industry and is a vital part of the travel retail mix. It's a key sales driver with an incredibly varied selection of global brands that are destination purchases for many shoppers.
"It's also a highly innovative category, with a wealth of craft and bespoke producers creating unique brands that bring a much-needed point of difference to a travel retailer's product portfolio.
"Spirits has always been a key focus for TFWA, and will continue to be so in the coming years, with this category due to play an important role in the recovery of the duty free and travel retail industry."
This year's show will be the first under new TFWA president Jaya Singh, who succeeded Alain Maingreaud after his two‐year term.
Chinese travellers
The show's conference schedule will kick off with an introduction from Singh, while Jane Sun, CEO of Trip.com Group, will share her thoughts on the return to travel in China and future expectations of Chinese travellers.
Other speakers will include DFS Group CEO Benjamin Vuchot, who will discuss travel retail's need to reinvent itself, while International Air Transport Association vice-president, Europe Rafael Schvartzman will tackle the future for travel for airlines. Imagen Insights co-founder Jay Richards will divulge details on how best to engage a new generation of travellers.
Furthermore, the TFWA will use its new 365 digital platform to complement the physical show. The 365 platform will act as a permanent resource that will offer 'year-round support and a range of services for TFWA members and industry partners'.
Singh said: "The conference will be streamed live on TFWA 365, giving members unable to attend in person the opportunity to hear from our great line‐up of speakers – which will include some of the biggest names in duty free and travel retail and leading experts from related industries."
TFWA 365 is home to the TFWA i.lab, a new 100% digital showcase evolved from the TFWA Innovation Lab. TFWA i.lab will offer insights into how duty free and travel retail businesses can target travelling consumers, with a focus on areas such as e‐commerce and digital technology. Digital meetings will also be held through the TFWA One2One meeting service.
As to the future of the show, Singh added: "The TFWA World Exhibition & Conference is constantly evolving, and we are always looking at new ways to improve the event to provide the best experience possible for attendees.
"It is too early to say what next year's show may look like, but any changes we do make will, of course, be for the benefit of our members and the wider duty free and travel retail industry."
Here, we highlight some of the events and spirits exhibitors to make a stop for at this year's TFWA World Exhibition & Conference.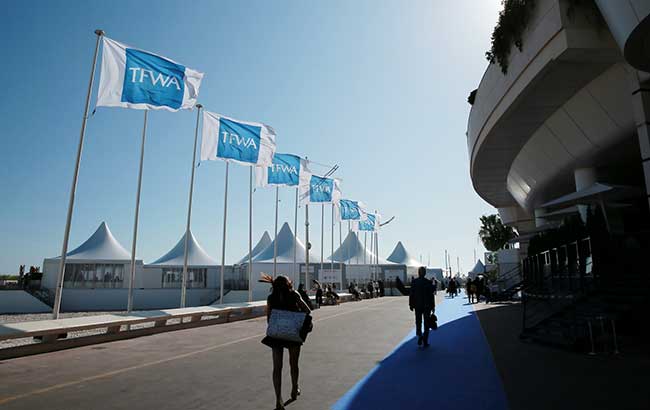 Sunday 24 October
REGISTRATION
Level ‐1, Palais des Festivals
9am‐6pm CET
Registration for the TFWA World Exhibition & Conference opens.
Monday 25 October
CONFERENCE
Grand Auditorium, Palais des Festivals
9am‐11.45am CET
It has been two years since the duty free and travel retail industry met in Cannes. Since then, the industry has been ravaged by the Covid‐19 pandemic and is among the hardest-hit sectors in the world. Recovery is slowly under way, but changes from region to region. The opening conference will give an array of views on the recovery of international travel and related industries.
EXHIBITION
12pm‐6.30pm CET
More than 200 exhibitors – including 71 wine and spirits brands – will be showcasing their portfolios throughout the day.
TFWA LOUNGE
6.30pm‐9pm CET
Visitors can take advantage of TFWA services offered in the lounge area at Carlton Beach.
Tuesday 26 October
REGISTRATION
8.30am‐6.30pm CET
Registration remains open throughout day two of the event.
EXHIBITION
8.30am‐6.30pm
The doors will open early on day two to allow ample time for meetings to discover the hundreds of exhibitors on offer at this year's event.
TFWA LOUNGE
6.30pm‐9pm CET
Visitors can take advantage of TFWA services offered in the lounge area at Carlton Beach.
Wednesday 27 October
REGISTRATION
8.30am‐6.30pm CET
For new arrivals, registration remains open throughout day three.
EXHIBITION AND ONE2ONE
8.30am‐6.30pm CET
The final day of the exhibition will kick off at 8.30am sharp, offering another day to meet, reconnect and explore all there is to offer at the TFWA World Exhibition & Conference.
It will also be when guests can make use of TFWA's dedicated meeting service: One2One. The initiative organises introductory encounters between exhibiting brands, buyers, airports and trade agents.
Eligible companies need only name the participants they wish to connect with and the One2One team takes care of the arrangements, providing on‐site support.
To use the service, make sure you are eligible and pre‐registered for TFWA World Exhibition & Conference.
TFWA LOUNGE
6.30pm‐9pm CET
Visitors can take advantage of TFWA services offered in the lounge area at Carlton Beach.
Thursday 28 October
REGISTRATION
8.30am‐5pm CET
For the final day of the show, registration remains open until 5pm.
EXHIBITION AND ONE2ONE
8.30am‐5pm CET
On the closing day, visitors have one last chance to explore the exhibition and make use of TFWA's One2One meeting service.
Stands to seek out
ZAMORA COMPANY
Stand: M67, Green Village
It's a year of celebration for Zamora Company's Licor 43 brand, as it marks its 75th anniversary this year. The Spanish liqueur's flagship trio – Licor 43 Original, Baristo and vegan Horchata – will all feature during the TFWA exhibition. Several new products launched this year, most notably the brand's new RTDs, will accompany them: Licor 43 Fresco, Licor 43 Carajillo, and Licor 43 Coffee Nitro.
Furthermore, Zamora Company will be bringing Villa Massa Limoncello and Amaretto – and will also reveal a new addition to the Italian brand during the show.
A spokesperson for Zamora Company said: "2020 was a difficult year for everyone, and of course this year has been the same as the travel retail sector has been suffering the consequences of the pandemic with continuous restrictions both on travel and security. But it has been key for us to not lose sight of consumer behaviour and to be able to adapt to their shopping habits."
NEMIROFF
Stand: E33
Less than a year ago, news broke of a packaging update for Nemiroff's The Originals collection. Now the Ukrainian vodka brand is ready to showcase its revamped look to visitors at this year's TFWA show.
Nemiroff Original, Nemiroff Delikat and Nemiroff Ukrainian Honey and Pepper have all been given a bottle design update, including a new shape, label fonts, colours and graphic elements – all combined to depict the brand's history in a contemporary fashion.
Visitors will also be able to discover more about the brand's The Inked Collection, comprising Wild Cranberry, Burning Pear and Bold Orange flavours. And the De Luxe series, featuring Original, Honey Pepper and Rested in Barrel, will also be on show.
"Over the last two years, despite all the challenges caused by the pandemic restrictions, Nemiroff kept moving forward and growing the business," said Irina Zhygunova, the Ukranian company's global chief marketing officer.