Top 10 spirits marketing moves in September 2021
From sustainability-focused initiatives to a vodka-backed lunar landing, these are the most exciting advertising campaigns to launch in September.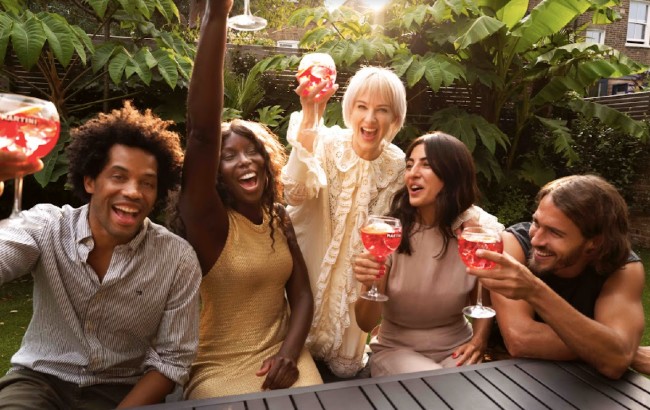 Environmental responsibility was a major theme in last month's marketing moves, with producers including Patrón Tequila and Halewood Artisanal Spirits doing their part for the planet.
Meanwhile, Nemiroff Vodka inked an out-of-this-world deal to sponsor a moon mission, and Loch Lomond took a sporty approach with a Super League partnership.
Read on for 10 of our favourite campaigns from September – and for more marketing moves, check out our list from August.
---
Brockmans Gin goes underground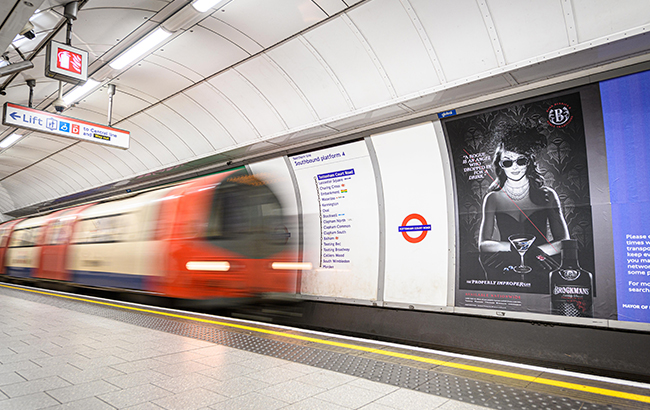 English brand Brockmans Gin unveiled a new advertising campaign in central London's Tube stations.
The Properly Improper Gin campaign will be displayed until 11 October, and is valued at £80,000 (US$109,513). It is part of the brand's £3 million (US$4m) global marketing investment.
Rob McArdle, marketing controller for Brockmans Gin, said: "We were excited about launching our advertising campaign, with its banner of The Properly Improper Gin earlier this summer. This has primarily been a social media programme until now."
Sixteen poster advertisements have been rolled out on 250 platforms throughout the Jubilee, Piccadilly, Northern, Central and Bakerloo lines.
---
Distilleries team up for cross-Atlantic venture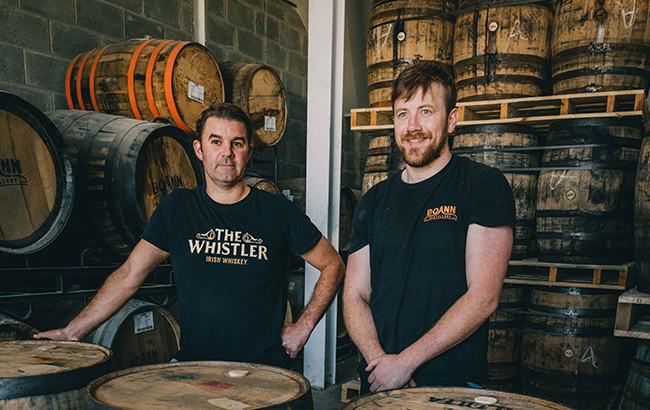 Irish distillery Boann and US-based distillery Talnua have partnered to launch a whiskey-maturation project.
Talnua Distillery is based in Denver, Colorado, and Boann Distillery is located in Drogheda, County Meath. The two distilleries' transatlantic project will compare whiskey maturation in different climates, discovering how weather conditions affect the taste of single pot still whiskeys matured 7,000 kilometres apart.
Peter Cooney, co‐founder of Boann, said: "We are sharing exactly the same recipe and types of barrel. But Colorado has a dry climate in a high-altitude, desert environment with low humidity, as opposed to our more stable, mild, wet climate."
The distilleries have filled 14 casks between them, which will mature until 2026.
Overall, 2,800 litres of single pot still whiskey will come to maturity in five years' time, and will be available to buy in a pack comprising two 375ml bottles – one containing the American expression and one containing the Irish liquid.
---
Loch Lomond scores with Super League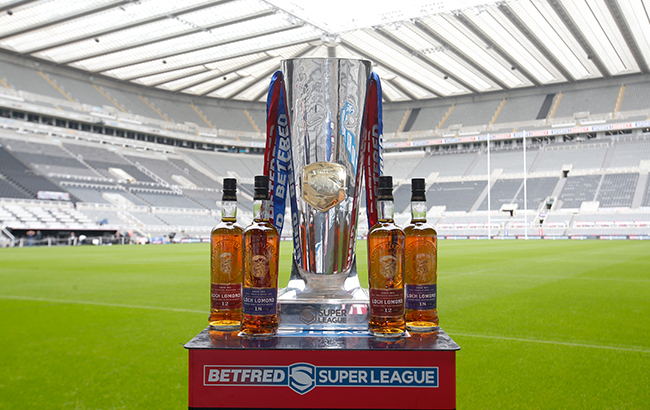 Loch Lomond has teamed up with British rugby's Super League until the end of the 2024 season.
The group will produce a range of limited edition club‐branded products as part of the partnership, with a percentage of proceeds from the bottlings donated to rugby clubs and charities.
Loch Lomond has also been given naming rights to the Spirit of Super League Award, which is presented at the Betfred Super League Awards event to a player who epitomises the values of Super League.
Super League chief commercial officer Rhodri Jones said: "Loch Lomond's experience of working with one of our clubs has shown how well we work with partners within our game."
---
Halewood powers into change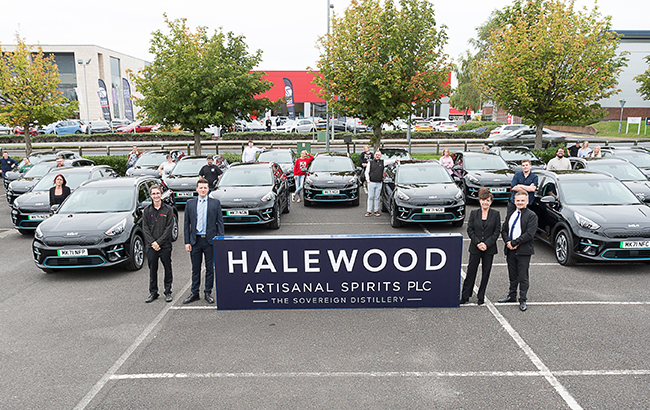 Whitley Neill Gin owner Halewood Artisanal Spirits has adopted an electric fleet, replacing its diesel vehicles.
The firm received a delivery of 25 Kia e-Niro electric cars, with an aim to have 90% of its drivers using electric cars by September 2021. Company drivers, who travel between the brand's sites in the UK and to visit clients, will use the new cars, and workplace chargers will be installed at each of Halewood's UK sites.
Iain Wilson, fleet manager at Halewood, said: "The Kia e-Niro addressed our concerns about electric vehicles (EV) convincingly, thanks to its practicality, range and charging speeds. There are many reasons why fleets should at least look to go electric."
Halewood's drivers have also received driver training to ensure maximum efficiency of driving in an EV.
---
Bacardi puts snappers in frame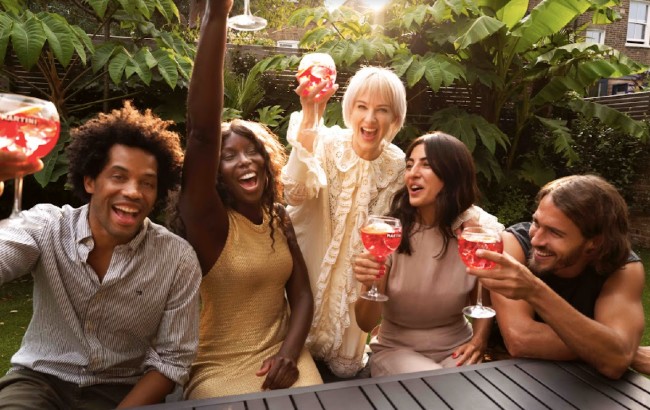 Bacardi-owned Martini has collaborated with celebrity photographer Greg Williams to launch a competition for the chance to win a photo shoot.
The competition calls for entrants to submit photos of in-person meet-ups as restrictions ease, which will contribute to a digital photography series produced by the partnership. To inspire people, Williams will kick-start the series with a collection of photographs in celebration of friendship. One photo depicts a group catching up over cicchetti and enjoying a Martini Fiero and tonic.
The four winners will be photographed remotely with their friends by Williams himself.
---
Sky's not the limit for Nemiroff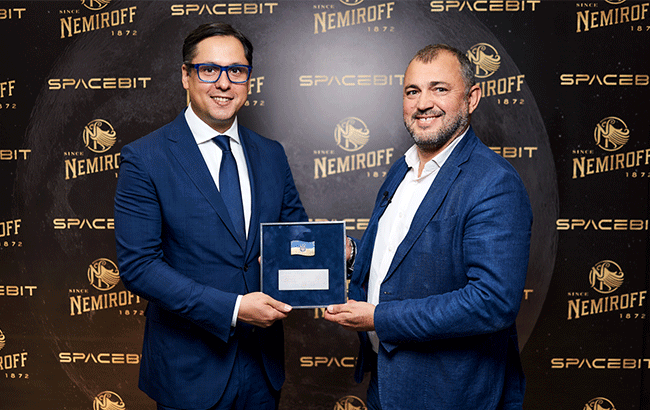 Ukrainian vodka Nemiroff has signed on as an official partner of robotics technology firm Spacebit's 2022 lunar mission.
Spacebit, a privately held British company, will send missions to the moon for the UK and Ukraine (UA) next year to collect scientific data.
The partnership will produce a 3D‐printed, 'waste-free' Ukrainian flag to be carried to the moon on the mission, which has been developed in partnership with the United Launch Alliance and Astrobotic Technology. Nemiroff is providing partial funding.
Founder and CEO of Spacebit Pavlo Tanasyuk said: "It is a great honour for Spacebit to carry out the first‐ever UA mission to the moon. We are proud that Ukraine will thus enter the club of privileged countries that have done anything like this."
---
Martin Miller's Gin has its art in the right place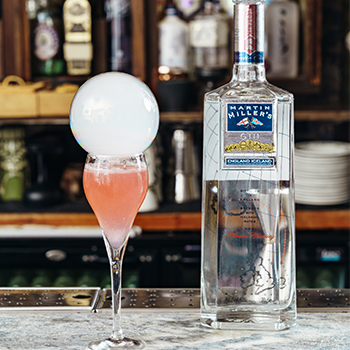 Martin Miller's Gin, owned by Spanish drinks producer Zamora Company, has partnered with the Association of Women in the Arts (Awita) to sponsor five female artists.
The partnership will offer the selected applicants a year‐long membership to Awita, paid for by Martin Miller's Gin. Awita brings together women in the art world through networking events and talks, allowing rising stars of the industry to connect. Applications for the scheme are open now until 6 November 2021 through Awita's website.
Martin Miller's has also commissioned experiential artwork that will appear at London's Affordable Art Fair in Battersea this month.
The chosen creation experiments with ice, water and light, and explores themes of purity, transformation and the creative process.
---
Patrón and Annabel's aid rainforests with bottle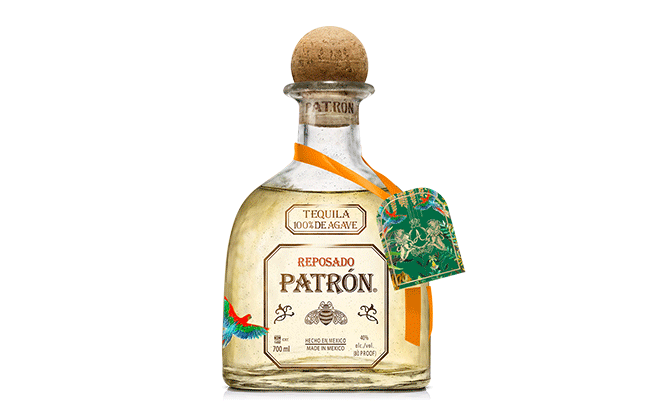 Bacardi-owned Patrón Tequila has worked with private members' club Annabel's to produce a limited edition bottle.
Proceeds from the bottle's sales will raise money for the reforestation of Brazilian rainforests, as part of Annabel's for the Amazon initiative. The London venue has committed to saving rainforests with its pledge to plant a million trees by March 2023.
The Annabel's x Patrón Reposado bottle, created by Annabel's, takes the club's Jungle Bar as inspiration for its design. The bottle is available exclusively from Selfridges' website and stores for an RRP of £85 (US$117) per 700ml bottle.
---
Pembrokeshire Gin Co ads up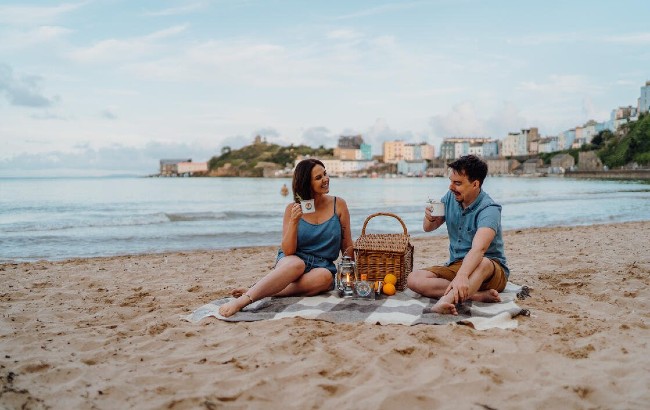 Welsh producer Pembrokeshire Gin Company has revealed its first TV campaign with AdSmart from Sky.
The gin maker was a recipient of Sky's SME100 support scheme, which offers advertising support to up‐and‐coming businesses.
Pembrokeshire Gin was one of the 100 small companies granted £20,000 (US$27,150) of TV advertising on Sky Media's channels as part of the scheme, receiving free Adsmart TV advertising. The advert will promote three of Pembrokeshire's gins.
Charlotte Clark, of Pembrokeshire Gin Company, said: "Using AdSmart's targeting features, we have selected a target market and hope to promote the brand both locally and nationally."
---
Bacardí Spiced sails into autumn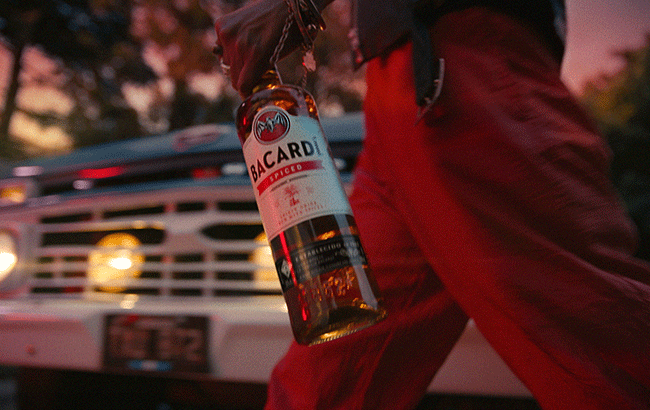 Bacardi has premiered two new campaigns for its Bacardí Spiced bottling to toast the change of season.
The campaigns, named Domino and Captains Choose Bacardí Spiced, are being rolled out as a digital ad spot and social media campaign respectively.
'Domino' highlights the joys of friends reuniting and house parties – the latter being the 'perfect occasion' to enjoy Bacardí Spiced, the company said.
Captains Choose Bacardí Spiced is a forthcoming social media campaign featuring prominent cast members from hit US TV reality show Below Deck. The 'fan favourites', including Captain Glenn Shephard and yachtie Kate Chastain, will showcase a natural inclination towards Bacardí Spiced.