Halewood adopts electric fleet
Whitley Neill Gin owner Halewood Artisanal Spirits is replacing its diesel vehicles with electric cars.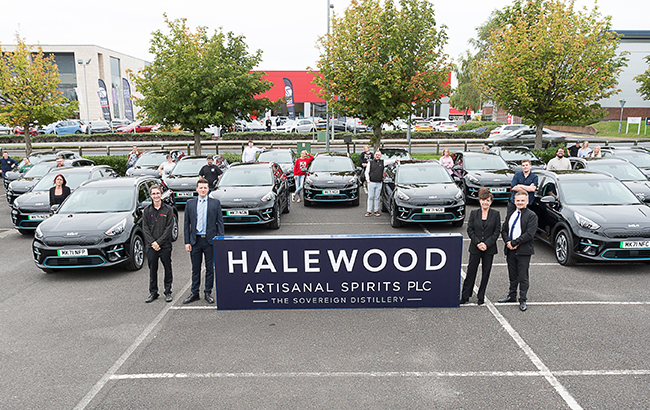 The JJ Whitley owner has taken a delivery of 25 Kia e-Niro electric cars, and plans for 90% of its fleet to transition to electric power this month (September).
The new fleet will be used by company drivers to travel between the brand's sites in the UK, as well as to visit clients.
Iain Wilson, fleet manager at Halewood Artisanal Spirits, said: "Our previous fleet was made up of diesel and plug-in hybrid vehicles, and we'd monitored the EV [electric vehicle] market for quite some time before taking the plunge.
"The Kia e-Niro addressed all our concerns about EVs convincingly, thanks to its excellent practicality, range and charging speeds. We know that all of our fleet can cope with the car's range, especially once we have chargers at all of our UK facilities, which will really make a big difference to the ease of adoption."
Workplace chargers for the cars will be installed at each of Halewood's UK sites, while the firm's drivers will receive comprehensive driver training to ensure maximum efficiency of driving in an EV.
Information about home-charging and cheaper energy deals available with off-peak EV tariffs will also be distributed to workers.
Wilson added: "There are many reasons why fleets should at least look to go electric. There are significant savings to be had, including the cost of electricity versus fuel, lower small modular reactor (SMR) costs and, of course, significant tax savings for our company car drivers too."
The sustainable move also includes a larger order of the upcoming EV6 from Kia, to be used by Halewood's senior management. The EV6 is capable of 10%-80% charge in 18 minutes, and can drive for 300 miles per charge
John Hargreaves, general manager for fleet and remarketing at Kia UK, said: "This is an excellent example of how seamlessly electric cars can fit into a fleet operation that knows its staff, their journey types and takes concerns out of the equation with charge points at all of its facilities."