Pembrokeshire Gin unveils first TV ad
By Melita Kiely
Welsh producer Pembrokeshire Gin Company has created its first TV campaign with AdSmart from Sky.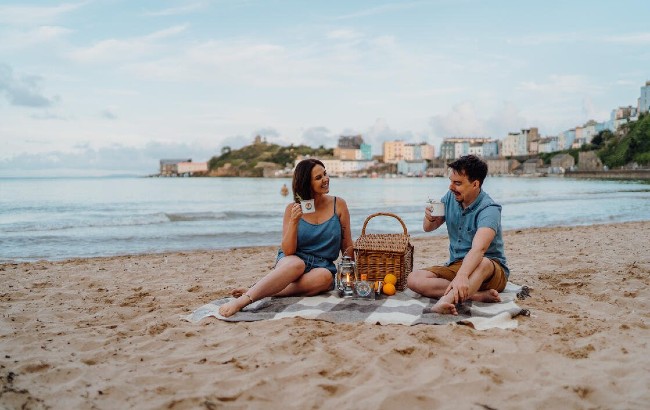 The gin maker was a recipient of Sky's SME100 support scheme, which offers advertising support to up-and-coming businesses.
Pembrokeshire Gin Company was one of 100 small businesses across the UK that received £20,000 (US$27,600) as part of the initiative. It enabled the producer to enjoy free Adsmart TV advertising across Sky Media's channels.
Charlotte Clark, of Pembrokeshire Gin Company, said: "Using Adsmart's targeting features, we have selected a target market and hope to promote the brand both locally and nationally.
"It is such an exciting process and we were over the moon to be picked for such a huge opportunity."
The advert will promote Pembrokeshire's three Gold medal, multi-award-winning gins. The TV spot was produced by Nathan Lowe, and was filmed on North Beach in Tenby, Wales, where the producer is based.
Welsh weatherman Chris Tywydd provided the voiceover for the advert.
Sky's AdSmart means advertisements can focus on 'the audiences that matter to them'. The technology broadcasts the advert to households in certain postcode areas within designated distances of where the gins are available, or according to household make-up, or lifestyle attributes. This will help Pembrokeshire Gin Company to target specific audiences depending on its needs and desired customer base.
Kevin O'Toole, managing director of Sky Connect, said: "Small businesses have faced unprecedented challenges over the last year, having to quickly move online to survive. Now, they are playing a huge part in kick-starting the nation's recovery as we emerge out of lockdown.
"Sky Connect has been designed to offer the capabilities and services that small businesses really need as they recover from the pandemic, and we want to ensure they return stronger than ever. We're really pleased to play our part in supporting them through this year's SME100 scheme."
English brand Gin Ting was another spirits recipient of Sky's SME100 scheme.