Hottest bar openings in July 2021
From a glamorous, disco-inspired drinking den in Atlanta to London venues with a strong focus on locality, here's our selection of July's must-visit new bars.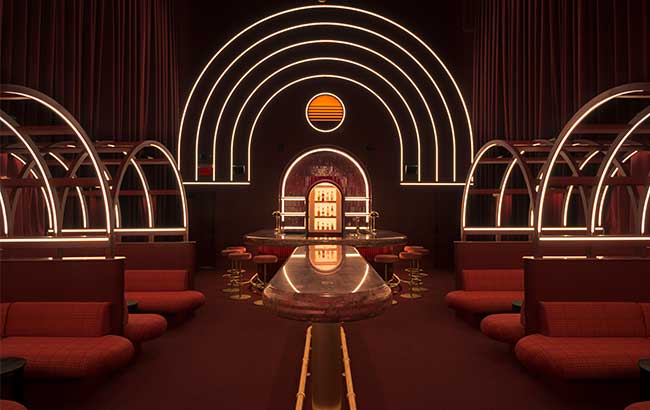 Last month was a big one for launches in London, as the city was graced with an exclusive members-only cocktail bar, a much-anticipated all-day drinking and dining venue at the new Mondrian Shoreditch hotel, a local from the Callooh Callay team and more.
Stateside, New York City gained an outpost of a popular Pan-Asian restaurant and lounge chain, and Atlanta became home to a luxurious retro drinking den with more than a hint of disco.
Read on to discover our pick of the best bar openings from July 2021.
Want more new venues? Check out our list from June.
NHBD, London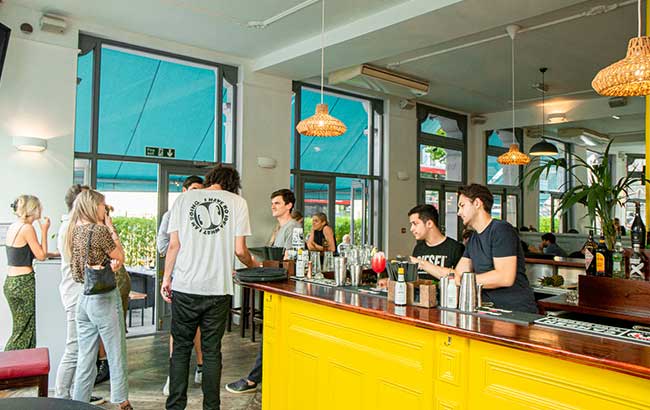 The latest addition to London's Ladbroke Grove area is NBHD, a vibrant venue with a focus on South American-inspired flavours.
Oliver Stanley, the venue's co-founder, said the bar was created to provide a place for friends and family to reunite post lockdowns. "We want people to be able to reminisce or make new memories here, over one too many drinks and a plate of tacos, there's that sense of familiarity, almost like a home away from home," he explained.
Guests can roll up to the electric-yellow bar for Strawberry & Jalapeño Margaritas and Watermelon Daiquiris, and order rounds of small plates to share – think beef tartare and cured egg yolk tostadas or mushroom and garlic confit croquetas.
Buddha‐Bar, New York City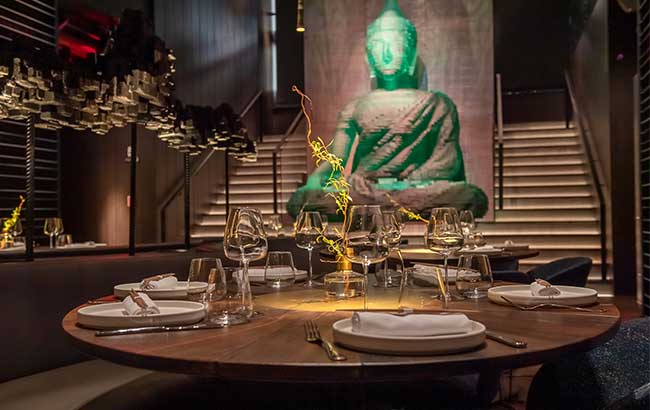 An outpost of Pan‐Asian venue Buddha-Bar, the global chain that originated in Paris in 1996, has opened in New York City's Tribeca neighbourhood.
The restaurant and lounge features a massive 16‐foot Buddha sculpture, along with a concise list of fruity cocktails. Serves include Serenity, a mix of Belvedere Vodka, lychee, lemon and matcha, and Rendezvous, with Mount Gay Rum, Ancho Reyes, mango and guava.
The Top Hat, London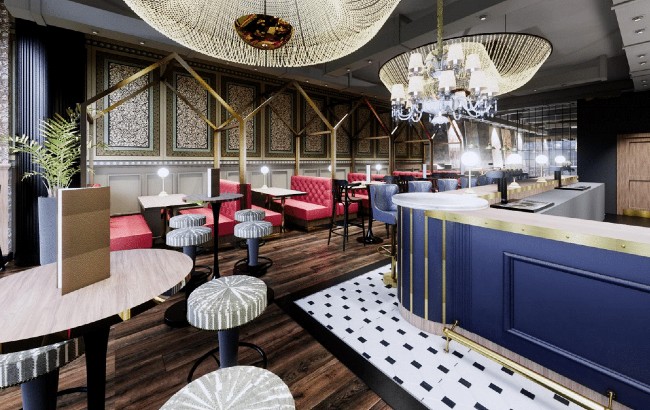 Do you love the rush of passing go and collecting US$200? Then The Top Hat is the drinking den for you. The Tottenham Court Road venue is a Monopoly fan's dream, with its decor, food menu and cocktail list all inspired by the UK version of the classic board game.
Spread over three floors, the 70-cover restaurant and 47-seat cocktail bar offers British small plates and a selection of drinks named after 'iconic' London properties on the monopoly board, like the Mayfair Royal Sours, with a Laurent Perrier Champagne syrup, Courvoisier VSOP, lemon, Ms Betters Bitters and edible gold, garnished with a £50 note made of sugar.
And if all those board game references make you want to play, you're in luck – guests can request a deck of Monopoly Deal to practise their skills while drinking and dining.
Bandra Bhai, London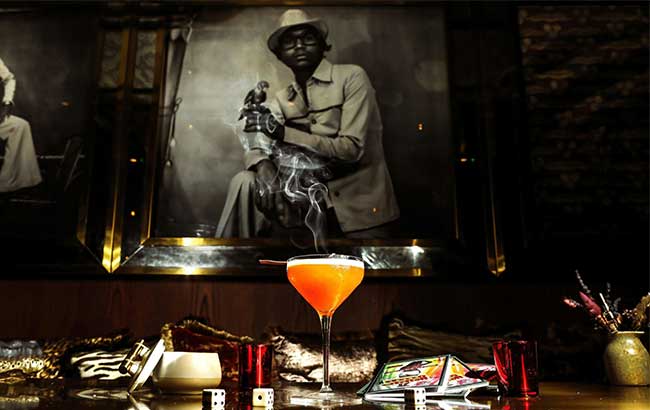 Tucked away beneath restaurant Pali Hill in London's Fitzrovia, Bandra Bhai transports drinkers to a smuggler's den in 1970s India.
Its opulent interiors feature jewel-toned furniture and groovy portraits of moustachioed men, while its cocktails are both playful and thoughtful – no surprise, as the list was developed by head bartender Dav Eames, who previously headed up the drinks programme for chef Marcus Wareing.
The serves are all Indian-inspired riffs on classics, with standouts including the Radjoot Martini, a take on a Vesper with cassia- and samphire-infused vodka and a hint of elderflower.
Christina's, London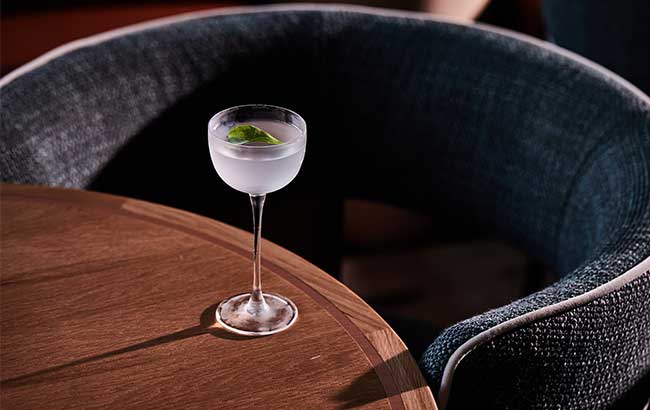 East London's newest drinking spot is Christina's, the bar, bakery and café at the Mondrian Shoreditch hotel.
Bar consultant Marcis Dzelzainis, previously of Sager + Wilde and 69 Colebrooke Row, developed the venue's beverage list, inspired by Italian aperitivo culture but with a focus on British producers. Drinks such as the Pine Americano, with Victory Bitter, Victory Pine Vermouth, pine pollen, and Dzelzainis' own Idyll Pine Forest Soda, accompany a menu of Japanese sandwiches and a selection of pastries from Belgravia's Chestnut Bakery.
JoJo's Beloved, Atlanta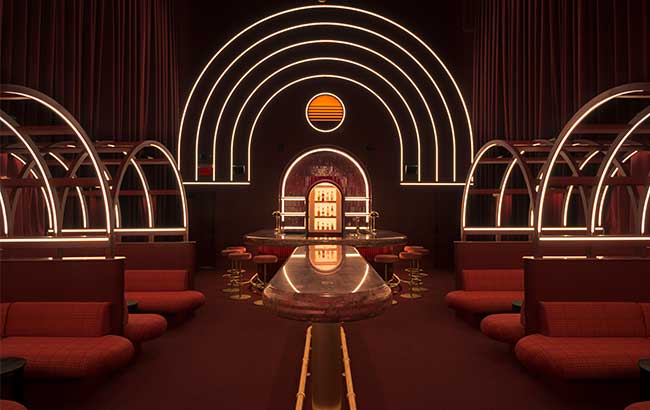 Nostalgia abounds at JoJo's Beloved, the new drinking den inside Atlanta's recently opened Politan Row food hall.
The atmosphere delivers a healthy dose of 70s and 80s glamour thanks to an all-vinyl soundtrack, red carpets and mirrored halls, and the cocktails are thoroughly disco (case in point: the Sagittarius Sour, a riff on a Midori Sour with Singani, Midori, Bianco Bitter, lemon juice, simple syrup and cocktail foam).
Beverage director Sophie Burton summed up the vibe of the venue best: "We're on the soul train to maximalism here – welcome aboard," she said.
Martinez, London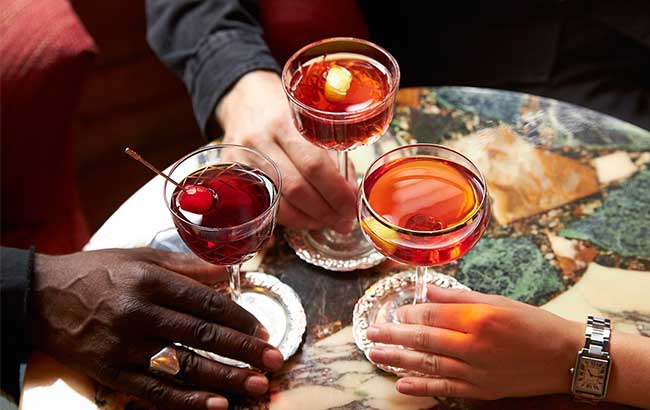 London's cocktail enthusiasts have a new home base thanks to the opening of Martinez, a members' cocktail bar in Soho.
The venue is named after the classic predecessor of the Martini, a mix of gin, sweet vermouth, maraschino liqueur and orange bitters. Naturally, its cocktail list, developed by consultant Dré Masso and The Cocktail Lovers' Sandrae Lawrence and Gary Sharpen, features three versions of the Martinez. Nightlife industry veteran Maurice Marshall heads up the team, and head bartender Max Greco, who made a name for himself in Sydney's cocktail scene, oversees the drinks.
Membership costs £300 (US$414) and includes a one-to-one consultation with the bar team.
Duchess of Dalston, London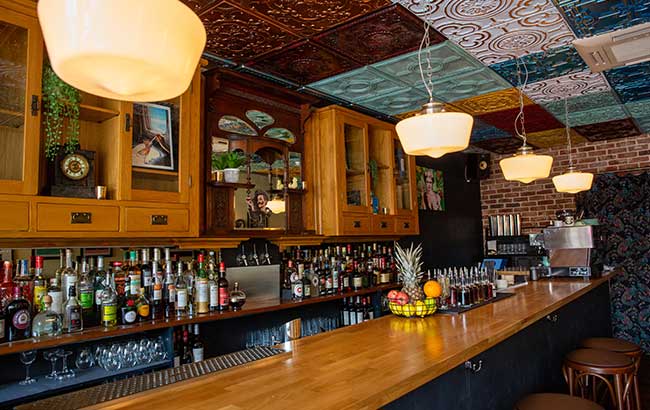 The team behind the award-winning Lewis Carroll-themed bar Callooh Callay have opened their fourth venue, The Duchess of Dalston, in the eponymous London neighbourhood.
The new bar emphasises locality and explores the history of Dalston through cocktails like Ridley Me This, named after Ridley Road Market and featuring bar manager Nazareth Rodriguez's homemade tepache.