Monopoly-inspired bar to open in London
By Melita Kiely
Board game fans will be pleased to hear that a Monopoly-inspired bar will be opening in London next month.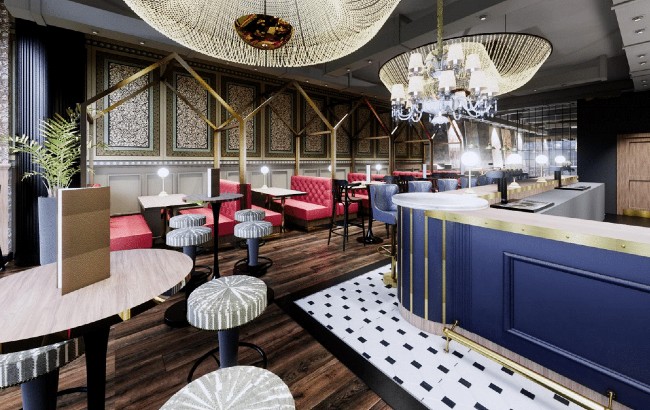 Due to open on 14 August, The Top Hat will be located in a new 22,000 sq ft site in Tottenham Court Road, spanning three floors. It will sit alongside Monopoly Lifesized, a 4D immersive experience across a life-sized Monopoly board.
Guests will also be able to request a deck of Monopoly Deal with their drinks or choose a 'Take a Chance' card with select beverages for a surprise.
Each serve on The Top Hat's signature cocktail menu has been designed to represent the 'iconic' properties of London and their historic ties.
Drinks include Leicester Square – Red Carpet Daiquiri, inspired by the area's reputation for film premieres.
Other libations include Trafalgar Square's Lychee and Rose Pearl Martini, inspired by the original London Pearly King road sweep, whose memorial statue sits beneath Trafalgar Square.
Furthermore, the Euston's Road cocktail will celebrate the NHS and was inspired by the first women's hospital entirely staffed by women. Each sale of the cocktail will see £2 (around US$2.75) go towards a chosen NHS charity.
Joseph R Smith, director of food and beverage at The Top Hat, said: "So many of us have fond memories of playing the iconic game, be it with grandparents in our childhood or over drinks with friends in our adult lives. The Top Hat's convivial dining concept was conceived to encourage people to come together again, for what we hope will be a delicious nostalgic trip down memory lane.
"For some, the London version of the board game was their first experience of the capital. We're excited to be part of the journey as London slowly comes back to life and to be opening a hospitality venture that celebrates the city and its wonderfully rich heritage.
"We can't wait to welcome Londoners, and in time visitors from further afield for a memorable drinking and dining experience of whimsical luxury, fit for Mr Monopoly himself."