World Whisky Brand Champion 2021: Woodford Reserve
By admin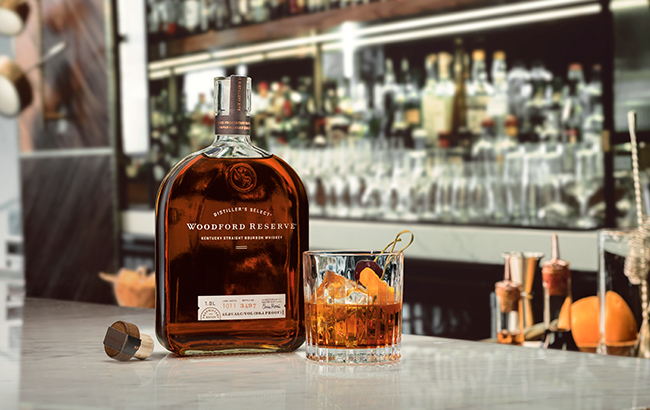 Whisky fans have looked beyond Scotland for exciting and innovative expressions coming from the likes of the US, Ireland and Japan. Interest in world whisky has risen, and brands have been quick to jump on trends such as long drinks and lower‐ABV offerings.
This year's World Whisky Brand Champion title returned to an American brand, after Canadian whisky Crown Royal stole the show last year. This 2021 accolade went to Brown‐Forman's Woodford Reserve Bourbon, which entered the million‐case ranks for the first time in 2020, climbing by 13.6% to one million cases.
Mark Bacon, senior vice‐president and global brand director for Woodford Reserve, attributed the brand's success to its "unwavering commitment to quality. We deliberately crafted a Bourbon whose flavours would appeal to whiskey drinkers worldwide." The brand's biggest market is the US, followed by the UK. Bacon says: "We are growing across the world, especially in Europe and Australia, and are seeding our brand in Asia. GTR is also important to our growth."
In March this year, the company revealed plans to expand the Woodford Reserve Distillery in Kentucky, which will double its production capacity to meet "growing demand" for the Bourbon brand. The expansion is expected to be completed by summer 2022.
It was a picture of health across American whiskey, with most brands in growth. Jim Beam continued its growth trajectory, increasing by 3.3% to 10.7m. Brown Forman's flagship Tennessee whiskey Jack Daniel's registered its first decline in five years (down by 8.1%), but its honey‐flavoured variant rose by 6.3%.
In the Irish contingent, Tullamore Dew's sales took a tumble, dropping by 17.1%, while category leader Jameson's sales fell by 5%. Canadian whisky performed slightly better, with Crown Royal surpassing 8m cases (up 3.2%), and minor declines for Canadian Club and Black Velvet. Japanese whisky also experienced some positive growth, with the Torys brand posting a double‐digit increase.
World whisky (figures: million 9l-case sales)
BRAND
OWNER
2016
2017
2018
2019
2020
%+/-
American
Jack Daniel's
Brown-Forman
12.5
13
13.3
13.4
12.3
-8.1%
Jim Beam
Beam Suntory
8
8.9
9.7
10.4
10.7
3.3%
Evan Williams
Heaven Hill Brands
2.3
2.4
2.6
2.8
3
7.7%
Maker's Mark
Beam Suntory
1.7
1.9
2.2
2.4
2.4
-0.3%
Jack Daniel's Tennessee Honey
Brown-Forman
1.5
1.7
1.8
1.9
2
6.3%
Seagram's 7
Diageo
2.9
2.9
2.7
1.9
1.9
-1.6%
Bulleit
Diageo
1.3
1.5
1.6
1.7
1.8
5.3%
Wild Turkey
(including Wild Turkey American Honey)
Campari Group
1.5
1.5
1.6
1.6
1.7
4.3%
Woodford Reserve
Brown-Forman
0.5
0.6
0.7
0.9
1
13.6%
Canadian
Crown Royal
Diageo
6.8
7
7.3
7.9
8.1
3.2%
Canadian Club
Beam Suntory
2
2
2
2
2
-1.2%
Black Velvet
Heaven Hill Brands
2.2
2.2
1.9
1.9
1.8
-3.5%
Irish
Jameson
Pernod Ricard
6.2
6.9
7.5
8.1
7.7
-5.00%
Tullamore Dew
William Grant & Sons
1
1.2
1.3
1.4
1.2
-17.70%
Japanese
Suntory Kakubin (including Highball)
Suntory Spirits
4.4
4.7
5.0
5.2
5.1
-2.3%
Black Nikka
Asahi Breweries
2.7
3.0
3.2
3.4
3.3
-2.9%
Torys (including Highball)
Suntory Spirits
1.7
2.0
2.3
2.6
2.9
10.9%