Scotch Whisky Brand Champion 2021: White Horse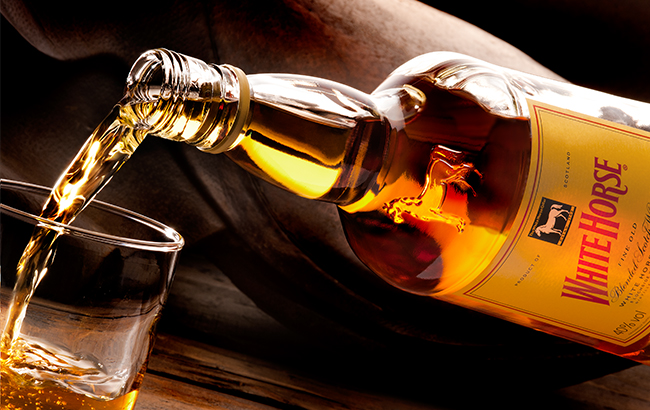 The Scotch whisky sector had a torrid year as the pandemic and punitive tariffs saw its sales come under pressure. But one brand managed to record modest growth among its million‐case competitors.
Diageo's blended Scotch whisky brand White Horse rose by 18.9% to 2.1 million cases in 2020, after witnessing consistent growth for the past five years. The brand's strong growth was the highest among major brands, with the vast majority of million‐case‐sellers reporting declines.
According to global brand director, Carlos Magana, White Horse's growth was due to its "strong reputation" in Brazil, Japan and Russia, which represent 94% of business.
Magana says: "There's a positive momentum behind the standard segment, which grows at pace particularly in Brazil where the brand is a key player, and in Japan, where White Horse is the biggest Scotch brand within the market."
Brazil, which makes up more than half of the brand's business, is where the company will focus on recruiting new consumers into the category. The company will also tap into current and emerging lifestyle trends across its key market.
Magana explains: "The shift to being at home more in the last 12 months has increased interest in experimenting with simpler ways to enjoy whisky, alongside more elaborated cocktails. The pandemic has also led consumers in Brazil to look for value for money, and we expect this to continue, which presents us with opportunities in this market."
White Horse is also seeking to move beyond the whisky category's "traditional" image. "We've been working to change perceptions and broaden its appeal for different occasions in a similar way to how gin and premium beer have done in recent years," adds Magana.
"Central to this has been the refreshed packaging and evolving our brand identity to ensure it remains relevant to today's consumers."
The brand's horse icon was "evolved" in 2021 to become more "distinctive within the category", adds Magana.
To maintain the Scotch whisky brand's success, White Horse will invest in the on‐ and off‐trades, and look to raise consumer awareness in Brazil and Japan.
Looking ahead, Magana says: "The focus will remain on our core markets, and we'll be working to bring the refreshed brand to life for consumers and innovating with new products and formats."
Figures from the Scotch Whisky Association showed the value of Scotch whisky exports fell by £1.1 billion (US$1.5bn) in 2020 to its lowest level in a decade as a result of the pandemic and US‐imposed tariffs. In 2020, exports of Scotch whisky fell by 23% by value to £3.8bn.
But the sector received some good news in March when US tariffs on single malt Scotch were removed for a four‐month period. The tariffs were introduced due to an ongoing dispute between the US and the EU regarding plane manufacturers Airbus and Boeing.
Last year's Scotch Whisky Brand Champion, Dewar's, reported a 12.4% decline. Meanwhile, the world's biggest‐selling Scotch, Diageo's Johnnie Walker blended whisky, plunged by 23.3% to 14.1m cases. Diageo's J&B and Vat 69 brand also recorded double‐digit drops, while Bell's returned to growth in 2020 (up by 10.8%).
Pernod Ricard's Ballantine's brand saw sales slump by 9.6% after five years of consistent growth, and stablemate Chivas Regal witnessed the biggest decline among the million‐case sellers (down by 28.5%).
Million‐case single malt brands The Glenlivet and Glenfiddich also struggled to increase their sales, despite both brands registering consistent year‐on‐year growth. Glenfiddich's volumes tumbled by 20.2% and The Glenlivet fell by 7.2%.
Blended Scotch Sir Edward's recorded stagnant sales in 2020, but a new campaign and a beer barrel‐finished bottling could see the brand's sales recover in 2021.
The new campaign from Sir Edward's, which is owned by French drinks group La Martiniquaise‐Bardinet, aims to celebrate the Scottish roots of the brand, while highlighting the whisky's strengths as an authentic, easy‐to-drink and accessible Scotch.
The launch of Sir Edward's Beer Reserve whisky in June 2020 also seeks to tap into the consumer demand for craft beer. Stablemate Label 5 reported a small dip of 0.8% to 2.6m.
Scotch whisky (figures: million 9l-case sales)
BRAND
OWNER
2016
2017
2018
2019
2020
%+/-
Johnnie Walker
Diageo
17.4
18.3
18.9
18.4
14.1
-23.3%
Ballantine's
Pernod Ricard
6.7
6.9
7.4
7.7
7
-9.6%
Grant's
William Grant & Sons
4.5
4.5
4.6
4.2
3.6
-14.1%
William Lawson's
Bacardi
3
3.1
3.3
3.3
3.3
-0.6%
Chivas Regal
Pernod Ricard
4.3
4.2
4.5
4.4
3.2
-28.5%
Black & White
Diageo
1.8
2.4
2.7
2.8
2.9
2.1%
William Peel
Marie Brizard Wine & Spirits
3
3.1
3
2.8
2.8
-1.4%
Label 5
La Martiniquaise‐Bardinet
2.6
2.6
2.6
2.7
2.6
-0.8%
Dewar's
Bacardi
2.8
2.6
2.8
3
2.6
-12.4%
J&B
Diageo
3.5
3.4
3.2
3
2.3
-23.3%
White Horse
Diageo
1.3
1.5
1.6
1.8
2.1
18.9%
Bell's
Diageo
2.2
2.2
2.2
1.9
2.1
10.8%
Passport
Pernod Ricard
1.7
1.7
1.7
1.7
1.8
2.9%
Sir Edward's
La Martiniquaise‐Bardinet
1.5
1.6
1.6
1.8
1.8
0.0%
Buchanan's
Diageo
1.7
1.7
1.7
1.8
1.5
-20.8%
Teacher's Highland Cream
Beam Suntory
1
1.1
1.1
1.4
1.4
0.1%
100 Pipers
Pernod Ricard
1.4
1.4
1.5
1.6
1.3
-14.1%
Clan Campbell
Pernod Ricard
1.6
1.6
1.5
1.4
1.3
-11.2%
Glenfiddich
William Grant & Sons
1.2
1.3
1.4
1.5
1.2
-20.2%
The Glenlivet
Pernod Ricard
1
1.1
1.2
1.3
1.2
-7.2%
Vat 69
Diageo
1.2
1.3
1.3
1.3
1.1
-12.3%