Top nine best-selling liqueur brands
By Nicola Carruthers
Bartender collaborations and experimental flavours have added excitement to the liqueurs category in recent years. We analyse the performance of the sector's biggest brands.
The liqueurs category witnessed a slight uptick in 2019, growing by 1.5%, according to Euromonitor. The category has benefitted from new innovations, vibrant marketing campaigns and its use in cocktails.
In the UK, liqueur sales reached £1.3 billion (US$1.7bn) in 2019 as consumers purchased 43 million bottles, according to figures from the Wine and Spirit Trade Association (WSTA).
Looking across our list of best-selling brands, two-thirds of the million-case sellers witnessed growth last year. However, a number of brands recorded stagnant sales in 2019.
Following our recently published Brand Champions 2020 report – an in-depth analysis of the brands selling more than one-million cases annually – here, we run through the world's best-selling liqueur brands on the market today.
Click through the following pages to discover the nine best-selling liqueur brands, listed in order of their nine-litre case sales.
Data is listed to one decimal place for ease of reading, but the percentage changes are based on the full data supplied to The Brand Champions 2020.
9. Amarula
2019: 1.0m
2018: 1.2m
% change: -13.5 %
Place last year: New entry
Distell‐owned cream liqueur Amarula struggled to maintain sales last year, dropping by 13.5% in 2019 to 1m nine‐litre cases – the brand's lowest sales in five years. Could 2020 see the brand drop below 1m cases?
In the year ending 30 June 2019, South African drinks group Distell saw its revenue increase 8% to 26.2 billion rand (US$1.7bn), boosted by premium white spirits and a "strong" whisky performance. However, there was no mention of Amarula's performance.
8. Cointreau
2019: 1.2m
2018: 1.2m
% change: 0.0%
Place last year: 8
French drinks group Rémy Cointreau's namesake orange liqueur reported stagnant sales in 2019. The brand has remained at 1.2m cases for the last three years.
In the firm's 2019/20 full year, Cointreau witnessed a "robust" performance in the Americas, which was mitigated by weakness in Europe, the Middle East and Africa (EMEA) and Asia Pacific.
7. Choya
2019: 1.2m
2018: 1.3m
% change: -7.8%
Place last year: 7
After witnessing growth in 2018, fruit liqueur brand Choya returned to 1.2m cases last year – a decline of 7.8%.
Made with the fruit of the ume tree, the Japanese liqueur range includes an aged and un-aged bottling.
6. Żołądkowa Gorzka
2019: 1.5m
2018: 1.3m
% change: 13.8%
Place last year: 6
Witnessing healthy double-digit growth in 2019 was Stock Spirits Group's Żołądkowa Gorzka. The brand has managed to reverse the declines it faced for two years in a row.
Stock Spirits attributed the brand's growth to "upweighted consumer activation and improved merchandising at the point of purchase, notably in the traditional trade".
The brand could soon overtake Pernod Ricard's coffee liqueur brand Kahlúa to become the fifth best-selling liqueur.
5. Kahlúa
2019: 1.6m
2018: 1.6m
% change: 0.0%
Place last year: 5
Coffee liqueur brand Kahlúa slipped down one spot to fourth place on our best-selling list after reporting flat sales in 2019. The Pernod Ricard-owned brand has sat at 1.6m cases for the past three years.
In January last year, Kahlúa launched a new programme with an aim to source 100% of its coffee sustainably by 2022.
4. Lubelska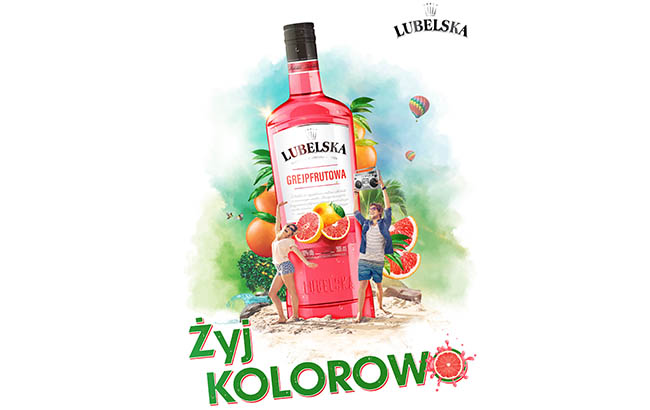 2019: 1.9m
2018: 1.5m
% change: 22.8%
Place last year: 5
This year's Liqueurs Brand Champion, Lubelska, posted a 22.8% sales boost in 2019 – the fastest increase among our million-case sellers.
"Continued flavour innovation and range rotation to ensure the brand evolves with changing consumer tastes was the key driver," said Richard Hayes, group sales and marketing director at Stock Spirits. "Strong distribution and in‐store activity execution, and sustained consumer digital communication of the brand's 'live colourfully' proposition was also important."
Stock Spirits' liqueurs, Lubelska and Żołądkowa Gorzka, were the only brands on our list to report double-digit growth last year.
3. De Kuyper
2019: 3.5m
2018: 3.5m
% change: -0.9 %
Place last year: 3
Dutch drinks firm De Kuyper reported stagnant sales for its namesake liqueur brand, which dipped by 0.9% to 3.5m cases.
In 2019, the group extended its distribution partnership with Beam Suntory to include Germany and Austria.
The firm also unveiled a number of innovations in the past 12 months, including "modern" liqueurs co-created by bartenders Salvatore Calabrese and Joerg Meyer. De Kuyper also released a new liqueur designed to simplify how to make Old Fashioned cocktails at home.
2. Malibu
2019: 3.9m
2018: 3.7m
% change: 5.5%
Place last year: 2
Pernod Ricard's rum liqueur brand Malibu maintained its second place position, growing by 5.5% to reach 3.9m cases. Could the brand surpass four million cases for the first time this year?
It was a busy year for Malibu in 2019. The brand rolled out a new "contemporary" design globally and launched two ready-to-drink products.
The brand also launched its Malibu Games campaign worldwide, focusing on the "daytime drinking occasion" and "richer experiences".
1. Baileys
2019: 7.4m
2018: 7.1m
% change: 5.5%
Place last year: 1
The world's biggest-selling liqueur brand, Baileys, grew 5.5% to reach 7.4m cases in 2019.
In Diageo's final six months of 2019, Baileys grew 8% with broad-based regional growth, apart from Latin America and the Caribbean where it was flat. Performance was driven by a "good start on Baileys Red Velvet innovation and a continued focus on reminding consumers that Baileys is an indulgent treat year-round".
A former Liqueur Brand Champion, Diageo-owned Baileys celebrated the sale of its two billionth bottle in December 2019, 45 years after the brand's launch.
Since launching in Ireland, Baileys has been available in 160 countries. According to Diageo, 2,400 glasses of the cream liqueur are now consumed every minute of every day.
Baileys unveiled a raft of new products over the last year – including a red velvet-flavoured liqueur and a range of alcohol-free iced coffees.