Diageo sells two billionth bottle of Baileys
By Owen Bellwood
Spirits producer Diageo has celebrated the sale of its two billionth bottle of Baileys Irish cream liqueur, 45 years after the brand's launch.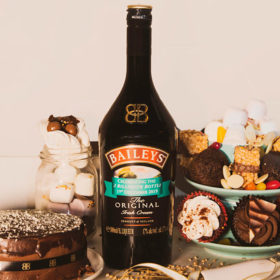 First created in Ireland in 1974, Baileys reached the milestone in December 2019 when it sold its two billionth bottle.
Jennifer English, global brand director for Baileys at Diageo, said: "There has never been a more exciting time for Baileys. It has captured the imagination of millions of treat lovers around the world with so many delicious ways to enjoy it. It's deliciously simple on its own over ice or for pure indulgent pleasure, poured over ice cream, in coffee, creamy hot chocolate drinks, or as a delightful cake, bake or other grown-up treat – the choices are endless."
Since launching in Ireland, Baileys has been available in 160 countries. According to Diageo, 2,400 glasses of the cream liqueur are now consumed every minute of every day.
Made using a blend of Irish dairy cream, Irish whiskey, cocoa, vanilla extract and sugar, Baileys requires 200 million litres of fresh Irish milk each year to produce the cream used in its production.
Baileys, which was named Liqueurs Brand Champion in SB's Brand Champions 2019 report, unveiled a raft of new products over the last year – including a red velvet-flavoured liqueur and a range of alcohol-free iced coffees.