Top 50 innovative spirits launches of 2019: 10-1
By Melita Kiely
As we reach the end of our most innovative new spirits list, we highlight a Scotch and Calvados blend, a gin made using artificial intelligence and a shōchū designed for cocktails. But which product secured the all-important top spot?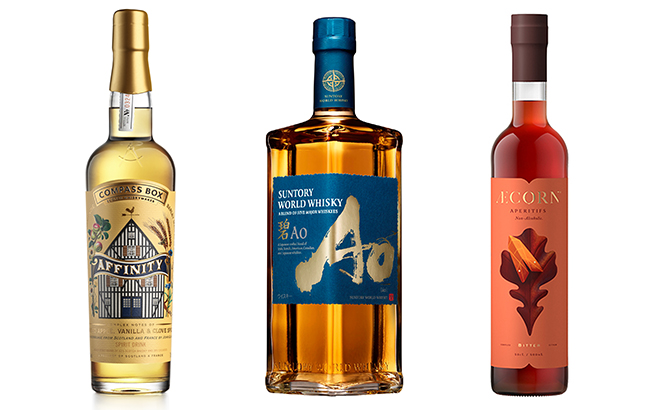 At the end of every year The Spirits Business scours through the latest products to hit the market to present its pick of the most innovative new spirits.
Our final 10 expressions have been selected for their unique production methods, their ability to tap into consumer trends and for shaking up the category it represents.
Click through the following pages to see the fifth part of our top 50 innovative spirits launches of 2019, counting down from 10 to 1.
To view 50 to 41, click here.
To view 40 to 31, click here.
To view 30 to 21, click here.
To view 20 to 11, click
here
.
10: Compass Box Affinity
The worlds of Scotch and Calvados combined last April when Compass Box Affinity hit the market. A first for spirits hybrids, the expression blended Domaine Christian Drouin Pays d'Auge XO Calvados from Normandy, France, with a selection of Scotch malt whiskies that had been initially aged in French oak and Sherry casks, before being married with blended Scotch, and matured further in Sherry butts.
The XO Calvados used in the blend is said to give the liquid flavours of apple and sweet fruits that complement the malt, vanilla and spice‐like notes from the whisky. The expression was bottled at 46% ABV.
John Glaser, Compass Box whisky maker, said: "Apples and barley have a long shared history of usage together, particularly in baking. Spirits‐wise, it isn't widely known that Calvados producers often double‐distil in pot stills, just like their Scottish cousins."
For more information, click here.
9: Saint James Aromatic Cocktail Bitters
Agricole rum has amassed a keen following among the trade – and its popularity is increasing with consumers. To offer bartenders more opportunities to experiment with agricole rums, the world's best‐selling agricole brand, Saint James, released its own cocktail bitters last year.
Saint James Aromatic Cocktail Bitters is made from a base of sugarcane alcohol, which is then macerated with plants and spices such as wormwood, gentian, quinquina, angelica flower, caraway, coriander and ginger.
The product was the result of two years of research and development. Saint James brand ambassador Stephen Martin used historical pharmacist, distiller and bartender manuals to come up with the final recipe.
The finished product is said to have a "perfect balance" between four flavour characteristics: floral, herbal, spicy and bitter.
For more information, click here.
8: Suntory World Whisky Ao
Japanese whisky maker Suntory merged the worlds of Irish, Scotch, American, Canadian and Japanese whiskies last year with the creation of a 'world whisky' blend.
Suntory World Whisky Ao was bottled at 43% ABV, and sought to bring together whiskies from around the world and break down category boundaries. The expression is described as having a "complex and rich flavour", and is recommended for mixing in a Highball.
The name 'Ao' is the Japanese word for 'blue', a reference to the seas that link the world's five most prolific whisky‐making regions. The whiskies used in the blend hail from Beam Suntory's own distilleries.
For more information, click here.
7: Monker's Garkel
English spirits producer Circumstance Distillery created the first gin using artificial intelligence (AI) last year, called Monker's Garkel.
The Bristol‐based producer partnered with technology scientists Tiny Giant and Rewrite Digital to build the AI, called Ginette, a neural network and the 'brains' behind the expression.
Ginette was programmed by the team to analyse thousands of botanicals, understand gin recipes and learn a database of more than 500 gin names. The AI then selected a "fragranced" gin – and that was how Monker's Garkel came to be.
Bottled at 40% ABV, Monker's Garkel is made with juniper berries, coriander seed, angelica root, raspberry leaf, gooseberry, prune, clementine zest, orange zest and marigold.
The bottle's label was also made using an automated algorithm, which used a set of styles, colours, textures and fonts. Local artist Tim Sutcliffe then prepared the label.
For more information, click here.
6: Oto CBD Bitters
Oto capitalised on a variety of trends – including non‐alcoholic and CBD – when it launched its own CBD bitters last year.
Created by UK‐based cannabidiol (CBD) specialist Oto, the product became Europe's first CBD cocktail bitters. A single measure of the bitters contains a 50mg serving of CBD, which is the non‐psychoactive extract from the hemp plant, and is reputed to have stress‐relieving properties.
Alcohol‐free, Oto CBD Bitters was created by a team of industry experts, including food scientist Dr Ketan Joshi, former Sipsmith founding director Antonia Jamison, Oto managing director Gemma Colao and DMD Ventures CEO James Bagley.
The bitters were made with botanical extracts that are said to complement the effects of CBD, such as liquorice, cacao and cardamom.
For more information, click here.
5: Aecorn Drinks
From the makers of the world's first non‐alcoholic distilled 'spirit' brand, Seedlip, came another global first in 2019 – Aecorn Drinks.
The new range became the first non‐alcoholic apéritif brand, bringing a fresh approach to the fledgling – but burgeoning – non‐alcoholic category. Aecorn was inspired by the European apéritif tradition and English herbal remedies from the 17th century.
Each of the three expressions is blended and bottled in the UK, and is made from 100% English‐grown grapes, pressed early and blended with "appetite‐stimulating" herbs, roots and bitter botanicals.
The collection is made up of three expressions: Aecorn Dry is said to be floral and herbaceous with notes of nettle, clary sage and camomile; Aecorn Sweet is described as aromatic and smoky with notes of smoked cherrywood, vanilla, kola nut and chinotto; and Aecorn Bitter is said to be complex and citrusy with flavours of grapefruit, bay leaf and orange.
For more information, click here.
4: Iichiko Saiten
From being used in whisky finishes to RTD cocktails, if 2019 taught us anything it was that Japanese spirit shōchū is well and truly on distillers' radars. So it was refreshing to see Japanese shōchū brand Iichiko target the on‐trade with a higher‐strength iteration in March.
Iichiko Saiten, produced on Kyushu, Japan's southernmost main island, was "optimised" for cocktails to encourage bartenders to experiment with the category.
Japan's Sanwa Shurui Company created the expression with insight from leading US bartenders. Shōchū is normally bottled at around 25% ABV and is distilled from barley, sweet potatoes, rice or buckwheat – but Iichiko Saiten has an ABV of 43%.
For more information, click here.
3: Never Never Black Juniper Amaro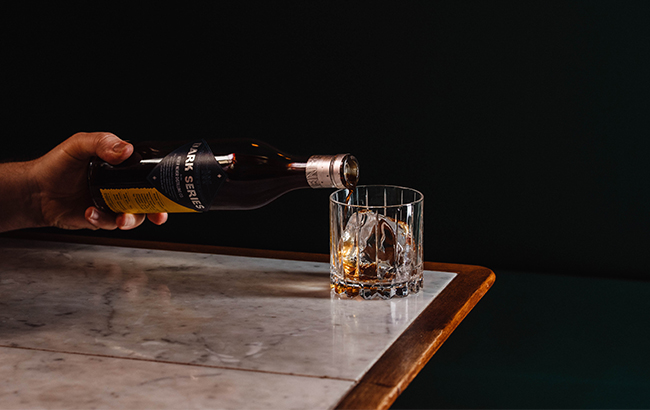 Amaro is another category that has been long loved by the trade, but perhaps slightly overlooked by the majority of consumers.
However, last year, south Australian distillery Never Never Distilling Co endeavoured to help raise intrigue in the amaro category with a little help from gin. And so, the world's first roasted juniper amaro was born – Black Juniper Amaro.
Part of the distillery's Dark Series, the amaro was made in collaboration with Melbourne bar Black Pearl following more than a year of research and liquid development.
The amaro combines three juniper components: roasted juniper, spent‐basket juniper from the Never Never gin production run, and fresh juniper. All three are steeped in neutral spirit then hand‐pressed using a hydro press to extract flavour.
The natural bitterness of the amaro comes through the roasting process, but is enhanced by the addition of various bittering agents.
2: Air Vodka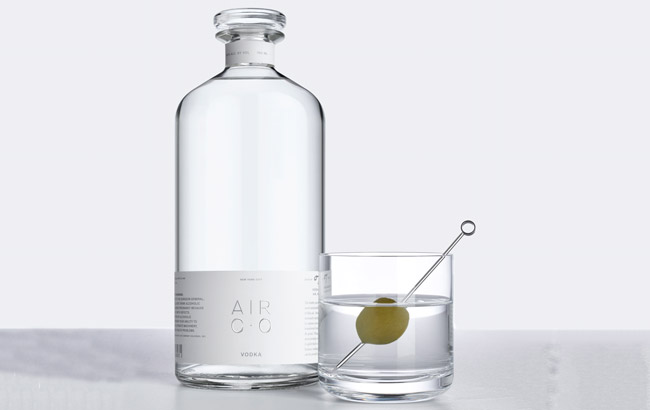 As the world works to reduce its carbon footprint, the spirits industry has doubled down on efforts to be less wasteful. Towards the end of last year, a new sustainably‐led product came to market in New York – Air Vodka.
Created by Brooklyn‐based technology and lifestyle brand Air Company, the vodka was dubbed the "world's first carbon‐negative vodka".
Air Vodka is made by capturing excess carbon dioxide from the air and transforming it into a "high‐ purity, beverage‐grade ethyl alcohol". The spirit is made from just carbon dioxide and water. The production process uses electricity to break apart carbon dioxide and water, then reforms the carbon, oxygen and hydrogen atoms together on a catalyst to produce ethanol and oxygen.
The method uses the same principles as photosynthesis in plants "but does so more efficiently", according to its producers. The conversion reactor produces a mixture of approximately 10% ABV, without any solids or other products found in fermentation.
The 10% ABV liquid is then distilled to 96.5% ABV in a custom‐built, 18‐plate vodka still, followed by an "additional proprietary, trade‐secret process" to bring the finished vodka's ABV down to 40%.
Furthermore, according to Air Company, a single bottle of Air Vodka can provide the carbon reduction of 7.6 trees a day.
1: Hayman's Small Gin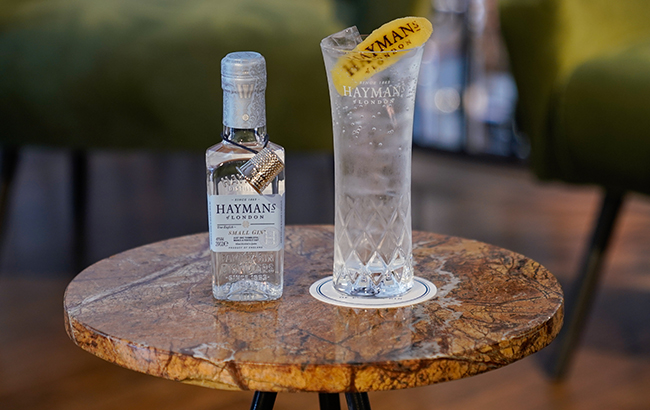 London distillery Hayman's took a truly creative approach to creating a low‐alcohol alternative – while still appealing to gin fans – with the launch of Hayman's Small Gin last year – and justly taking the title of most innovative spirit of the year 2019.
Hayman's Small Gin is said to be "so rich in botanical character", only 5ml is required to make a gin and tonic with the same level of flavour as a 25ml measure of London Dry gin. Bottled at 43% ABV, the flavour profile for Hayman's Small Gin was based on the brand's classic London Dry expression.
"People are more mindful about what and when they drink, but at the same time still enjoy the ritual of making a gin and tonic," said Miranda Hayman, who was behind the product. "We knew we had to stay true to our heritage and principles, as well as to be a gin it must be a minimum of 37.5% ABV. We decided to experiment with dialling up the flavour rather than reducing or removing the alcohol like others on the market."
The packaging is equally as clever; each bottle of Small Gin is boxed in a 200ml gift carton that comes with a 5ml measuring thimble to help consumers familiarise themselves with the tiny serve. The 200ml bottle should provide 40 gin and tonics – 12 more than a standard 700ml bottle of London Dry gin, served in 25ml measures.
Plus, with an RRP of £26 (around US$33) per 200ml bottle, Hayman's alternative means those opting to drink less don't need to spend more.
"Hayman's Small Gin is more about occasion than a target demographic, and it gives people a choice on what and when they drink," added Hayman. "We see both young and more mature drinkers actively looking to reduce their alcohol consumption, but keen to continue enjoying the classic gin flavour they have grown to love. Small Gin is the perfect solution – a real gin that allows you to mix a true G&T with just a fraction of the alcohol and calories."
As drinkers embrace the Dry January challenge this month, Hayman sees an opportunity for Small Gin to make a big impact. However, the brand's quest to push boundaries and build on innovation will be felt throughout 2020.
"The gin category is in a fascinating phase at the moment – it's competitive at all levels of the market and this is driving exciting new innovations such as Small Gin," said Hayman.
"While innovation is always important, I think throughout next year we will also start to see a refocusing of the market back towards more traditional flavour profiles – with an emphasis on quality rather than novelty."
For more information, click here.