Top 50 innovative spirits launches of 2019: 20-11
The penultimate part of our most innovative spirits list tapped into trends such as Highballs and low-alcohol, while a trio of bartenders took inspiration from the Amazon rainforest.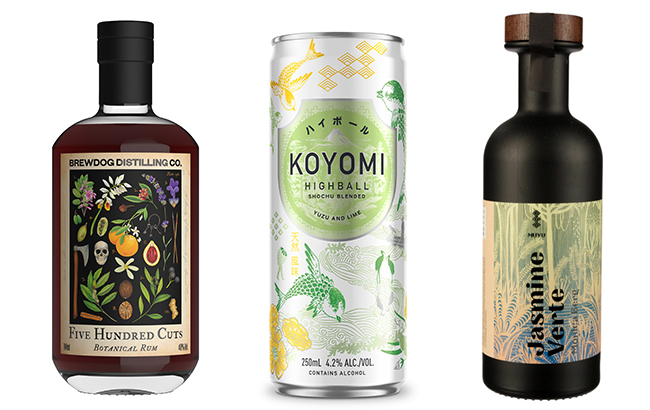 As we edge closer to the final 10 in our countdown of the most innovative spirits of 2019, we reveal a number of distinctive rums including the first Afro-Caribbean rum and BrewDog's botanical bottling.
Bartender-created spirits also took centre stage as bar owner William Borrell unveiled a 4.4% ABV expression, while Dutch drinks firm De Kuyper partnered with leading bartenders Alex Kratena, Monica Berg and Simone Caporale to launch the Muyu liqueur line.
Click through the following pages to see the fourth part of our top 50 innovative spirits launches of 2019, counting down from 20 to 11.
To view 50 to 41, click here.
To view 40 to 31, click here.
To view 30 to 21, click here.
20: Equiano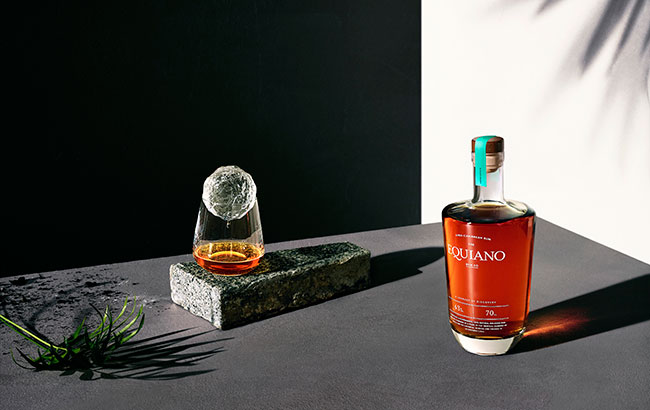 Created by rum authorities Ian Burrell and Richard Seale, Equiano is the first Afro‐Caribbean rum. It is made from a blend of molasses rums from Barbados's Foursquare Rum Distillery, where Seale is master distiller, and Mauritius‐based Gray's Distillery.
Described as an "east and west" collaboration, Equiano is 100% natural with no added sugar, spices or colourants. It is said to be the first rum containing liquid from two different distilleries based on two different continents.
Equiano contains molasses rum from Gray's that has been aged for 10 years in a combination of French Limousin oak casks and ex-Cognac casks. This liquid is then blended with Foursquare rum that has been aged in ex-Bourbon casks.
For more information, click here.
19: Sir Ranulph Fiennes Great British Rum
British explorer Sir Ranulph Fiennes partnered with English Spirit to create a 40% ABV rum inspired by his adventures. The rum differs in that three wood varieties, hailing from some of Sir Ranulph's most memorable expeditions – sequoia from Canada, pine from Norway and date palm from Oman – are added into the still during distillation.
The rum is triple-distilled from 100% pure sugarcane molasses. Tasting notes include aromas of orange, caramel and spiced Christmas cake, leading to flavours of tobacco, vanilla, milk and dark chocolate, and liquorice on the palate.
For more information, click here.
18: BrewDog Five Hundred Cuts Botanical Rum
Creating an "interesting bridge" between rum and gin, BrewDog Distilling Co's Five Hundred Cuts Botanical Rum (40% ABV) is made from sugarcane molasses fermented with red wine yeast.
The rum was double distilled, before botanicals were gently distilled for four hours with a little unrefined muscovado added for sweetness.
After distillation, Five Hundred Cuts Botanical Rum is aged in casks and is bottled at 40% ABV without artificial flavourings.
For more information, click here.
17: Willow
One of the most notable low‐ABV releases in 2019 was Willow, created by Vestal Vodka founder William Borrell. Bottled at 4.4% ABV, Willow was made from a Calvados base that was blended with pineapple, star anise, cherry tomato, kaffir lime leaves and agave syrup.
It is made at Borrell's subterranean London bar Ladies & Gentlemen. The name 'Willow' is a combination of the words 'Will' and 'low'.
Borrell called the "notion of no-alcohol 'spirits'" a "con", but said Willow offers "sufficient character and bite", with notes of green apple, citrus, tomato and flora.
For more information, click here.
16: Muyu
The liqueur category has been endeavouring to diversify its offerings the past few years, and in 2019 leading bartenders Alex Kratena, Monica Berg and Simone Caporale launched their own line – Muyu.
Created in partnership with Dutch company De Kuyper, the three Muyu expressions were inspired by the Amazon rainforest and focus on responsible sourcing of ingredients.
A share of the profits from each bottle sold is donated to NGOs in the Amazon. Kratena produced Muyu Vetiver Gris (22% ABV), while Berg designed Muyu Jasmine Verte (24% ABV) and Caporale made Muyu Chinotto Nero (24% ABV).
Each variant is made by extracting flavour from its main ingredient. The other ingredients are then chosen to complement the predominant flavour, and the final essence is blended with alcohol, sugar, acids and water. Techniques used to create the liqueurs include enfleurage, steam distillation, CO2 extraction and resinoids.
For more information, click here.
15: Cù Bòcan Creation #2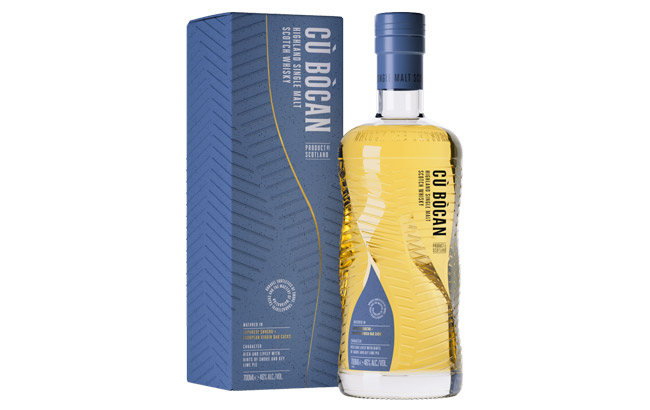 Highland single malt Scotch whisky brand Cù Bòcan relaunched last August with a new design and three new products that explored "innovative maturations". One of the three no‐age‐ statement expressions was Cù Bòcan Creation #2, a whisky aged in European oak casks and finished in Japanese shōchū casks. The whisky was bottled at 46% ABV without chill filtration or caramel colouring.
Stephen Bremner, managing director, said at the time: "We're excited this new positioning puts the product back at the heart of Cù Bòcan to welcome people into the world of lightly peated whisky and the unusual finishes that lie within."
The release followed changes to rules on how Scotch can be made, which increased the types of casks allowed for maturation
For more information, click here.
14: Zhong Shi Ji
Taking further cues from Asia was Johnnie Walker owner Diageo, which created a 'new‐to‐world whisky' as part of a new joint venture with Chinese baijiu producer Jiangsu Yanghe Distillery. Zhong Shi Ji whisky was created by Diageo's Scotch whisky master blender, Craig Wallace, and China Alcoholic Drinks Association's Chinese baijiu master, Zhou Zinhu.
The whisky is made using a "unique" method, which includes "softening" the whisky through Chinese ceramic pot maturation, similar to how baijiu is made. It was designed to capitalise on the fact that 80% of alcohol consumption in China takes place during meals.
CH Chu, of Diageo Greater China, said: "We believe Zhong Shi Ji can play an important role in the Chinese dining occasion."
For more information, click here.
13: JJ Corry The Battalion
As Tequila and mezcal become more popular with both consumers and the trade, Ireland's Chapel Gate Irish Whiskey Co sought to explore the effect these Mexican spirits could have on Irish whiskey.
Last May, the Irish whiskey bonder brought out a Tequila and mezcal cask‐finished bottling – a first for the category.
To make JJ Corry the Battalion, Chapel Gate transferred grain whiskey that had been aged in ex‐Bourbon casks into mezcal and Tequila casks, and malt whiskey that had been matured in Bourbon barrels into mezcal casks.
After seven months, the casks were blended in a ratio comprising 60% nine‐year‐old grain whiskey and 40% 13‐year‐old malt whiskey. It was bottled at 41% ABV.
For more information, click here.
12: Koyomi Highball
Highballs are all the rage right now and to tap into this burgeoning trend, Beam Suntory created a ready‐to‐drink (RTD) variation with a twist.
In July last year, the drinks giant unveiled a shōchū‐based RTD – Koyomi Highball – said to be a "distinctively modern Japanese drinking experience".
The RTD is made from a blend of soda and shōchū, and was inspired by the way Japanese drinkers consume their native spirit. The 250ml cans offered a variety of flavours, including: Blood Orange and Bitters; Mandarin and Grapefruit; and Yuzu and Lime.
Koyomi Highball Mandarin and Grapefruit was said to have "warmer sweet notes" on the palate, while Blood Orange and Bitters was said to be "bold yet balanced". In contrast, Koyomi Highball Yuzu and Lime was described as a "combination of Japanese and western citrus fruits".
For more information, click here.
11: Kinahans The Kasc Project
Irish whiskey brand Kinahans took an alternative approach to maturation last year by using casks made from a hybrid of staves.
The inaugural release from the new series, called The Kasc Project, was aged in casks that were built from a mix of five types of wood: Portuguese oak, French oak, American oak, Hungarian oak and chestnut.
The Kasc Project is a blend of malt and grain whiskeys, bottled at 43% ABV without chill filtration or caramel colouring.
Tasting notes include aromas of red plum, pear, red apple, tropical fruits and caramel spice, leading to flavours of vanilla, charred oak, ripe mango, caramelised tropical fruits and chocolate caramel on the palate. The finish was described as having hints of nutmeg, orange, clove, honeycomb and pineapple.