Top 50 innovative spirits launches of 2019: 40-31
By Nicola Carruthers
A gin made with Pinot Noir grapes, a basil-infused limoncello and an American-Canadian hybrid whisky dominate the second chapter of our most innovative spirits launches list.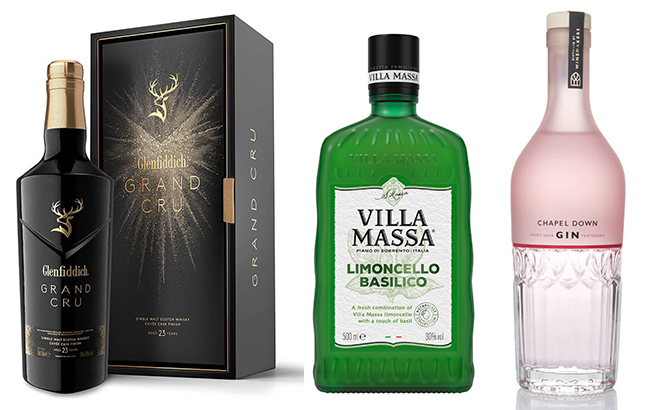 In 2019, a number of producers unveiled innovative line extensions including Scotch brand Glenfiddich with its Grand Cru whisky, and Sweden's Mackmyra Distillery, which created a single malt finished in ex-Calvados casks.
A series of firsts saw the launch of the UK's "first" hemp-infused gin, while English winemaker Chapel Down created what is thought to be the first gin made with Pinot Noir grapes.
Click through the following pages to see the second part of our top 50 innovative spirits launches of 2019, counting down from 40 to 31.
To view 50 to 41, click here.
40: Hin

Hin is a hemp-infused gin that is made without tetrahydrocannabinol (THC) or cannabidiol (CBD), and is thought to be the UK's first hemp-infused gin.
Co-founders Chris Puttick and Mat Graham have taken inspiration from Celtic princess Formosa for their inaugural product.
Botanicals include lemon peel, pink peppercorn and juniper, though the remaining ingredients are being kept under wraps.
For more information, click here.
39: The Gibson Casoni Liqueurs
Last year saw a number of bartenders delve into the world of spirits creation, including Marian Beke of London's The Gibson Bar.
In July, Beke teamed up with Modena-based producer Casoni to launch three savoury-led liqueurs with the aim of bringing "Italian liqueurs into the modern age of mixology".
The liqueur range was in development for two years and consists of three expressions: Amarotto; Wild Berries and Balsamic Vinegar of Modena; and Figs and Cherries and Balsamic Vinegar of Modena.
For more information, click here.
38: Villa Massa Limoncello Basilico
The latest product from limoncello brand Villa Massa is made from Sorrento lemons and infused with fresh Mediterranean basil.
The combination of citrus and herbal flavours is said to offer a "fresh aroma that evokes the atmosphere of their shared terroir in the Mediterranean".
Described as a "perfectly balanced after dinner experience", the 30% ABV expression is best served very cold, directly from the freezer "to enhance the aromas".
For more information, click here.
37: Glenfiddich Grand Cru
Created to tap into "celebratory moments", Glenfiddich Grand Cru is the first expression in a new series of high-end single malts from the William Grant & Sons-owned Scotch brand.
The 23-year-old single malt is first aged in American and European oak casks before being "further bolstered with extra intensity" from cuvée casks, which have been used by producers for the first fermentation of wine that will traditionally become Champagne following a second fermentation in bottle.
The next whisky in the Grand series will launch in late 2020.
For more information, click here.
36: Copperworks Amaro Cask Finished Whiskey and Gin
In June, Copperworks Distilling Company released an amaro cask-finished single malt American whiskey and gin.
Created as part of a collaboration with Seattle's Letterpress Distilling, the expressions were made with casks that previously held Copperworks spirits to age its amaro.
These casks were then sent back to Copperworks for the team to use again. One cask was a 53-gallon American Oak barrel that was first used to mature Copperworks American Single Malt Whiskey, while the other was a 53-gallon American Oak barrel first used to finish Copperworks New Oak Cask Finished Gin.
The whiskey rested in the amaro cask for more than seven months and the gin for nearly 10 months.
For more information, click here.
35: Distillations Aquavit
Cognac producer Bache-Gabrielsen teamed up with French microdistillery Audemus Spirits to create what is thought to be the first aquavit made in Cognac.
Part of Bache-Gabrielsen's Distillations range, the aquavit combines two spirits: the first has been distilled in a traditional Cognac still with several botanicals including caraway, green anise and coriander; while the second spirit was distilled in a vacuum glass still with angelica.
For more information, click here.
34: Mister Sam
Created by Sazerac's master blender, Drew Mayville, Mister Sam is a blend of some of the firm's "finest" American and Canadian whisk(e)ys.
The expression has been bottled at Sazerac's Old Montreal Distillery in Quebec, Canada, and will be released in limited quantities once a year.
Bronfman, who was affectionately known as 'Mister Sam', emigrated from Russia to Canada in the late 1800s and headed up Seagram until his death in 1971.
For more information, click here.
33: Mackmyra Äppelblom
Swedish whisky maker Mackmyra chose Calvados casks for its latest expression, Äppelblom – meaning 'apple blossom' in Swedish.
Mackmyra partnered with Calvados producer Christian Drouin to launch a limited edition single malt finished in ex-Calvados casks.
The seasonal whisky is "reminiscent of spring and fresh green apples" and was finished in saturated oak casks that previously held Calvados.
For more information, click here.
32: Teeling Chinkapin Oak Cask Finish
Irish whiskey producer Teeling used an unusual wood type to finish its latest whisky, which is exclusively available from the Dublin-based distillery.
Teeling sourced the chinkapin virgin white oak casks from Eastern and Central North America.
The whiskey has been bottled at 46% abv and is said to have aromas of toffee and butterscotch on the nose, leading to ripe dates, liquorice and wood spices on the palate. The finish is said to offer flavours of black pepper and a "lingering hint" of liquorice.
For more information, click here.
31: Chapel Down Pinot Noir Gin
The "world's first" gin distilled with Pinot Noir grapes was released in March by English wine producer Chapel Down.
The "highly aromatic" gin is produced with distilled Pinot Noir grape skins from the Chapel Down harvest, which is then blended with English wheat spirit.
The expression is infused with juniper, coriander, dried red berries, rose buds, citrus fruits, rosehip, angelica and grains of paradise.
For more information, click here.