Top 50 innovative spirits launches of 2019: 50-41
By Nicola Carruthers
A herbal liqueur infused with cold brew coffee, a CBD-infused spirits collection and the UK's "first" range of zero-ABV bottled cocktails all feature in the first instalment of our top 50 most innovative spirits launches of last year.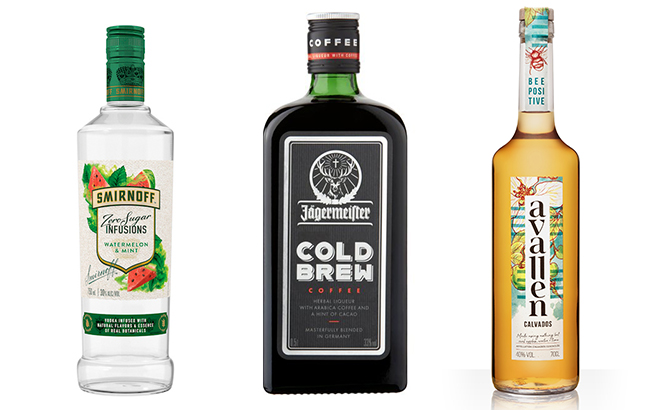 Last year saw a host of exciting launches from pioneering spirits companies that took innovation to the next level.
From a Swedish single malt whisky aged in rum casks to a herbal liqueur infused with cold brew coffee, spirits producers upped their game when it came to new product development in a bid to stand out.
In the first round-up of inventive bottlings as part of The Spirits Business's annual top 50 innovative spirits list, we select the spirits tapping into the latest trends and shaking up their respective categories.
Click through the following pages to see the first part of our top 50 innovative spirits launches of 2019, counting down from 50 to 41.
50: Hyke Gin
Hyke Gin is created using grape spirit produced from internationally sourced, fresh table grapes that are surplus to the requirements of the supermarket supply chain.
Foxhole Spirits partnered with UK fruit importer Richard Hochfeld to "reinvent" the equivalent of 1.4 million punnets of surplus grapes per year.
The grapes are used to create a gin that is flavoured with botanicals inspired by the grapes' African and South American origins – including coriander, myrrh and rooibos.
49: Tanqueray No Ten Atomisers
In June 2019, Diageo's Tanqueray Gin brand teamed up with bottled cocktail specialist World of Zing to to create an atomised garnish for the on-trade.
The atomiser garnish has been created to "enhance" a Tanqueray and tonic by "unlocking the gin's fresh citrus heart".
To use the atomiser, the bartender simply sprays it over a freshly prepared Tanqueray No Ten and tonic before serving it to the consumer.
For more information, click here.
48: Smirnoff Zero Sugar Infusions
Diageo also tapped into the growing health trend in the US with the launch of its Smirnoff Zero Sugar Infusions range.
The range comprises three flavours: Cucumber and Lime, Watermelon and Mint, and Strawberry and Rose. Each has an ABV of 30%.
The line is targeted at consumers looking to cut down on their sugar intake. According to the International Food Information Council Foundation Food and Health Survey 2018, 70% of people are cutting back on added sugar.
For more information, click here.
47: Archimite Buttered Toast Spirit
Taking inspiration from food spread Vegemite, Australian distiller Archie Rose create the un-aged Archimite Buttered Toast Spirit.
Said to be inspired by "Australia's love for umami-rich breakfast spreads", Archimite is distilled with freshly churned uncultured Pepe Saya butter and Sonoma sourdough toast.
The un-aged spirit is said to have a "big, mitey character at the front followed by biscuity, bready notes".
At the time of its launch in May 2019, Archimite Buttered Toast Spirit was described as the brand's "wildest creation yet", which took "a lot of research and development" to create.
For more information, click here.
46: Mackmyra Moment Karibien
Launching at the start of 2019, Mackmyra's Moment Karibien is a Swedish single malt whisky aged in rum casks.
Angela D'Orazio, master blender at Mackmyra, and Alexandre Gabriel, the founder of Maison Ferrand, producer of Plantation Rum, have teamed up to launch the expression.
Approximately 75% of the liquid has been aged in casks previously used to mature Plantation's Barbadian and Jamaican rums. The expression also contains small amounts of whisky aged in barrels that previously contained oloroso Sherry and cherry wine.
For more information, click here.
45: Sliabh Liag Santa Ana Armada Strength Gin
In October, Irish spirits producer Sliabh Liag Distillers used Rioja wine casks for its latest expression.
Santa Ana Armada Strength Gin has been made with botanicals including juniper berries from Macedonia, coriander from Bulgaria, angelica root from Belgium, cassia bark from Indonesia, lemon peel from Spain and sweet orange peel from Egypt.
The recipe also includes various species of seaweed, all harvested on the Donegal shore: channel wrack, dulse, sugar kelp, carrageen moss and pepper dulse.
For more information, click here.
44: Jägermeister Cold Brew Coffee
Herbal liqueur brand Jägermeister tapped into the burgeoning coffee trend with its latest expression, which has been infused with cold brew arabica coffee and a hint of cacao.
Bottled at 33% ABV, Jägermeister Cold Brew Coffee is recommended served as an ice-cold shot, at -18°C from the freezer.
The expression is available in the UK, US and in global travel retail.
For more information, click here.
43: Avallen Calvados
Avallen Calvados is made without the addition of sugar, caramel or boisé (a wood extract that can be used to add colour to Calvados) and has been aged in French oak barrels for two years.
Avallen, which means 'apple tree' in the old Cornish language, has been created by Healthy Hospo founder Tim Etherington-Judge and wine and spirits specialist Stephanie Jordan.
The expression is packaged in a bottle chosen for its "bartender friendliness", which is also one of the lightest on the market in an attempt to reduce the brand's environmental impact through shipping.
For more information, click here.
42: Highball Cocktails
Described as the UK's "first" range of 0% ABV ready-to-drink (RTD) cocktails, Highball Cocktails is said to offer "authentic, sophisticated alcohol-free companions to some of the world's greatest cocktails in single-serve bottles, cans and on tap".
The range consists of six variants: Classic G&T, Pink G&T, Cosmopolitan, Mojito, Italian Spritz, and Ginger Dram. Each bottling is said to contain less than half the calories of a regular cocktail.
For more information, click here.
41: Top Beverages' CBD-infused spirits
In August, UK-based cannabidiol (CBD) producer Top Beverages unveiled its first expressions: CBD Craft Spiced Rum ­– Navy Strength and CBD Craft Gin – Navy Strength.
The producer is seeking to "disrupt" spirits and CBD and recently launched a Spiced Collection and a Signature Collection.
Every expression from Top Beverages has been bottled at 54.5% ABV and distilled with full spectrum CBD "as opposed to hemp seed oil that the majority of spirit companies use", the firm said.
For more information, click here.