The big interview: Ian Somerhalder and Paul Wesley, Brother's Bond Bourbon
By Nicola Carruthers
Actors Paul Wesley and Ian Somerhalder met when they starred in The Vampire Diaries and soon discovered their mutual love of Bourbon, which they have transformed into Brother's Bond. We caught up with the duo to learn about their plans for the brand.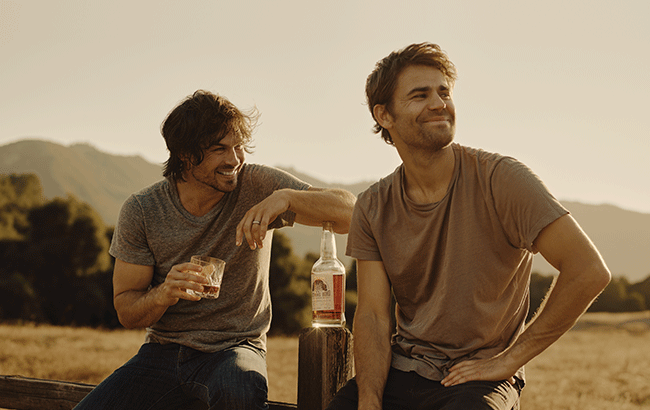 *This feature was originally published in the November 2021 issue of The Spirits Business magazine.
When The Vampire Diaries first aired in 2009 on The CW channel, it kick‐started a decade‐long bond between the supernatural drama's leading actors, Paul Wesley and Ian Somerhalder, who played Bourbon‐loving vampire brothers Stefan and Damon Salvatore.
But the friendship blossomed beyond the show, leading the pair to launch a Bourbon brand in 2020, aptly called Brother's Bond. It was named after their former roles on the show, as well as their shared love of Bourbon and the 'brotherhood' they developed over the years they starred together.
"Ultimately, Ian and I bonded on screen, the two characters we played drank Bourbon on screen and we drank Bourbon off screen," Wesley explains over Zoom, joined by Somerhalder, from their homes in Los Angeles. "That was our ritual in Atlanta [where the show was filmed] for almost a decade. After the show finished it continued to be our ritual; it was the obvious choice. I only drink Bourbon, I don't drink Tequila or gin or anything. So I can't imagine doing anything else.
"It was a conversation that began in Atlanta a decade ago and we were like 'man, we should be doing something like this'. Frankly speaking, we were so busy. We were shooting 22 episodes, sometimes more, a year – nine and a half months out of a year."
Plans for the future
In 2017, as The Vampire Diaries came to an end after eight seasons and 171 episodes, the two started formulating their plans for the future. "When we were getting to the tail end of the show, at six or seven seasons, we knew we needed to plan our routes of where we were going and what we were going to do," explains Somerhalder. "My wife [actor Nikki Reed] and I knew we were going to have a baby at some point soon. Paul and I talked and figured out structurally how we were going to plan this out.
"Then the time came. Bourbon requires a tremendous amount of patience; it takes four years to get one bottle of our Bourbon, it's quite complicated. The level of patience and efficiency of our team who brought our vision to life, it's nothing short of a miracle. This is just the beginning."
The process of the Bourbon took more than a year of blending, morning and night, adds Somerhalder. "I'm not trying to sound like a lunatic alcoholic who can't control himself, but we are obsessed with this Bourbon," he says. "What we were looking for was approachability, complexity and nuance to carry it to a Bourbon drinker."
The resulting flagship product is a four-grain, high‐rye Bourbon comprising 65% corn, 22% rye and a percentage of wheat and barley that has not been disclosed. It is aged for a minimum of four years in virgin American oak barrels.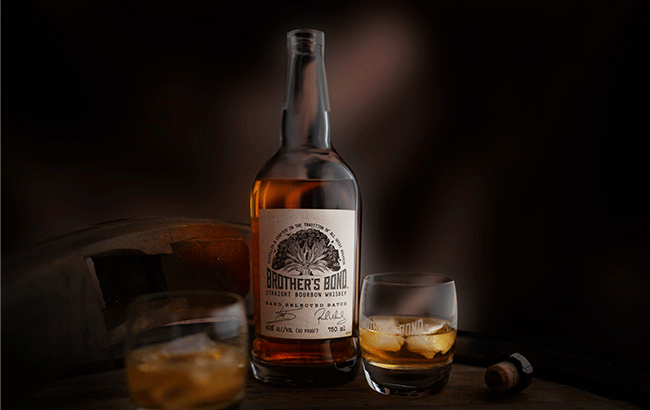 "Ian and I have the exact same taste," says Wesley. "I'm not gonna spend my time pushing a product that I don't like, that I don't wanna drink myself. When we present it to friends and family, they see that I'm sincere about it. It makes my job so much easier."
The Bourbon business is new territory for the actors, but they are keen to bring their story to life through the brand. Wesley says: "I'm still learning the ropes. I consider myself to have an entrepreneurial mind, but I've never embarked on anything like this. Everything I've done is in the entertainment industry, whether it's producing, acting or directing. It's been an educational experience to say the least."
Branching out into Bourbon with Somerhalder has also helped Wesley to balance it with his entertainment career.
"What I do in the public, in entertainment, will feed into the story of the Bourbon. They're not in direct competition; it's about learning how to balance the two. I've done two projects since launching the Bourbon; it was tough but thankfully Ian was around. When Ian does something I cover for him. That's what's great about having a partner in the industry."
Somerhalder is candid in his response: "Honestly, I don't even have an acting career anymore; there's so much focus on this company and raising my child. I don't know when I'll be on screen again. There's one show I want to do that I will produce and direct, write and star in. Honestly, I think that's probably it. One more show."
The pair are keen to expand the range with several line extensions. The company will roll out a cask strength bottling as its first line extension, as well as a bottled‐in‐bond Bourbon, and there are plans for a straight rye. "We have an eight‐year programme that is going to knock people's socks off," Somerhalder teases. "It's a four‐year rollout. That's all I can say right now. You've gotta think about eight years in a barrel for every year that Paul and I were on the air together; it's a very special number."
The duo have big plans to build the brand for decades to come, including eventually opening a Brother's Bond distillery in Kentucky. "We want this company to be not only meaningful for us, but a legacy brand, a 50‐generation brand," says Somerhalder. "We have that ability; we're setting the foundations for that right now. I just got back from Kentucky and saw some unbelievable properties there; we want to build a brand home.
"Kentucky was always a north star for me. I was a poor kid in Louisiana, and I grew up on the racetrack, I always read the magazines and saw the videos of those big green rolling hills and all the beautiful horses, the Bourbon culture. It was such a part of my culture growing up. I always wanted to be in Kentucky, and now being in Kentucky and driving around and looking at properties for where we're going to make our own home and distillery is just mind‐blowing."
The ethos of the brand also goes beyond the actors' connection, seeking to bring drinkers together to enjoy Bourbon. Wesley says: "It's been a very divisive time in the world, a very stressful time, so when we created Brother's Bond it was about our bond and friendship and sense of connection with one another, but that extends beyond ourselves to creating a community. It's not about drinking it by yourself."
Currently, the Bourbon is produced in Lawrenceburg, Indiana, by third‐party producer MGP. Wesley explains: "We're building this company at a very rapid pace; we're shipping a lot of bottles. Ultimately, we need a company like MGP to help us scale this at a level we want. And we're very grateful that they have the capacity to be able to support us in that way."
The brand achieved the 'most successful pre‐sale launch' in the history of US platform Reserve Bar, on which it secured the speediest sales in a 24‐hour period, following pre‐sales in autumn 2020 and January 2021.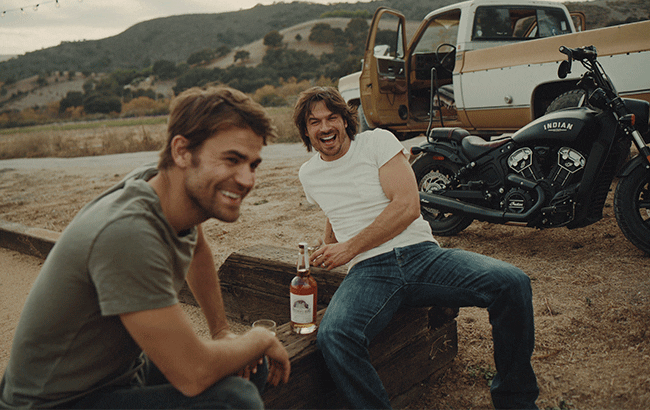 Fastest-selling
According to the brand, there are early indications that it could become the fastest‐selling super‐premium Bourbon in the US. In the first 60 days of its launch, more than 40,000 cases were shipped. Somerhalder says 5,000 bottles of the 10,000 total sold out in under four hours, while the remaining half was gone after 16.
Wesley adds the intention was to pre‐launch it so that people could give it as gifts: "That was pretty wild. We didn't think we were gonna sell that many bottles in the first 24 hours." And Somerhalder says: "They were ordering the Bourbon in November when they knew they weren't getting it until February or March the next year."
The brand then did another pre‐sale in January with 24,000 bottles. "Within the first 15 minutes, 5,000 bottles were gone and then in the first 40 minutes, 15,000 were gone," Somerhalder explains. "It was really amazing, we had to cut it off at 24,000 bottles; we didn't have any more. After we had shut it down, customers kept trying to buy multiples, which was amazing to see. Once we can get this into the market, I think people will be excited, and it will be a lot easier in larger quantities. We sold a million dollars' worth of Bourbon in 24 hours."
Through US distributor Republic National Distributing Company, the Bourbon is available for sale online, in national and regional chains, and independent stores in 27 US states including Alabama, Arizona, California, Colorado, District of Columbia, Florida, Georgia, Illinois, Indiana, Kentucky, Louisiana, Massachusetts, Michigan, Mississippi, Nebraska, Nevada, New Jersey, New Mexico, New York, Ohio, Oklahoma, Tennessee, Texas, Virginia, West Virginia, Washington and Wisconsin.
The brand has also racked up an impressive following. The duo says Brother's Bond is the most‐followed alcohol brand on Instagram, with 1.6 million followers to date.
A portion of the Bourbon sales income will be donated to regenerative farming efforts. Somerhalder was an executive producer of 2020's Kiss the Ground, a documentary that explores soil regeneration to stabilise the Earth's climate and restore ecosystems. The company has purchased regenerative grain for its whiskey. "Our goal is to become carbon neutral as a company," explains Wesley.
Somerhalder adds: "Carbon negative, not even carbon neutral. Regenerative agriculture we know scientifically can literally stop climate change in its tracks, put it in its rear window. This company is leading the charge in the spirits space to make sure that regenerative agriculture is a huge part of what we do, sequestering enormous sums of carbon dioxide and putting it back in the ground where it belongs."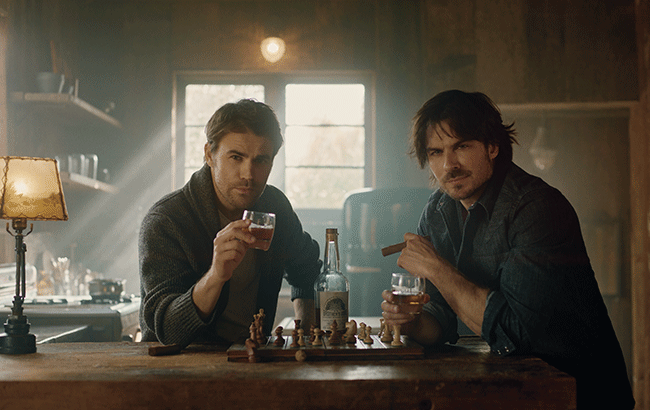 Does the company have global aspirations for the brand? "Big time," says Wesley, who adds: "Ultimately the launch has been so great, so successful, but we only have a certain quantity of the Bourbon. Right now we're selling out in America, we don't even have the capacity, but we're obviously going to expand and have more Bourbon in the coming years. We're going to head all over, including Europe and South America."
Launching Brother's Bond during the pandemic also proved to be particularly tough for the duo. "The last 18‐24 months have been the most challenging times of my adult life," says Somerhalder. "Paul and I would be talking to each other at 3am going 'what if the blend's improper?' Where it gets complicated is when you're at way over 50,000 cases, keeping track of it, keeping everything moving and making sure everything checks out quality‐wise is pretty intense. That's the stuff that would keep me up at night, then I realise we have a great system of passionate professionals on this team.
"I had a business that failed that I completely financed, which went upside down. I had to deal with that on top of building this and raising a kid. Paul and I, for large parts of this, couldn't even be together, but we got it all done. It was a big challenge; it makes you so much better every single time you get over that hurdle. You look back and you realise that's one more thing you have over your belt. It's been an amazing journey and at least we get to do it together."