Ian Somerhalder and Paul Wesley buy sustainable grain for Bourbon
By Kate Malczewski
Brother's Bond, the Bourbon brand founded by Vampire Diaries stars Ian Somerhalder and Paul Wesley, has built on its sustainability mission by purchasing regeneratively farmed grain to make its whiskey.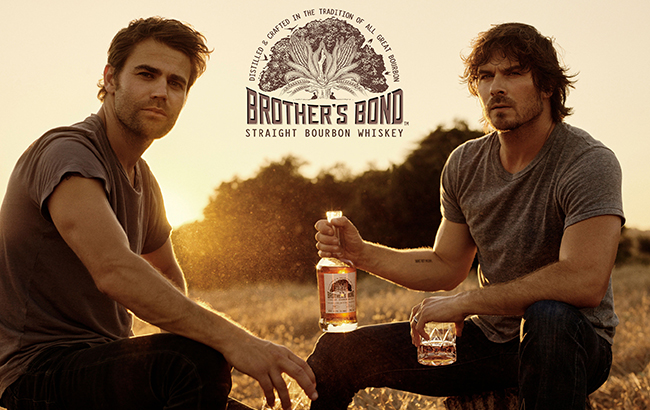 Wesley and Somerhalder launched Brother's Bond in 2020 with a goal to 'help reverse climate change', according to the brand's website.
The company donates a portion of its profits to support regenerative agriculture – an approach to farming that aims to enhance the environment and mitigate climate change.
It appears the next step for Wesley and Somerhalder is using regeneratively farmed grain to make their Bourbon.
Somerhalder announced the brand's purchase in an Instagram post on Wednesday 13 October, writing: "I can proudly say that Brothers Bond Bourbon aka @brothersbondbourbon has officially purchased regenerative grain that will be going into barrels."
Both actors are vocal activists for taking action against climate change; Somerhalder was an executive producer on the environmental documentary Kiss the Ground, which premiered in September 2020, and Wesley is an advocate for veganism.
"Our commitment as @brothersbondbourbon to the planet, humanity and all the creatures is strong and focused," Somerhalder continued.
"We believe with steadfast conviction that it is up to companies to make the crucial shift to regenerative agriculture. It is going to be for-profit companies, not nonprofits or governments, that are going to make this shift possible."
Over the summer, e-commerce platform Reserve Bar reported that Brother's Bond had achieved the highest velocity of sales in a 24-hour period in the history of the site.
The brand said there were early indications it could become the fastest-selling super-premium Bourbon in the US, with 40,000 cases shipped in the first 60 days of its launch.
For a full-length interview with Wesley and Somerhalder, stay tuned for the November 2021 issue of The Spirits Business, out soon.
View this post on Instagram