Athens Bar Show spotlights low-and-no category
By Alice Brooker
The 2021 Athens Bar Show was attended by visitors from more than 40 countries, with crowds taking a shine to low-and-no innovations.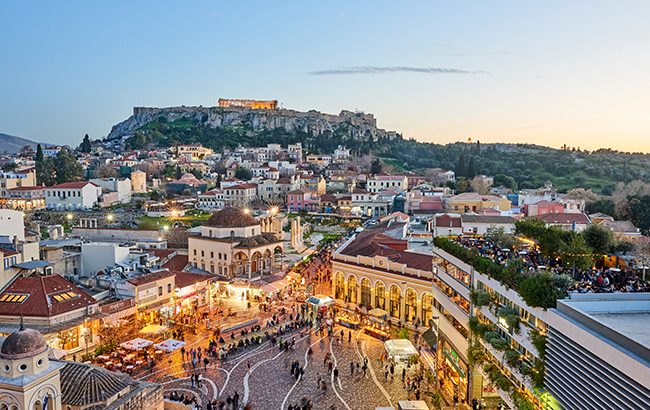 The Athens Bar Show took place on 9-11 November 2021 at the Technopolis, a cultural venue in Greece.
The event welcomed guests from Italy, Germany, France, Russia, Bulgaria, Spain, America, Thailand and more, with bartenders, baristas, journalists and other on-trade professionals all in attendance.
Ninety speakers took part in masterclasses, while 65 seminars were held covering the issues shaping the Greek and global bar and spirits industry.
Forty-five companies and producers exhibited at the show, and more than 500 products were displayed. Brands in attendance included Bacardi's Bombay Sapphire and the portfolio of Drinks & Co, which presented Samuel Gelston Irish Whiskey and Dead Man's Fingers Rum.
Several new Greek brands were also unveiled, including extra-dry mastic spirit Axia. At the show, The Spirits Business sat down with Axia global brand ambassador Giannis Miliotis to discuss the new product.
Low-and-no 'spirits' in focus
One category that gained a lot of traction during the two days was low-and-no alcohol.
Max Musson, the European brand ambassador for non-alcoholic 'spirits' producer Lyre's, delivered a presentation at the event. Lyre's recently secured £20 million (US$26.8m) in funding to increase its marketing and expand production.
"Athens Bar Show is a fantastic place to be. A lot of people here have been really interested in our category," Musson enthused.
"It's amazing that Lyre's has now launched in Greece, and we're looking to hopefully change the way that Greece drinks. Bartenders all over the world want to offer this product to their customers. The only way is up.
"Everyone seems very interested in the category and wants to try it. People are taking their health and well-being a lot more seriously which they should, but we're not a preachy brand."
Alexander Steptsenko, Greek brand ambassador for Bacardi, found a similar reception to low-and-no product launches at the show. The firm presented its booze-free aperitivos, Martini Non-Alcoholic Vibrante and Non-Alcoholic Floreale, which have recently launched in Greece.
"The show is really busy this year. A lot of foreign people have come to visit the Athens Bar Show, and I'm very happy with Martini and Bacardi," Steptsenko commented.
"We're launching two new products here [in Greece]: the non-alcoholic aperitivos. Curious people try that. All kinds of ages – grown-ups. Younger people. It's a really new product, the flavour and aromas are really unique.
"It's really new to the Greek market. The non-alcoholic market has been a trend for the last few years in England, in Italy. It's going to get big in Greece. Wellness, moderation. It's key."