Martini enters non-alcoholic space with new aperitivos
By Nicola Carruthers
Italian vermouth Martini has moved into the non-alcoholic category with the launch of two booze-free aperitivos.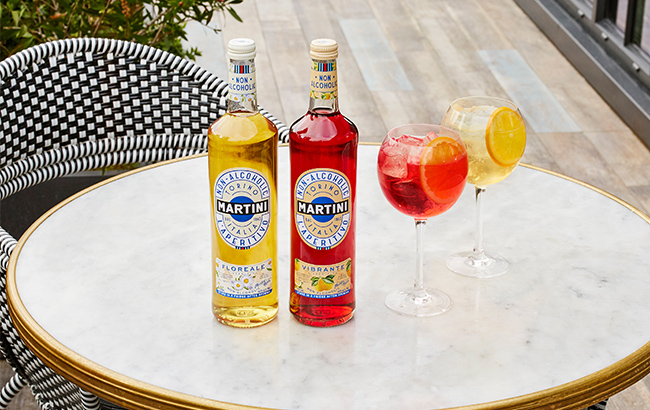 The Bacardi-owned brand has released Martini Non-Alcoholic Vibrante and Non Alcoholic Floreale in the UK to meet demand for alcohol-free options.
Nick Stringer, global vice president of Martini, said: "In the past, deciding not to drink alcohol meant a fizzy water while everyone else enjoyed cocktails; or staying at home on a Friday while your friends go out and enjoy aperitivo time.
"But times are changing and consumers don't want to feel like they are missing out when they are being more mindful about their drinking.
"This launch is all about providing choice for consumers, ensuring they can still enjoy Martini time, whether they are drinking alcohol or not."
The zero-ABV expressions are made using the same wines as Martini's vermouths, with the alcohol removed and the leftover liquid infused with "sustainably sourced" botanicals.
Vibrante is made with Italian bergamot to create a "fruity aperitivo that is characteristically Martini", while Floreale is inspired by the "delicate sweetness of Roman camomile" to provide a "floral tasting experience".
Ivano Tonutti, Martini master herbalist, added: "As pioneers of non-alcoholic vermouths almost 100 years ago, we've drawn on our expertise to revitalise the aperitivo with our distinctive Italian style.
"With Martini Non-Alcoholic Vibrante and Martini Non-Alcoholic Floreale, we wanted to create deliciously complex drinks that retain the very essence of our vermouths."
The non-alcoholic Martini offerings are recommended served with 75ml of tonic water and garnished with an orange wheel. It can also be served alone in a 75ml measure over ice.
Martini Non-Alcoholic Vibrante is available from online supermarket Ocado this month, priced at £10 (US$12.75) per 750ml. Both Floreale and Vibrante will be available in select on-trade accounts in the UK.
In March last year, Martini launched brightly coloured expression Fiero to attract a younger generation of drinkers.