Innovation in neutral: the trends shaping vodka
By Nicola Carruthers
Vodka producers are reinvigorating the category by tapping into the health-conscious demand for lower-ABV drinks, revisiting flavoured variants and borrowing tactics from gin. We explore their creative approaches to giving the neutral spirit new life.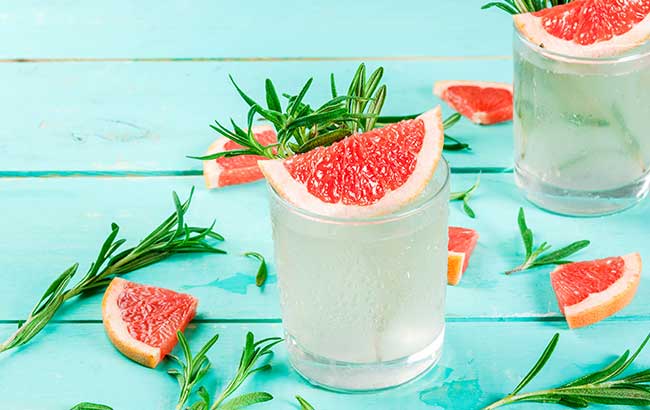 The vodka category has shaken off the shackles of overly sweet and confectionery flavours and is moving towards lighter serves and lower‐alcohol offerings to attract consumers back from competing categories such as gin. Distillers are embracing provenance and are seeking to attract 'mindful' consumers with 'healthier' alcohol alternatives.
Major vodka brands, including Smirnoff, Ketel One, Grey Goose and Svedka, have ramped up their innovation efforts in the lower‐ABV space to recruit new consumers by offering products made with less sugar and fewer calories. Distillers have also sought inspiration from the gin sector and launched botanical‐infused bottlings.
"Consumers have become much more aware of botanically flavoured spirits over recent years through the huge success of the gin category, and it is only natural that this will cross over into the vodka category," says Glasgow Distillery Company's co‐founder Mike Hayward. The Scottish distiller released its G52 Botanical Vodka in 2020 in two 40% ABV variants: Rich Coffee and Fresh Citrus. But the producer hasn't ruled out a move into the low‐and‐no space, as interest in the category is "hard to ignore", adds Hayward.
THIRST FOR THE NEW
Hayward continues: "The success of gin has opened up the consumer's thirst for new and interesting products that have botanicals and natural flavour at the core. We see this as a great opportunity to attract consumers to the vodka category by creating a range of products that meet the desire for interesting and innovative spirits presented in a new and exciting way."
Sean Eckhardt, senior vice-president and managing director, sales, Bacardi North America, says more consumers are making a balanced lifestyle a priority, paving the way for drinks that cater to them. The past year saw Bacardi release its 20% ABV Plume & Petal 'vodka' line and the botanical‐infused Grey Goose Essences (30% ABV) collection.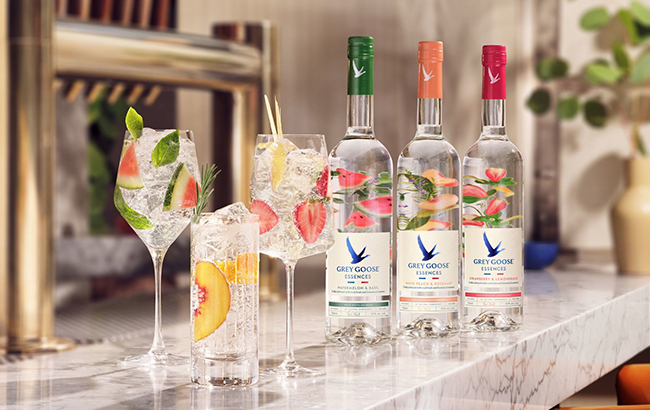 He adds: "We saw this moment as an exciting opportunity to create a liquid that takes the guesswork out of mindful drinking, and that allows consumers to effortlessly mix light yet delicious drinks."
Diageo was one of the early movers in the low‐ABV 'vodka' space, releasing its 30% ABV Ketel One Botanicals range in May 2018, said to be the first of its kind at the time. Made with Ketel One vodka, the range was distilled with botanicals and infused with natural fruit and botanical essences. It contains no artificial flavours, added sugar or artificial sweeteners. The range, which comprises Peach and Orange Blossom, Cucumber and Mint, and Grapefruit and Rose, contains just 73 calories per 1.5oz (42ml) serving. The Grey Goose Essences range also contains the same number of calories.
Diageo followed the release of Ketel One Botanicals with the launch of the 30% ABV Smirnoff Zero Sugar Infusions line in May 2019. The range is targeted at consumers looking to cut down on their sugar intake. Constellations Brands also capitalised on the trend last summer with its sugar‐free Svedka Pure Infusions range, also bottled at 30% ABV.
"These types of innovations are a direct answer to consumers' calls for fresher serves, so it's a trend that we believe will continue across categories," says Eckhardt.
Bacardi reported it had witnessed high demand for the Grey Goose Essences line, which was unveiled in February. "We've already exceeded our early forecasts, even before media and advertising the product, as a result of word of mouth and the strong Grey Goose brand recognition on shelf," Eckhardt notes.
Like Bacardi and Diageo, Constellation Brands is seeking to tap into the wellbeing movement with its Pure Infusions range. The range, which comprises Strawberry Guava, Ginger Lime and Dragonfruit Melon, provides consumers with a "flavourful vodka without the guilt", according to Jaymie Schoenberg, the brand's vice-president of marketing. The line contains 0g of sugar, fat, carbs, and only 70 calories per 1.5oz serving. Svedka is also planning to expand its range with the release of a 35% ABV Cherry Limeade flavour ahead of summer.
Schoenberg adds: "The betterment trend is one that is continuing to grow throughout the wine and spirits industry. New wellness vodka brands account for 90% of the dollar growth in the flavoured vodka category. Consumers are looking for better, natural ingredients, but do not want to compromise on taste; they're looking for options that marry wellness and the flavour that they expect. Additionally, IRI surveys have shown that 58% of consumers across generations are avoiding sugar, with 30% avoiding consuming products with sugar in the ingredients list."
PRODUCT DEVELOPMENT
Polish bison grass vodka Żubrówka also added a fruit‐infused rose flavour to its range last year, bottled at 30% ABV. Infused with forest raspberries and cranberries, Żubrówka Rosé offers a "lighter, fruitier, more natural and refreshing drink", says Rebecca Heathcote, head of UK marketing at brand owner Roust. "We will continue to look into developing botanical liquids with our product development, while retaining our ultimate mission to create truly great tasting, authentic vodkas with purity of taste, flavour and character."
Heathcote believes flavoured vodka "has a wider role to play as an alternative to flavoured gins and liqueurs".
Frederik Dahl, sales and marketing manager for Norwegian spirits producer Oslo Håndverksdestilleri, believes newfound interest from bartenders is helping to boost the vodka category. He also cites gin fatigue as helping the vodka category to gain consumers. Oslo Håndverksdestilleri's vodka is made with botanicals native to Norway, including meadowsweet. "Distilling with botanicals could be a big way forward for vodka," says Dahl. "Flavoured vodka is making a comeback but I don't think we will see those artificial flavours like vanilla. People want more freshness than what gin offers and flavours that are less in your face. Gin is going bigger and bolder with flavours. The pendulum is swinging the other way."
Eckhardt adds: "While vodka will always be a bar cart staple due to its elegant simplicity and versatility, in recent years, drinkers have also expanded their interests into some flavourful alternatives. Because of this, the use of botanicals has increased in the spirits industry and in the vodka category specifically due to their powerful, bright flavour."
Ukrainian vodka brand Nemiroff will "remain true to the vodka category with a proper ABV", CEO Yuriy Sorochynskiy says.
However, he notes that vodka can tap into the trend for lower‐ABV cocktails.
Sorochynskiy also highlights other opportunities for vodka, including "new and specific ingredients, raw materials to distil from, new flavours and infusions".
Vodka brands have already identified the burgeoning ready‐to‐drink (RTD) category as another potential revenue stream. This year Diageo unveiled its Ketel One Botanical Spritz canned range, while Plume & Petal will launch an RTD Spritz line this month in the US. Svedka recently unveiled canned vodka and soda waters (8% ABV) in three flavours: strawberry lemonade, black cherry lime, and mango pineapple. Dahl believes that the vodka category must "redefine how it should be served" and "find a way to serve vodka that is uniquely vodka" in a bid to emulate the classic gin‐and‐tonic pairing.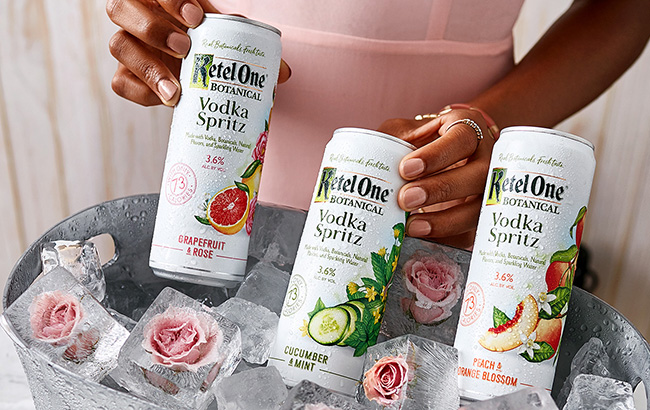 And it seems soda water could become the new gin and tonic for vodka. Brands are keen to tap into Spritzes and early evening occasions, and are pushing their lower‐ABV 'vodkas' mixed with soda water.
According to the Bacardi 2021 Cocktails Trends Report, vodka soda and flavours ranked number one in RTDs in North America, while low‐ABV RTDs came in at second place, Eckhardt notes. "Vodka spritzes are simple to make and are very versatile in terms of flavour. Think of these as an elevated vodka soda, with a splash of flavour and none of the extra sugar or calories. It's part of why we've seen a rise in flavoured sparkling sodas as people want a simple serve but with more flavour options."
FIERCE COMPETITION
One challenge facing the category is the fierce competition, Eckhardt says. "As the shelves grow increasingly crowded with loud domestic and international brands, we've found that consumers care less about the marketing of a product, and more about the quality and authenticity of the vodka itself."
He also notes the category has been inundated with myths claiming that only some vodka can be 'gluten‐free'.
He adds: "It has become a marketing gimmick, when in reality, this has always been a fact: all vodka, including Grey Goose and the new Grey Goose Essences, is gluten-free. Competitors have been misleading consumers for years, and it has had damaging effects on the entire category as a whole."
There is more innovation to come from Bacardi, and the firm is keeping a close eye on the low‐and‐no space. "2021 is the year of innovation at Bacardi," says Eckhardt. "In North America alone we are launching more than 40 products across categories. As the low‐ABV and alcohol‐free segment expands, we will continue to explore the space."
Hayward adds that the challenge for producers is "maintaining and growing" vodka's position as it faces tough competition from other categories. He says: "Consumers are exploring brands and spirits more than ever before, and seeking out different experiences. The vodka category needs to maintain the drive for innovation, coupled with quality and authenticity to stay at the forefront."