Bacardi reveals cocktail trends for 2021
By Nicola Carruthers
Gin is the spirit of most interest to bartenders globally, according to Bacardi's new on-trade trends report for 2021.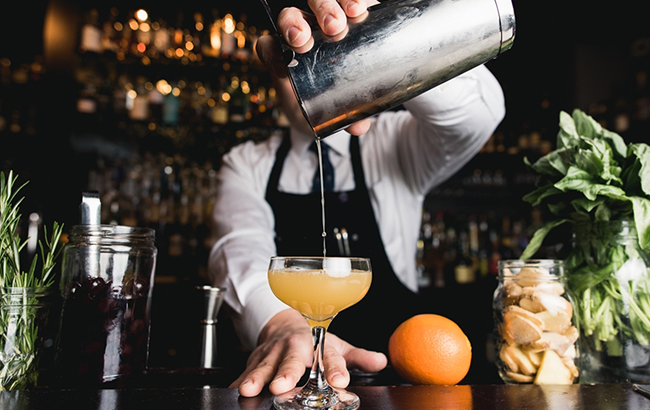 Grey Goose vodka owner Bacardi has released its new Bacardi 2021 Cocktail Trends Report, the firm's second annual report into the drink sector. Created in collaboration with London-based consultancy The Future Laboratory, the report forecasts the shifts in cocktail consumption in 2021 and features insights from Bacardi's global ambassadors, bartenders and industry experts.
"The pandemic has shifted mindsets and accelerated emerging trends, and the Bacardi Cocktail Trends Report is a window to these changes," said Brenda Fiala, global vice president, strategic insights and analytics for Bacardi.
"These insights help us navigate the consumer landscape and set the course for future growth, as we enter a new year in which adults of legal drinking age are looking forward to re-establishing connection, creating new rituals, and toasting to simple moments of celebration with loved ones."
According to Bacardi's global brand ambassador survey 2020, 51% of bartenders chose gin as the top trending spirit globally, followed by mezcal (46%), Tequila (45%), vermouth (38%), and bitter/amaro liqueurs (38%). The report noted that bartenders in Western Europe are the biggest gin fans.
In North America, the spirits with the best premiumisation opportunities are Tequila (60%), dark rum (32%), and mezcal (29%). In Western Europe, 36% of bartenders see gin as a major opportunity for premiumisation.
The report noted that Tequila interest in North America is the strongest in the world and is growing by 28%, driven by a resurgence in Margaritas (27%) and other Tequila-based cocktails (21%). Tequila also continues to premiumise globally, up another 15% from last year. Bacardi said that Margaritas are emerging as a major cocktail and ready-to-drink (RTD) trend.
The survey found that low-ABV serves (47%) topped the list of most popular cocktails globally, followed by other Spritzes (45%), Negronis (41%), classic cocktails with a twist (39%) and G&Ts and twists (31%). Bacardi predicts that 2021 will see a return to 'light-hearted drinks and flavour-filled indulgences'.
The report noted that drinkers are experimenting with their own twists on classic cocktails and are looking to 'intense flavours', such as spicy, smoky, super-sweet, and bitter tastes.
"The classics are back – but with a futuristic twist," said Martin Raymond, co-founder of The Future Laboratory. "At home, we've learned to make these drinks. But once bars are up and running again, we'll be expecting our favourite bartenders and places to match, confound and challenge us with the future faced fusions and variation builds and tastes they've been perfecting during lockdown – super-charged bitters, volatile sweets when we expect gentle sours, even hyper-local elixirs that distil the best weeds, mosses, and lichens with the exactness of a chemist. If yesterday's bartender was about skill and mixology, tomorrow's one is about alchemy and disruption."
Furthermore, 58% of Bacardi brand ambassadors in North America said they have noticed an increase in bartenders' interest in zero-waste ingredients.
'Reinvention of bars' 
The report also found that 20% of consumers are now keen to explore drinks that they weren't aware of before lockdown, including premium versions of their favourite spirits. Drinkers are also said to have knowledge of spirits and cocktails due to experimenting at home with cocktails, which Bacardi said could lead to a 'reinvention of bars'.
Nielsen CGA data cited by the report also noted that in the UK, one in five people are hosting virtual gatherings, while 40% of US consumers are interested in home cocktail kits and to-go cocktails.
The brand ambassador survey noted that gin cocktails (64%) were the most ordered globally for takeaway, followed by rum (55%), Tequila (52%) and vodka (43%).
Before lockdown, only 1% of spirits sales were online, the report said. The pandemic accelerated sales of spirits online, leading to a 'new culture of convenience, Bacardi said. Sales on US alcohol e-commerce platform Drizly rocketed by 350% in 2020, IWSR data cited by Bacardi found.
According to data from the National Retail Association Federation, 70% of spirits drinkers in the US and Canada believe it is important for a brand to be sustainable.
When it comes to moderation, Bacardi found that 22% of consumers are drinking less in general, with 55% of drinkers consuming low-ABV serves. Bacardi said Western Europe is leading the no- and low-alcohol trend.
Bacardi expects the retail sales value of the no- and low-alcohol 'spirits' category in Western Europe to reach US$500 million over the next four years.