RTD Brand Champion 2021: White Claw
By admin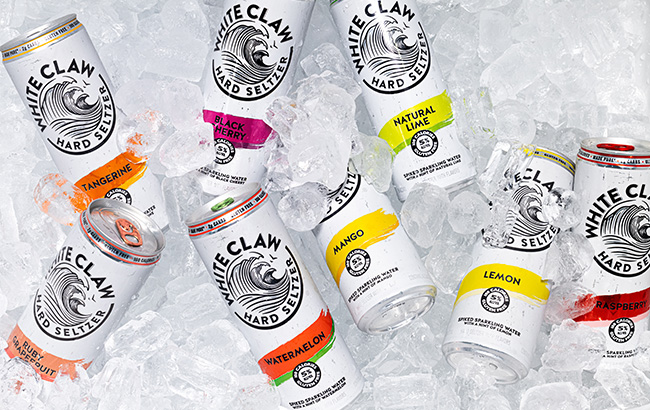 The hard seltzer category has taken the US by storm, and has seen major players and craft producers unveil their own takes on the alcoholic sparkling water in markets such as the UK and Canada. You can't mention hard seltzers without talking about pioneer White Claw, which has recorded mammoth growth over the past five years.
For the first time, the Brand Champions report includes a dedicated section for the ready‐to‐drink (RTD) category due to the sector's boom, with several RTD brands now selling multi‐million cases.
White Claw's jaw‐dropping growth prompted us to name it our inaugural RTD Brand Champion. White Claw saw its volumes more than double from 24.4m cases to 58.5m cases in 2020, an impressive feat considering the brand is only five years old.
Davin Nugent, CEO of White Claw producer Mark Anthony Brands, attributes the product's success to how it has connected to the consumer, as well as the company's focus and attention on the liquid.
The wellbeing trend also helped boost sales. Nugent says: "People are looking for products that are better for you, not good for you, they're very conscious of the products that they're consuming."
A large portion of the brand's sales come from the US, but Nugent also notes that Canada and Australia are witnessing the most demand outside of the US. The company has "moved very quickly" in the UK and Ireland, as well.
The Covid‐19 pandemic was a challenge for White Claw as it entered new markets. "How do you turn up in a market with restricted buying or restricted ways of living?" Nugent asks, referring to the closure of bars in markets such as the UK. "The traditional route of creating a personality potentially in the on‐premise and building your volume in the off‐premise has not been available to us," he says. Like many brands, White Claw turned to digital and social channels to attract consumers over the past year.
Nugent says the aim of the coming year is to "continue to build and to meet the demand" for White Claw in the US. He also cites the need to develop understanding and awareness of the hard seltzer category in global markets outside of the States.
Hard seltzers have been part of the success of RTDs over the past year. Nine‐litre‐case sales of RTDs rose 15.8% in 2020 compared with 2019 to reach 648.8m cases, according to Euromonitor International.
Despite the boom in RTDs, it was a mixed bag for million‐case sellers on our list. Brown‐Forman's RTD brands Jack Daniel's & Cola, malt-based Jack Daniel's Country Cocktails and Tequila‐based New Mix all recorded growth in 2020. Jack Daniel's Country Cocktails performed particularly well, rising by 92.1% to 2.7m cases. Meanwhile, Campari Soda recorded a double‐digit drop after several years of stagnant sales.
RTDs (figures: million 9l-case sales)
BRAND
OWNER
2016
2017
2018
2019
2020
%+/-
White Claw Hard Seltzer
Mark Anthony Brands
0.3
1.7
5.9
24.4
58.5
139.7%
‐196°C Strong Zero
Suntory Spirits
20.8
23.6
25.5
27.3
24.8
-9.4%
New Mix
Brown‐Forman
6.1
6.4
6.9
6.5
8.0
24.3%
Jack Daniel's & Cola
Brown‐Forman
5.3
5.1
5.4
5.4
5.8
7.0%
Jack Daniel's Country Cocktail
Brown‐Forman
1.0
1.1
1.2
1.4
2.7
92.1%
Campari Soda
Campari Group
1.6
1.5
1.5
1.5
1.2
-17.2%