Liqueurs Brand Champion 2021: Malibu
By admin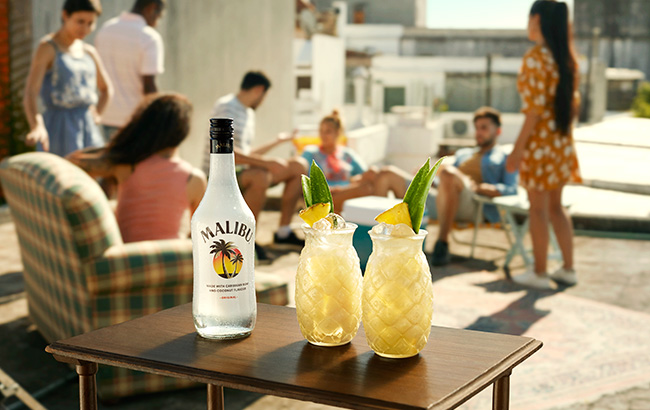 The pandemic helped boost demand for homemade cocktails as consumers were forced to stay indoors and recreate the bar experience at home. As such, interest in liqueurs has risen, and consumers have stocked up their home bars with different ingredients.
One bright star of the category was Pernod Ricard's rum liqueur Malibu, which walked away with the title of Liqueurs Brand Champion 2021. The brand continued its upward trajectory, recording 14.3% growth to 4.4 million cases in 2020.
Malibu's 'spirit of summer' positioning has helped brighten the mood for consumers during the pandemic, according to Monica Jungbeck, Malibu's head of brand creative. The brand unveiled engaging social media campaigns, including the influencer‐driven #CoconutChallenge, which asked consumers to create dance videos on visual platforms such as Instagram.
"Malibu brought a bit of sunshine to consumers and gave them a platform to experience and share summer vibes, even if they had to be shared virtually," says Jungbeck.
Furthermore, the brand's redesign in 2019 helped build momentum. "Our unique and distinctive white bottle and palm tree logotype are two of the most recognisable visual assets in the drinks category," says Johan Radojewski, Malibu's vice‐president of marketing.
"Our redesign was aimed at strengthening those to ensure better standout on shelf and, of course, building on the consistency that has been critical for Malibu's design from its inception in the late 1970s."
Radojewski also notes that the brand's recipes on the redesigned label helped position Malibu "in line with recent trends towards lighter and more refreshing drinks and cocktails".
While the UK and the US remain Malibu's key markets, the brand has also seen "encouraging" results in South Korea and Brazil.
Malibu will also release its latest flavour, watermelon, in the UK following its debut in the US.
In addition, the brand has moved quickly to develop its presence in the burgeoning ready‐to‐drink sector, says Arnaud Malinconi, Malibu's brand director. "We have accelerated in recent years, with innovations and range extensions like Malibu Piña Colada across Europe and the launch of Malibu Splash in the US last year."
Malinconi adds: "We are confident that we have the recipe for success from a brand, communication, portfolio and innovation standpoint to continue building on the momentum we have."
Looking across the rest of the category, the only other brand to report a double‐digit increase was Stock Spirits' Żołądkowa Gorzka. The brand rose by 19.3% to 1.8m cases, its third year of growth.
Diageo's cream liqueur brand Baileys saw its sales decline for the first time in five years, dropping by 4.6% to 7.1m cases. Meanwhile, orange-flavoured liqueur Cointreau slipped by 7.8%, and Pernod Ricard‐owned coffee liqueur Kahl.a rose by 3.2%.
South African drinks group Distell declined to provide 2020 figures for Amarula liqueur, which saw its sales drop by 13.5% to 1m in 2019. The firm was affected by multiple alcohol bans in its home market.
Liqueurs (figures: million 9l-case sales)
BRAND
OWNER
2016
2017
2018
2019
2020
%+/-
Baileys
Diageo
6.5
6.9
7.1
7.4
7.1
-4.6%
Malibu
Pernod Ricard
3.6
3.7
3.7
3.9
4.4
14.3%
De Kuyper
Beam Suntory/De Kuyper
3.6
3.5
3.5
3.5
3.3
-4.7%
Lubelska
Stock Spirits Group
1.3
1.5
1.5
1.9
1.9
-2.5%
Żołądkowa Gorzka
Stock Spirits Group
1.5
1.4
1.3
1.5
1.8
19.3%
Kahlúa
Pernod Ricard
1.5
1.6
1.6
1.6
1.6
3.2%
Choya
Choya Umeshu
1.2
1.2
1.3
1.2
1.3
7.3%
Cointreau
Rémy Cointreau
1.1
1.2
1.2
1.2
1.1
-7.8%