Indian Whisky Brand Champion 2021: Sterling Reserve
By admin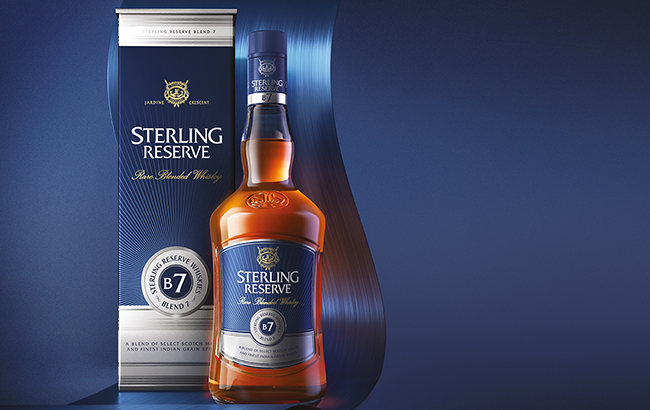 The Covid‐19 pandemic proved to be a major hurdle for Indian whisky brands in 2020 as companies such as Diageo's United Spirits arm paused production during the first lockdown. The country is one of the biggest producers of spirits in the world, with a number of Indian whiskies selling more than 20 million cases annually.
India has also been subject to a 150% import tariff on spirits, but a new 'enhanced trade partnership' with the UK could lower or remove these levies. The partnership, which includes a £1 billion (US$1.41bn) trade‐and‐investment package, could axe the large tariff on UK‐made whisky, according to the UK government. The move could also see consumers trade up to higher‐priced whiskies.
This year's title of Indian Whisky Brand Champion was given to Sterling Reserve for the third year in a row. The brand is a relative newcomer to the million‐case ranks, having reached the milestone in 2018. Sterling Reserve managed to hold on to its sales of 2.8m cases last year, while many of its competitors reported they had suffered double‐digit declines.
Anupam Bokey, chief marketing officer of Allied Blenders and Distillers, owner of Sterling Reserve, says its strategic plan is to focus on engaging consumers in "meaningful ways".
He cited five pillars for driving growth, including: consistent communication through digital and social channels; product innovation; digital marketing; bespoke activations; and bolstered trade relations.
After feeling the pandemic's impact, Sterling Reserve launched new adverts during the Indian Premier League last year, a "highly anticipated cricketing event that had the nation glued to their screens for close to 60 days", Bokey says. The activity was complemented by digital content, which boosted recognition for the brand.
Looking to the future, Bokey adds: "We will continue to leverage and pedestal experimental platforms through innovative brand campaigns and drive any developments through right amplification.
"To steer Sterling Reserve to success, we plan to implement disruptive PR interventions, engage with opinion makers and associate with the right mediums that will position the brand disproportionately well."
Hayward's was the only other Indian whisky to sustain sales, reporting a 1% increase. Other brands in the category struggled to maintain their volumes. Sterling Reserve's sister brand, Officer's Choice, saw sales plummet by 32% to 20.8m cases, knocking it from second place to third for the first time in at least five years.
While 8PM was the only brand to report a double‐digit increase in 2020, owner Radico Khaitan refused to provide figures to two decimal places, meaning its sales are slanted. It was a tough year overall for Indian whisky, with 11 brands taking a double‐digit tumble.
Indian whisky (figures: million 9l-case sales)
BRAND
OWNER
2016
2017
2018
2019
2020
%+/-
McDowell's No.1 Whisky
United Spirits
26.6
26.4
29.0
30.7
25.7
-16.4%
Imperial Blue
Pernod Ricard
18.0
19.0
22.7
26.3
21.3
-19.1%
Officer's Choice
Allied Blenders & Distillers
32.9
32.0
34.0
30.6
20.8
-32.0%
Royal Stag
Pernod Ricard
18.0
18.7
21.6
22.0
18.5
-15.8%
8PM
Radico Khaitan
5.7
7.0
8.2
8.5
10.0
17.6%
Hayward's
United Spirits
7.9
8.5
9.4
9.6
9.7
1.0%
Blenders Pride
Pernod Ricard
6.2
6.4
7.3
7.7
6.6
-14.0%
Bagpiper
United Spirits
7.2
5.8
5.6
6.1
5.3
-12.5%
Old Tavern
United Spirits
9.9
7.1
6.2
5.3
4.5
-15.2%
Royal Challenge
United Spirits
4.7
4.5
5.6
5.5
4.3
-22.2%
Director's Special Whisky
United Spirits
5.0
4.1
4.2
4.2
3.1
-25.1%
Sterling Reserve Premium
Whiskies
Allied Blenders & Distillers
N/A
N/A
1.2
2.8
2.8
0.0%
White & Blue
Alcobrew
1.4
1.6
2.1
2.4
2.1
-10.70%
Signature

United Spirits

1.8
2.0
2.3
2.3
1.9
-18.10%