Waterford partners with artist for single malt launch
Mark Reynier's Waterford Distillery has teamed up with artist Leah Hewson to produce a bottle label for its new single malt.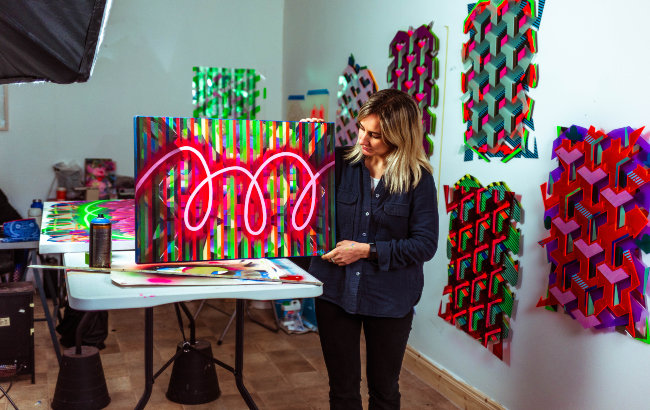 This autumn, the Irish whiskey producer will unveil its single malt whiskey The Cuvée, which will feature Hewson's artwork Binary Assimilation on the bottle.
Known for her work with optical illusions, colour, vibrancy and shapes, the Irish artist was selected by the distillery for her artistic ability to reflect the 'layers and complexities' within Waterford's distillation process.
Created exclusively for Waterford, Binary Assimilation will be printed on the bottle label for The Cuvée to reflect 'the immense sensory experience of terroir-driven whiskey consumption'.
Terroir, a term commonly used in the wine industry, is the idea that environmental conditions such as microclimate and soil can influence flavour. A recent study by Waterford Distillery concluded terroir does have an impact on the flavour of whiskey. 
To produce The Cuvée, each crop of barley is harvested, malted and distilled separately by Waterford Distillery. The final liquid is a blend of 25 single-farm-origin single malts.
Reynier, founder and CEO of Waterford Distillery, said: "This is no ordinary whiskey – it's our lodestar, a key milestone on our terroir-driven journey. 
"Its vision and evolution derived from unprecedented logistics merits an equally outstanding label. We commissioned one of Ireland's leading artists to create a contemporary image that was unlike another whiskey label."
Leah Hewson's artistic contribution to the product is said to reflect 'the intricate nature' of the whiskey.
Hewson said: "Binary Assimilation celebrates the many layers and complexities of Waterford's approach to whiskey production. The brand's scientific and methodical approach reflects my own, and this provided an inspiration to sync art, flavour and character into something visually striking.
"By building the piece in layers through colour, I was able to create new dimensional effects to match the concept of The Cuvée."
Waterford released its first commercial Irish whiskey series, Single Farm Origin, in May 2020.
In a recent interview with SB, Mark Reynier discussed the concept of terroir in both whiskey and rum.