Top 10 spirits launches in April 2021
A lower-ABV spirit drink from Beefeater Gin, a baijiu-style expression from Buffalo Trace and The Oxford Artisan Distillery's rye whisky made our pick of the must-try products launched last month.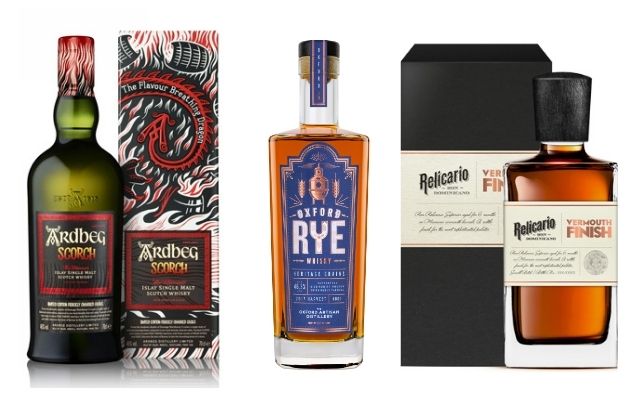 It was a big month for whisky releases, with new expressions from Glenmorangie, Ardbeg and Loch Lomond.
Several of April's new spirits played on the cask-finish trend, including a rum from Relicario matured in ex-vermouth casks and Jameson's new Crested expression, finished in Eight Degrees Brewery's Belgian Tripel beer barrels.
Meanwhile, Sipsmith celebrated its new partnership with The Championships, Wimbledon with a strawberry-infused gin.
Click through the following pages to discover our favourite spirits launches from last month.
X by Glenmorangie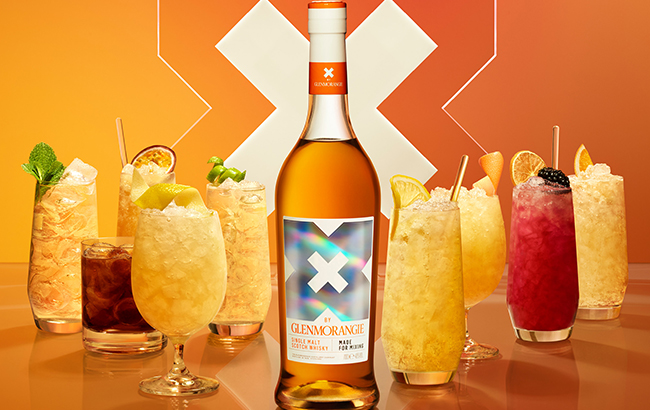 Fancy a Highball? Last month, single malt producer Glenmorangie released X, a new whisky created for tall, simple serves.
The 40% ABV liquid was developed in collaboration with leading bartenders. Aged in Bourbon casks and finished in charred new oak, it's said to be sweet and rich, with notes of pear, vanilla, honeysuckle, orange sherbet and chocolate fudge.
Read more about X by Glenmorangie here.
Jameson Crested x Eight Degrees Brewing Devil's Ladder Belgian Tripel Barrel Finish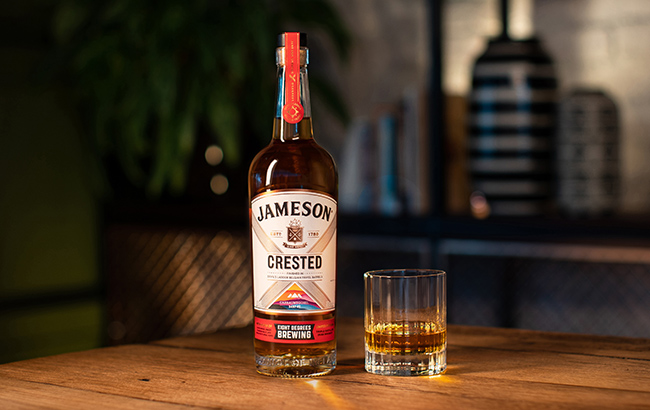 Pernod Ricard-owned Irish whiskey brand Jameson unveiled its second collaboration with County Cork-based brewers Eight Degrees.
To craft the expression, Jameson matured its Crested whiskey in Eight Degrees' Belgian Tripel beer barrels for four months.
According to blender Dave McCabe, the whiskey offers "sweetness in the form of vanilla and brown sugar, as well as a roasted malt character and elevated clove notes".
Learn more about Jameson Crested's whiskey collaboration with Eight Degrees Brewing here.
Sipsmith Strawberry Smash Gin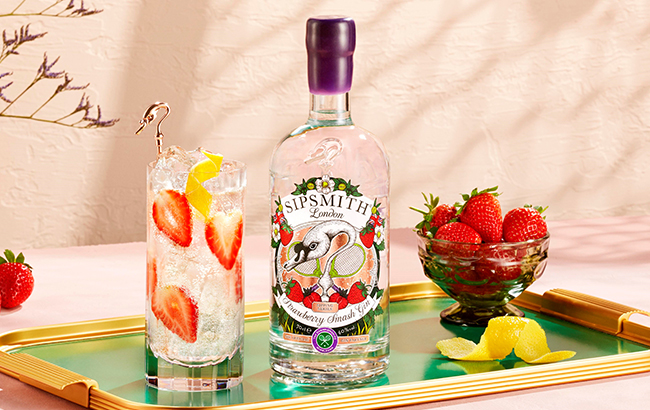 Beam Suntory-owned brand Sipsmith introduced a strawberry-laced gin expression as part of its limited edition Sipping Series.
The launch celebrates Sipsmith's new partnership with the Wimbledon tennis tournament.
To make the 40% ABV gin, strawberries from Hugh Lowe farms in Kent – the exclusive grower of strawberries for Wimbledon – are infused in Sipsmith's London Dry Gin, along with mint.
Get more details on Sipsmith Strawberry Smash Gin here.
Oxford Rye Whisky Batch #1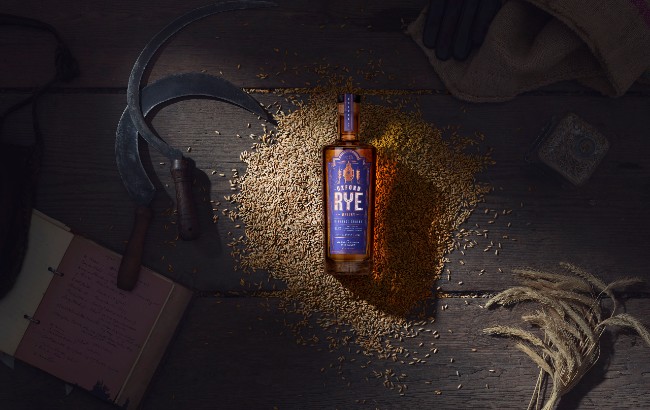 The Oxford Artisan Distillery debuted its first English rye whisky, releasing just 502 bottles.
The whisky was made with a grain ratio of 90% maslin (a combination of 70% rye and 20% wheat from populations grown together in the same field) and 10% heritage malted barley.
On the palate, the liquid offers notes of rye spice, banana bread and freshly baked sourdough.
According to Chico Rosa, The Oxford Artisan Distillery's master distiller, the liquid "perfectly showcases" the terroir of the distillery.
Read more about Oxford Rye Whisky here.
Brewdog x Regal Rogue RTD Cocktails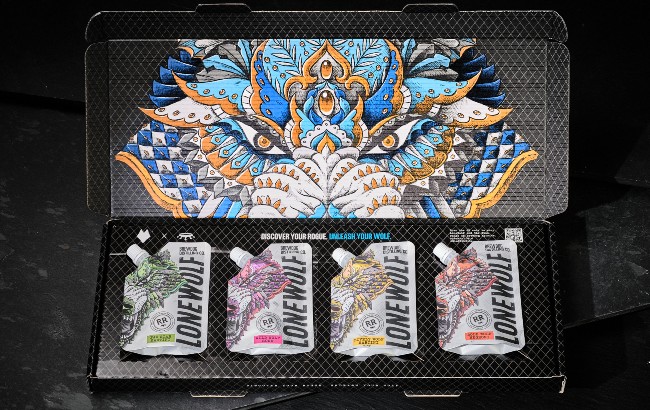 Scottish producer Brewdog and Australian vermouth brand Regal Rogue joined forces to develop four ready-to-drink (RTD) cocktail pouches: the Bold Wolf Negroni, Lively Wolf Martini, Paw Star Martini and Wild Wolf Sour.
For a classic flavour profile, the Bold Wolf Negroni (24% ABV) marries Brewdog's Lonewolf London Dry Gin, Regal Rogue's Bold Red Vermouth and Campari.
Next up, the Lively Wolf Martini (25% ABV) mixes Lonewolf London Dry Gin and Regal Rogue's Lively White Vermouth.
For lower-ABV options, the Paw Star Martini (12% ABV) contains Lonewolf's Cactus and Lime Gin and Regal Rogue's Daring Dry Vermouth, while the Wild Wolf Sour (12% ABV) brings together Lonewolf Cloudy Lemon Gin and Regal Rogue Wild Rosé Vermouth.
Find more information on the Brewdog x Regal Rogue RTDs here.
Buffalo Trace Experimental Collection Baijiu Style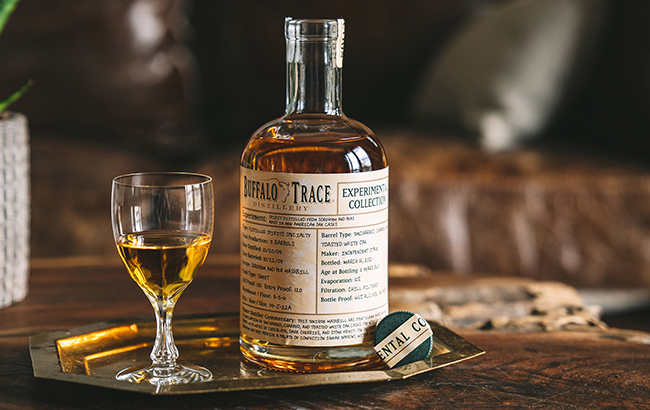 Sazerac-owned distillery Buffalo Trace announced the release of its latest experimental offering, a baijiu-style spirit aged in American oak casks.
The spirit is made using sorghum and peas, two traditional ingredients in baijiu production. It was aged for 11 years in three casks – uncharred, charred and toasted white oak – and sits at 45% ABV.
The producer cited baijiu's rising popularity and 'intriguing' flavour profile as the inspiration for the bottling.
Get more details on Buffalo Trace's baijiu-style spirit here.
Ron Relicario Vermouth Finish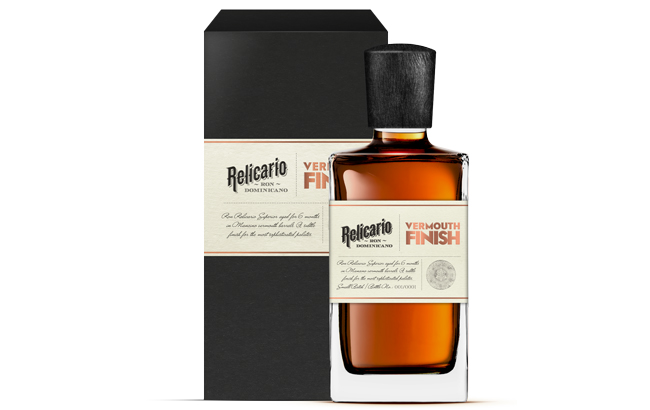 Spanish spirits producer Beveland Distillers released a new expression of Relicario rum finished in ex-vermouth casks.
To make the liquid, Relicario Superior rum – aged five to 10 years in the Dominican Republic – was matured for a further six months in casks that previously held Mancino Vecchio Vermouth.
According to the brand, the vermouth-kissed rum has 'botanical nuances such as wormwood, gentian root, rhubarb, chamomile and flashes of citrus'.
Learn more about Ron Relicario Vermouth Finish here.
Ardbeg Scorch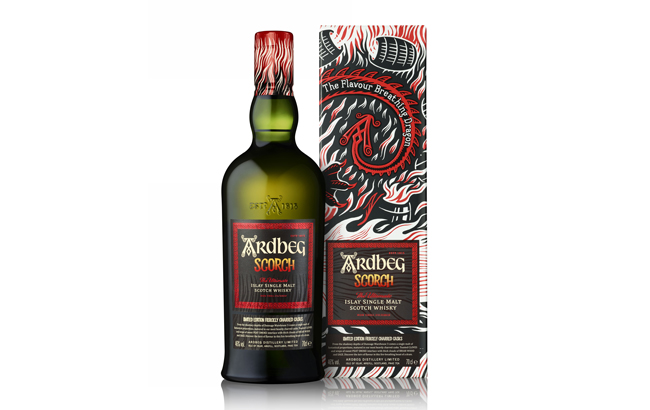 Peat lovers, rejoice: LVMH-owned Islay distillery Ardbeg announced the launch of Scorch, a limited edition Scotch matured in heavily charred ex-Bourbon American oak.
Dr Bill Lumsden, Ardbeg's director of distilling and whisky creation, called the new release "a fire-breathing beast of a dram". The expression is said to have aromas of soot, smoke, aniseed and patchouli, and a palate that marries smoky grilled notes with black liquorice and medicinal lozenges.
The bottling was created to mark the final Saturday of the Fèis Ìle Festival of Music and Malt, which the distillery celebrates as Ardbeg Day (5 June).
Find out more about Ardbeg Scorch here.
Beefeater Botanics Lemon and Ginger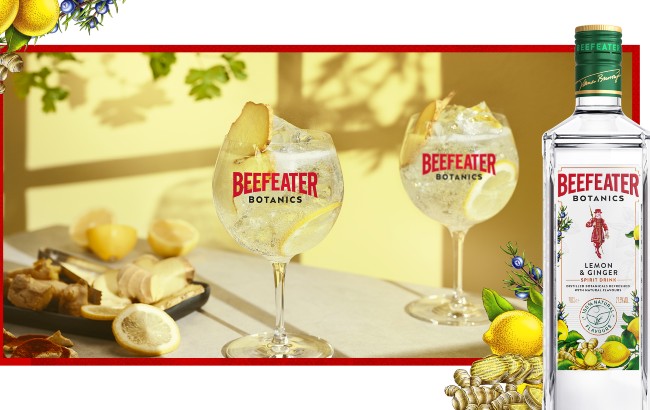 With an eye to the millennial consumer, Pernod Ricard-owned gin brand Beefeater launched its first lower-ABV spirit drink.
Clocking in at 27.5% ABV, Beefeater Botanics Lemon and Ginger is made from a gin base and distilled botanicals, and contains no added sugar, artificial flavours or sweeteners. A serve of 50ml Beefeater Botanics and 150ml light tonic contains 83 calories.
The new bottling is one of three pilot products being tested to target "24-35-year-old urban explorers", said Beefeater global brand director Murielle Dessenis. The other two products are Beefeater Light, released in Spain, and Beefeater Peach and Raspberry, launched in the UK.
Read more about Beefeater's spirit drink here.
Loch Lomond 45 Year Old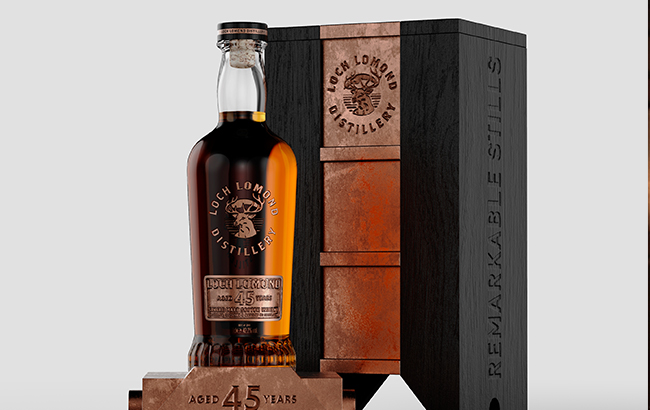 Scotch producer Loch Lomond unveiled a 45-year-old single malt last month, part of its Remarkable Stills Series.
The whisky is the first of three releases in a range that celebrates the distillery's straight neck pot stills.
The liquid was distilled in 1973, matured in American oak casks and finished for 12 months in a first-fill oloroso Sherry cask.
With just 200 bottles, it's one of the distillery's rarest expressions to date.
Get more details on Loch Lomond 45YO here.