Martini moves into RTDs
Bacardi-owned Martini vermouth has released three ready-to-drink products, including two alcohol-free aperitivo and tonic waters.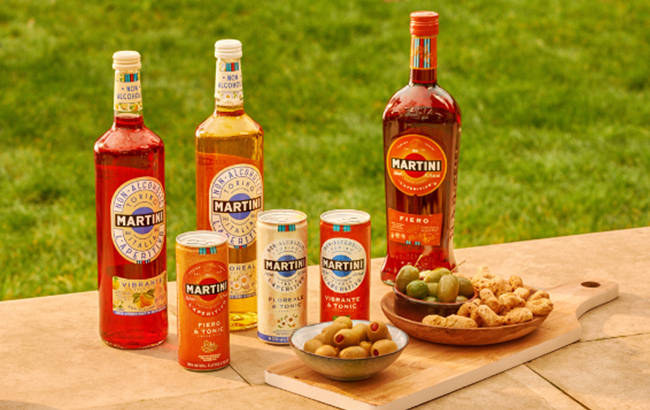 The three new expressions mark Martini's first foray into the ready-to-drink (RTD) market.
The new canned RTDs comprise: Martini Fiero and Tonic, Martini Non-Alcoholic Vibrante and Tonic, and Martini Non-Alcoholic Floreale and Tonic.
Available across Europe from April, the cans were released following an increase in outdoor socialising and demand for convenient formats.
Victoria Morris, vice-president of Martini, said: "We know outdoor socialising will be key this spring and these three new RTDs are an easy way to enjoy a delicious drink without foregoing quality for the sake of convenience."
The canned offerings have been made with the same wines used to produce the brand's vermouths.
In May 2019, Martini released its brightly-coloured Fiero expression (14.9% ABV), a blend of white wines and botanicals, including Murcia orange peel, artemisia absinthium and artemisia pontica. The brand moved into the zero-ABV sector with its Vibrante and Floreale botanical-infused bottlings last year.
The canned Fiero and Tonic RTD (4.7% ABV) provides citrus notes from the orange peel, and bitterness and herbal aromatics from the artemisia.
Alcohol-free Vibrante and Tonic offers a blend of natural botanicals, including Italian bergamot, and has a citrus aroma. Non-alcoholic Floreale and Tonic provides a 'floral tasting experience'.
The Martini RTDs will be available to buy from Amazon, priced at RRP €2.25 (US$2.60) per 250ml can. Martini Fiero and Tonic will be available in Portugal and Germany from March, Spain from April, and Italy from 1 June.
The non-alcoholic RTDs will be available in France this month, and Belgium and the Netherlands from 1 April.
Bacardi is also planning to release its low-ABV Plume and Petal range in RTD Spritz cans this spring. The line will be available in the US in the same three flavours – Peach Wave, Cucumber Splash and Lemon Drift.
Last month, Bacardi-owned Grey Goose vodka unveiled a 30% ABV range infused with fruit and botanicals to attract 'mindful' drinkers.