Tanqueray 0.0% joins growing alcohol-free sector
By Melita Kiely
Diageo has expanded its alcohol-free 'spirits' portfolio with the creation of a 0.0% ABV version of Tanqueray.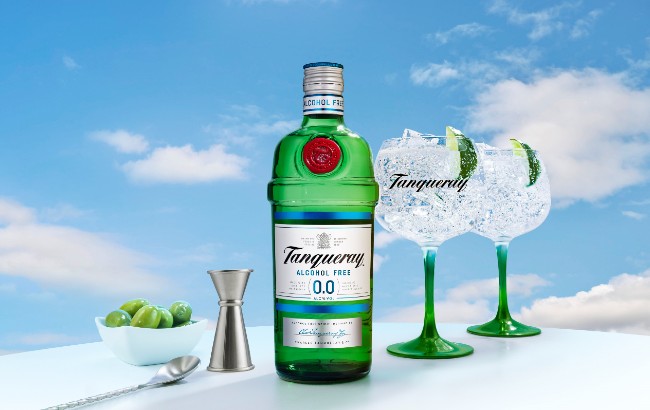 Tanqueray 0.0% was made using the same blend of botanicals used to create the original Tanqueray London Dry gin, including juniper, coriander, angelica and liquorice.
Terry Fraser, Tanqueray master distiller, said: "Our expert innovation team has combined years of expertise and historic gin distilling knowledge to create a credible alcohol-free experience. Tanqueray 0.0% is created by distilling the same botanicals used in Tanqueray London Dry Gin.
"These botanicals are individually immersed in water, heated and then distilled before being expertly blended together to capture the essence of Tanqueray in a delicious alcohol-free alternative.
"This special distillation process is a closely guarded secret, known only to a handful of people and we are incredibly proud to be bringing gin drinkers that juniper and citrus-led taste they're expecting from Tanqueray when they choose not to drink alcohol."
Tanqueray 0.0% will launch in March throughout Spain and the UK. It will retail for around £16 (US$22) per 700ml bottle. In the UK, it will be available from Waitrose, Morrisons and Sainsbury's stores from March, and in all other national supermarkets from April.
Pedro Mendonça, global Reserve director (Daigeo's luxury collection), said: "We believe people shouldn't have to compromise on quality and taste when they want to enjoy a drink that has no, or low, alcohol.
"We understand that globally there is an increasing number of people who are making more conscious decisions about what they eat and drink.
"So our aim is to enhance the experience for those who wish to moderate, or for those who choose not to drink alcohol at all, by providing enjoyable, exciting and interesting taste experiences that are delivered in an inspiring way."
Earlier this month, Tanqueray released a bunch of new products, including Tanqueray Blackcurrant Royale and two new ready-to-drink cans.
In December last year, Johnnie Walker owner Diageo launched an alcohol-free variant of Gordon's gin.