Jack Daniel's master distiller Jeff Arnett departs
By Nicola Carruthers
Jeff Arnett, master distiller of Tennessee whiskey brand Jack Daniel's, has stepped down after 12 years in the role.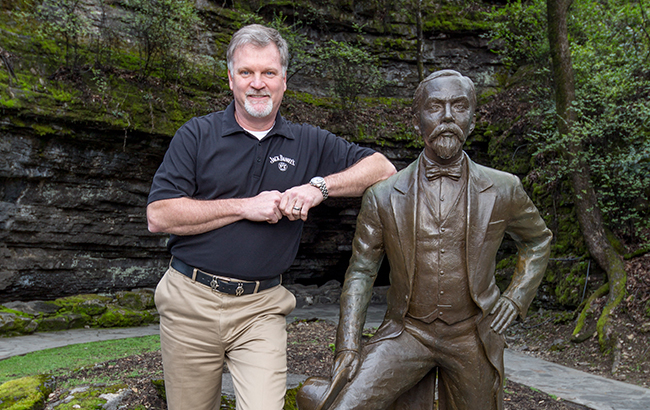 Arnett was appointed to the position of master distiller for Brown-Forman's Jack Daniel Distillery in April 2008. He has spent nearly 20 years working at the distillery.
"When Jeff became the master distiller, we said that he would carry on the long tradition of folks who have made the world's best whiskey for more than 150 years, and that's exactly what he's done," said Larry Combs, Jack Daniel Distillery's senior vice-president and general manager.
"He has worked tirelessly on behalf of the distillery and brought with him the creativity and the expertise that makes Jack Daniel's the most valuable whiskey brand in the world. We thank him for his leadership not only at Jack Daniel's but in the whiskey industry and wish him all the best."
Brown-Forman said Arnett has been instrumental to the growth of Jack Daniel's, the world's biggest-selling American whiskey brand. According to Brand Champions data, Jack Daniel's sold 13.4 million nine-litre cases in 2019.
In the master distiller role, Arnett was responsible for the whiskey-making operations in Lynchburg, Tennessee.
He had created a number of innovations for the brand including super-premium whiskeys such as Sinatra Select, Single Barrel Barrel Proof, Single Barrel Heritage Barrel and experimental range Tennessee Tasters' Selection. He was also behind flavoured line extensions such as Honey, Fire and Apple, and created Jack Daniel's Tennessee Rye, the first new grain bill from the site since Prohibition.
Before taking on the master distiller position, he oversaw quality control and the Jack Daniel's Single Barrel programme. During his time at the distillery, Arnett worked across warehousing, maturation, distillation, charcoal mellowing management, barrel quality and bottling. He was also on the master tasters' panel.
"The last 20 years at the Jack Daniel Distillery have been an incredible chapter in my life and I look forward to spending some time to think about what the next chapter will hold," said Arnett. "I wish everyone in Lynchburg the best and I am appreciative of the support and confidence they have shown in me to represent Jack Daniel's to the world during my time there.
"It has been an honour and privilege to be one of only a handful of people to have served as the master distiller of this wonderful brand known around the world as simply 'Jack'."
Arnett has also served on the board of the Tennessee Distillers Guild since 2016, most recently as vice president.
Brown-Forman did not confirm what Arnett will be doing following his departure. The firm said an announcement on his replacement will be made in the coming weeks.